If you are new to being vegetarian, or if you are wanting to try out cutting meat from your diet, then you could be lacking some inspiration on delicious vegetarian meals for you to try.
Luckily, we have you covered with 20 of our favorite vegetarian recipes for you to try out.
The best part about this list is that all of the recipes which we have chosen to include are low calorie, so you are sure to find something which will not leave you feeling weighed down, but still filling and satisfied.
Sometimes people see being vegetarian as something which is limiting, and while it of course cuts out some options, it also means that you are getting a chance to explore some ingredients or methods which you may have never tried or even considered.
This list highlights all these kinds of recipes, this means that there will be something for every situation and to ensure that there will be something for everyone no matter how picky!
Our Favorite Low Calorie Vegetarian Recipes
All of these options for vegetarian recipes are low calorie but still delicious and satisfying, so, if you are on the lookout for something new to inspire you, then this list has you covered!
For our first option we have chosen to highlight this delicious lemon and chard soup which is absolutely packed with flavor and is something which you will want to keep coming back to.
We love serving this soup with pita as it compliments the texture of this unique soup perfectly.
It is worth noting that while this soup keeps very well, it also will thicken, so you will want to keep this in mind when you are reheating it, and you may need to add some water to it as well!
If you have never made a frittata, then you are missing out on this delicious dinner option.
This loaded meal is absolutely packed with a filling arugula salad, and also some crispy bread which ensures that this is a filling dinner option.
Keep in mind that this recipe cooks very quickly, so you will want to have all of your ingredients prepared in advance so you are ready to cook the up together.
If you want a delicious veggie dinner, then you have to try this lasagna recipe. It is super easy to throw together, and the inclusion of spinach means it is super nutritious as well!
Because of how easy it is to find a marinara sauce which is already healthy, and how easy you can make zucchini pasta sheets, this is also a vegetarian recipe which is as quick and easy to make as it is healthy (see also "What Is Vegetarian Baked Ziti And Ricotta?")!
If you are looking for a soup which will warm you up no matter the time of year, then you have to try this Indian inspired soup which is full of plenty of veggies to give you lots of nutrition, but also to satiate your hunger, and the best part about this recipe is, is how cheap all the ingredients are.
If you want a soup which is perfect for the winter months, this should be at the top of your list.
If you have never made a mushroom ragout, you are sorely missing out, and this recipe is super easy to throw together and has some simple additions which really accentuate the flavors which are present.
The tomato sauce is acidic without being overpowering and helps with balancing out the flavors of the other ingredients!
If you have never made a crispy rice bowl, this is the perfect place to start, and the best part about it is all the simple and filling ingredients which it uses.
It combines carrot, avocado, spinach and radishes alongside some eggs to make this vegetarian friendly dinner a super simple option to throw together whenever you want something to fill you up quickly.
These cheesy beans are one of the best recipes for you to throw together if you want something simple and filling which is still delicious.
The cheese used in this dish is perhaps our favorite addition since it really helps mellow out the flavors of the marinara without making it boring.
If you are tired of eating beans the same old ways, you have to try this recipe!
We love this recipe which uses spiced tofu (see also: Easy Tofu Sofritas Recipe)alongside a beet crema, and it is made even better with the mango slaw which it is served alongside.
If you add some sour cream to it as well, it really brings all the flavors together, and they can be accentuated with some lime juice added as well.
If you have never made cabbage rolls, then you are missing out on one of the easiest but most delicious dinner options available for vegetarians.
You can get the mushroom and rice stuffed cabbage rolls to taste amazing with the right combination of spices and herbs, and this recipe will show you how!
While salads may seem like one of the more boring or stereotypical options when it comes to dinners for vegetarians, this is a recipe which you have to try.
This refreshing salad is full of summery flavors which will make you want to keep coming back for more!
We love this pasta and soup combination for how strong the flavors are, but also for how simple and easy it is to make, while also being a filling option as well.
If you want a quick and easy dinner with a strong flavor, this should be up for consideration.
If you find yourself missing out on traditional chicken fajitas, then you have to try this delicious and refreshing fajita skillet which is made using cauliflower.
If you are looking for a simple make it yourself dinner, then this option is a great one for you to try!
This recipe for chilaquiles is made using corn tortillas, but to make it an even more healthy option, we bake the tortilla chips so they are a bit less fattening.
They also have a more crispy texture this way which means they take on the flavor of the delicious sauce even better.
These noodles are super simple to throw together, and you can make the peanut butter tahini they need super easily using ingredients which you likely already have.
You also add some herbs which make it even more delicious and make the recipe super refreshing!
Gnocchi is a favorite dinner recipe for vegetarians for a reason, and you can throw together this recipe with ease. The white beans make it super filling.
We love putting sun dried tomatoes wherever they will go, and this recipe is a perfect excuse to add them!
This quinoa is absolutely packed with protein and is one of our favorite dinners if we want to be filled up quickly.
If you want plenty of fiber as well, this dinner is an easy way to get plenty into your diet, and it is also super delicious as well as being nutritious.
For perhaps our favorite vegetarian taco recipes, we have this vegetable taco recipe which uses grilled halloumi to get some amazing results as well (see also "High Fiber Vegetarian Recipes That Don't Lack Protein").
We also love the choice this recipe makes to use cypriot cheese which adds a unique flavor which we love!
This is one of the more unique salads we have included on the list and we love how the fritters add a unique texture which is absolutely packed with flavor as well.
The lemon zest also lends this dish a freshness which really accentuates the flavors.
If you have never tried labneh you are missing out. It is a super thick spreadable yogurt which has a unique flavor and you can even make it yourself! 
Finally, we have selected this gnocchi salad, which is super filling, while also being refreshing with the inclusion of the summer vegetables which we love!
Summary
Hopefully this list has shown you the wide variety of different vegetarian recipes which are available and will fill you up whenever you need something quick and easy.
If you have found too many options here, and you do not know which you want to make, we recommend narrowing down the list to a few favorites, and then cross-referencing the ingredients needed with the ingredients you already own.
This way you will have to spend less time and money on groceries, and you are learning to make something with what you already have!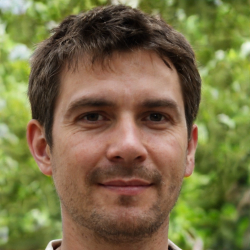 Latest posts by Justin Roberts
(see all)