This, my friends, is not only one of the quickest peanut butter recipes you will ever make, but also one of the healthiest too.
Nuts such as peanut butter are known for being high in protein. There's as much as 38 grams of protein in one cup of peanuts. Which is great and all, but…
Store-bought peanut butter spread is notoriously high in calories.
Some of this can't be helped, however, since peanuts themselves are high in fat. But when you buy reduced fat peanut butter spread in store, it often has added sugar to make up for it, which is not at all good when you're trying to be healthy.
And now I'm going to let you in on a little secret…
Not only can you make your very own peanut butter spread right at home, but you can make it super healthy by adding additional protein powder.
Perfect for anyone who wants to work on their muscles and body toning!
In this article, I'm going to give you the perfect recipe for making the best ever, quick and easy, high-protein peanut butter spread.
I'm also going to cover what protein powder to use, how best to store your peanut butter spread, different ways to use it, and I'll even throw in a section where I answer ALL of your most frequently asked questions on the subject.
And without further ado, let's get straight to it!
Ingredients You'll Need To Make This High-Protein Peanut Butter Spread
The good news is that you don't actually need that many ingredients for this recipe. Here's what you'll need:
16 grams creamy peanut butter (1 tablespoon)
8 grams vanilla flavored protein powder – for additional protein! (more on that later) (1 and a half tablespoons)
9 grams powdered peanut butter (AKA peanut butter powder) (1 and a half tablespoons)
22 ml unsweetened milk (almond milk works particularly well) (1 and a half tablespoons)
Choosing What Protein Powder To Use
There are several things to consider when choosing what protein powder to add in.
Taste
Because this recipe calls for unsweetened milk, I strongly recommend using vanilla flavored protein powder with it, to make it that little bit sweeter.
Sugar-Free Options
If you want to keep the calorie count low, you will have to choose a sugar-free protein powder. This way, you reduce the recipe's overall carb count, and therefore also reduce the overall number of calories.
Additional Nutrients
Some protein powders feature additional nutrients such as minerals, so that's also something you might want to think about.
Whey-Casein Blends
Casein is a slow-digesting protein, and there has been research to suggest that protein blends are superior to pure whey protein powders, both when it comes to fat loss and also muscle gain.
Vegan Options
If you only wish to consume plant-based products and want to avoid any animal products such as dairy, then do make a point of sourcing vegan protein powder.
Instructions For Making The Quick And Easy, High-Protein Peanut Butter Spread
You won't believe just how quick and easy this spread is to make – it's done in as little as 2 minutes!
All you have to do is, first, gather the ingredients in an appropriate bowl.
And just to remind you, this is just 16 grams creamy peanut butter, 8 grams vanilla flavored protein powder, 9 grams powdered peanut butter, and 22 ml of unsweetened milk.
Then you just mix them together, either by stirring or whisking.
You can adjust the thickness of the peanut butter spread by gradually adding more milk until you get your preferred consistency.
And that's it!
The recipe yields 4 tablespoons of spread, which is considered 2 servings. Each serving provides a mere 83 calories per serving, and 7.4 grams of protein.
Different Ways To Store Your Protein Nut Butter Spread
OK, I'm going to level with you here. You can't store this peanut butter spread in a cupboard like you would a store-bought spread. This is because of the addition of milk, which means it has to be kept cold.
To store it in the refrigerator, you will need to put it into an airtight container, and then it will last for a further 4 to 5 days.
And the good news is that this peanut butter spread freezes well. In the freezer, it will last for a further 3 to 4 weeks. Again, however, you will need an airtight container.
What Makes This The Best Quick And Easy, High-Protein Peanut Butter Spread?
There are soo many reasons to love this peanut butter spread… Where do I begin?
It's incredibly quick and easy to make. You don't even need to whisk the ingredients together, because you can simply stir them in, so there's no special equipment required whatsoever. And you can whip it up in as little as 2 minutes flat.
What's more, using a portion of powdered peanut butter rather than solely regular peanut butter, you manage to cut down the levels of fat in the spread.
And that's not all. Using this powdered peanut butter also results in a higher fiber peanut butter spread.
Moreover, by using a stevia-sweetened vanilla protein powder, the spread is entirely sugar-free, resulting in a spread that's so low in carbs, you can even enjoy it on a ketogenic diet.
Different Ways To Use This Amazing High-Protein Spread
Aside from how you store this peanut butter spread, you can use it in just about any way you would normally use a peanut butter spread…
On bread, on toast, on crumpets, on waffles, on cakes, on rye bread or crisp bread, in fudge, in smoothies, the list goes on. The possibilities are endless!
(I love it as a healthier peanut butter and jelly combo, alongside strawberry chia seed jam.)
Frequently Asked Questions
Can I Mix Protein Powder In My Peanut Butter?
If you've been paying close attention to this article, you'll know the answer to this already. But it bears repeating here.
Yes, you certainly can mix protein powder into your peanut butter, and in fact, I recommend doing it.
What Spreads Have The Most Protein?
It turns out that peanut butter has more protein than any other spread, coming in at a whopping 8 grams per ounce.
This is closely followed by almond butter and sunflower seed butter, coming in at 7 grams per ounce.
Followed by cashew butter, sesame seed tahini, and pistachio butter, coming in at 6 grams per ounce.
While walnut butter provides 5 grams per ounce.
How Can I Get 80 Grams Of Protein A Day?
If you're a meat eater, then getting your 80 grams of protein per day is actually pretty easy…
You can get 80 grams of protein in two chicken breasts, or 13 large eggs.
But if you're vegetarian or vegan, you have to get a little more creative. Here are some ideas for you:
4 to 5 servings of low fat Greek yogurt
4 and a half cups of cooked lentils
2 pounds of tofu (either firm or extra-firm)
Which Is Healthier, Peanut Butter Or Nutella?
There is little doubt that peanut butter is way healthier than Nutella. Not only is it higher in protein, but it's also lower in sugar, not to mention frequently lower in unhealthy fats.
Wrap Up
So, there you have it. Now you know just how to quickly and easily make a very high-protein, low calorie, low sugar, high fiber peanut butter spread in two minutes flat without the aid of any special equipment.
It's possibly the healthiest peanut butter spread recipe you will find on the internet.
What's more, you can do it with just 4 ingredients, and it will keep for up to 4 weeks if you're careful to store it right.
And I hope you found the FAQ section helpful, too. Enjoy your healthy peanut butter spread!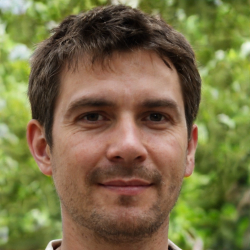 Latest posts by Justin Roberts
(see all)