Smoothies are a great way to consume plenty of much needed nutrients in one go to ensure your body works correctly. 
Not only that, people who don't have a lot of time to eat breakfast in the morning can make sure they are getting what they need to start their day off right by drinking a smoothie.
Smoothies can be a delicious source of fiber. We need fiber in our diet to ensure that we can have a regular bowel movement, which is really important when it comes to our overall digestive system.
If you are a little unsure of where to begin when it comes to making fiber focused smoothies, then fear not. We have 15 of the best fiber smoothie recipes to try today (see also "15 Best Autoimmune Paleo Recipes To Try Today"). 
So, what are you waiting for? Let's take a look!
We thought we would start off this high fiber smoothie list with a recipe from Nutribullet, the king of smoothies. 
This recipe is jam packed full of goodies when it comes to nutritious delights. From blackberries, raspberries and apples, to flax seeds, oats, spinach and almond milk.
You will find this smoothie is naturally sweet due to the berries. It is also a wonderfully easy way to eat spinach if you are not fond of the taste. 
This might seem like a simple smoothie – and it is when it comes to making it – but it includes a lot of fiber and nutritional benefits.
The smoothie itself includes flax seeds, pears, bananas, oranges and kale. You can also add almond milk to add a creamy flavor and texture to the smoothie. 
If you have no time to make breakfast, then you will want to make this smoothie to see you through the morning.
If you are wanting to add flax seeds into your diet but you don't know how, then this smoothie can definitely help you. 
Not only are flax seeds full of fiber, but they include essential fatty acids. Added into this smoothie of mango, banana, spinach, ginger and orange juice, (see also: Carrot, Ginger, And Orange Juice Drink (Great For Immune System))it helps to create a thick texture.
Like a lot of smoothies on this list, it will make a great breakfast smoothie due to its satisfying ingredients that will keep you full until lunch.
This fiber rich banana smoothie has a surprising kick of heat at the end of every single sip. This is because it also includes cardamom within its ingredients.
The smoothie itself is simple to make. It includes adding oats, unsweetened vanilla and almond milk, half a banana and apple, as well as cardamom.
If you prefer the smoothie to be thicker, add extra oats. It will keep you full all morning too.
Not all smoothies need to be sweet, but that does not mean they are not enjoyable. This fiber boosting green smoothie has everything you need for a healthy kick start to the day.
It includes apples, carrots and cabbage leaves to ensure that you are able to go to the toilet, and it will relieve any bloated feelings you may have.
So, don't suffer in silence, make this wonderful smoothie to ease those worries.
This smoothie looks super pretty due to its pink color. 
While most smoothies are vegan, this one has been created with vegans in mind due to some of the health benefits they may be lacking elsewhere in their diet.
The smoothie includes raspberries, bananas, mango and pineapple. The last ingredient on the list is maca powder. 
It is a dietary supplement that is said to boost energy levels and fertility, as well as reduce levels of stress.
If you are looking for something completely different yet familiar, then this smoothie is it. It tastes like chocolate and peanut butter heaven, but it includes psyllium husks too.
These are husks from seeds which come from the plantago ovata plant, which is a plantain species.
Some other things this high fiber smoothie contains is raw cacao, banana, hemp seeds, and of course, peanut butter.
If you are wanting something sweet and filling, as well as high in fiber, then this is the smoothie for you. 
It has a thick texture and will keep you very satisfied most of the day, meaning you will not be reaching for that mid-morning snack.
It only takes five ingredients to make too, and will have you regular in no time. This digestion boosting smoothie includes oatmeal, peaches, prune juice, yogurt, and some cinnamon. 
This smoothie is super healthy and full of fiber. It also includes unusual ingredients which may be of interest to you to try out in a smoothie.
These include cauliflower rice and white beans. This is alongside milk (non-dairy or dairy), frozen blueberries and strawberries, flax seeds, spinach and an added protein powder.
If you would prefer to forgo the latter, then that is fine!
The title of this smoothie may have been what has actually made you interested in checking it out. I know that happened for us. Who can resist some peanut butter and jelly?
While this smoothie doesn't actually include jelly, it does have a healthier take on this classic sandwich filling. 
It uses frozen raspberries, nut milk (any will do), peanut butter, and dates. The wild card ingredients include spinach and a scoop of collagen powder – though the last ingredient is optional. 
Just remember to use unsweetened nut milk, it tastes much better. 
As the fall season hits, you might want to change the way you start to make smoothies. This smoothie is perfect for when the first orange and brown leaves start to fall.
It is made up of beets, bananas, raspberries, chia seeds, almond butter and some almond milk. The result is a creamy and delicious smoothie full of nutrients. 
It makes a wonderful breakfast that will help to stop you from snacking – and that includes pumpkin spiced lattes!
This light green delight is packed full of nutritious fiber. The smoothie itself is so easy to make, and ensures that you get the fiber you need to start the day right.
Not only is this smoothie packed full of fiber, but it has many other helpful nutrients too. Avocados for example include healthy fatty acids needed for the brain and body to function properly. 
It also includes magnesium and potassium, while pineapple has digestion loving enzymes and fiber. This makes this smoothie a double whammy of awesomeness for those who need extra help when it comes to being regular.
You might not think about having a smoothie with coffee in it, but let us explain.
This fiber fueled and delicious smoothie makes a delightful mid-morning brunch or on the go breakfast. It includes cacao powder, instant coffee, oats, water, banana, pecans and almond milk.
While it does have over 300 calories, it is worth it if you are not planning on eating anything all morning. Plus, it makes a great alternative to your usual Starbucks order. 
You may have had jackfruit as a substitute for pulled pork in the past, but wait until you have it in a smoothie – it is a fruit afterall. 
This green smoothie is filled with spinach, jackfruit, dates and any type of milk of your choosing. 
The smoothie itself is low in calories, includes lots of vitamins and fiber. It also has a thick and creamy texture that is sweet. 
You will want this again and again!
This gorgeous tasting smoothie is full of fiber and interesting ingredients. Plus, it has some texture too. If you are not fond of that, then this smoothie may not be for you.
If it is, then read on! This smoothie contains the likes of raspberries, kiwi and banana. The texture comes from chia seeds which are loaded with fiber and omega-3 fatty acids.
Final Thoughts
As you can see, there are so many smoothie recipes to try that are packed full of healthy vitamins, protein and fiber. 
In fact, all 15 of the recipes above focus on making sure there is plenty of fiber to get the metabolism going.
Whether you are in need of a fiberos smoothie to get things going – if you know what we mean – or you just want to get more fiber into your diet, there is definitely a smoothie that can help.
The great thing about a smoothie is that you can pack it full of nutrients in one go. Not only that, you can drink a smoothie on the go – plus it is filling. This makes it a great breakfast or mid-morning 'snack'.
Hopefully you have enjoyed these recipes. Check out the rest of our website for more healthy and low calorie recipes to try today (see also "10 Best Healthy Paleo Recipes To Try Today").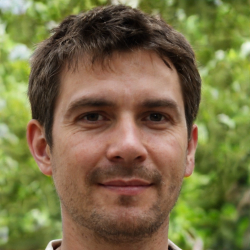 Latest posts by Justin Roberts
(see all)