Air fryers have taken the world by storm, and for good reason. No longer do you have to wait hours for your food to cook in the oven for it to be healthy. Cut your cooking time in half by cooking it in the air fryer!
Perfect for those following a paleo diet. No matter what recipes you want to try, chances are they can be done in the air fryer. Not sure what to try first? We have 15 of the best paleo air fryer recipes (see also: 15 Best Easy Paleo Recipes To Try Today)below!
Simply have a look, pick your favorite and get to cooking. You'll be able to create delicious, healthy recipes in less time. From juicy, crispy chicken, to succulent lobster tails, the possibilities are endless!
Let's get into it!
Chicken wings are a hit for every occasion. Especially on game day. With friends round, you want dishes that are simple, quick and delicious. 
Air Fryer Chicken Wings take less than 30 minutes to make and can be served in a variety of ways. With a sticky BBQ sauce or a spicy buffalo sauce, you can cater to a range of taste buds with just one dish. 
Just don't forget the napkins! Things can get really messy real quick with these chicken wings. 
Sweet Potatoes are a great way to change things up from regular fries. However, if you have ever made them in the oven then you know they can take some time. 
This Air Fryer Sweet Potato Fries recipe adds a delicious heat with a spicy spice mix while being made in less than 30 minutes. 
Top tip: blanch your fries in boiling water for 5 minutes before seasoning and baking in the air fryer!
Serve with your favorite dips. 
We all love the delicious little potato bites, Tater Tots. However, they are not paleo and they certainly are not healthy. 
This cauliflower version is perfect for keeping your diet clean and has a whole host of benefits. With a little work and seasoning you make these incredible Cauliflower Tater Tots. All in your air fryer!
Using a simple cauliflower and coconut flour, you have a delicious snack that everyone can enjoy. 
Serve with your favorite dips. We love these pockets of happiness with paleo BBQ sauce!
No party is complete without a delicious spinach dip that you can't help but keep eating. This Air Fryer Spinach Dip recipe (see also: 10 Superb Low Calorie Air Fryer Recipes Everyone Will Love!)takes minutes to make and is perfect for serving large crowds. 
With a golden brown, crispy top and a creamy, rich dip underneath, it is sure to be the hit of the party. Serve with chips, crackers or whatever you fancy!
Make sure to stir the dip halfway through to ensure it cooks all the way through and to avoid burning the crust. 
You'll become addicted to air-fried shrimp once you try it! The shrimp recipe for the air fryer is amazing because it is so flavorful and fresh. Seriously, these air-fried shrimp take only 15 minutes to prepare. 
This method of cooking seafood is convenient and something you might want to do frequently. In less than 15 minutes you will have delicious garlic shrimp that can be used for lunch or dinner. 
Serve on a bed of creamy pasta or steamed rice for an incredible, filling meal. 
Too often do we crave Shake n Bake Chicken yet we know that it is deep fried and not the best for our hearts. This air fryer recipe is the perfect substitute!
Using milk, ice water, egg, or mayo you can coat your chicken with seasonings of you choice, air fry, and enjoy!
This is the perfect 'fakeaway' meal for when you are in the mood for something delicious but want to remain a little healthier. 
Serve with fries or creamy mashed potatoes for a comfort meal!
If there is one thing that is an absolute must when serving large crowds, it is this Air Fryer Pork Belly Bites recipe. 
Small cuts of pork belly, air fried until crispy and juicy. Drizzled in a smoky BBQ sauce glaze .Delicious and perfect for appetizers or a fun snack. 
Not a fan of bbq sauce? Try out your favorite sauces from hot sauce to teriyaki! You can make this simple dish your own by making a few simple changes. 
You'll fall in love with this simple recipe for air-fried steak bits or steak tips. Perfect for a romantic date night with a lovely glass of red wine. 
Paired with some seasoned mushrooms and you have a healthy, mouthwatering meal. Or swap the mushroom out for your favorite veggies. 
You can then take your steak (Also check out How To Make Paleo Filet Mignon) and turn it into a wrap, pasta, or whatever your heart desires!
Baked potatoes are a great lunch or dinner when you need something warm, filling, and wonderful. But cooking them in the oven can take too long and the microwave just doesn't get it right. 
Air Fryer Baked Potatoes are truly magnificent. They offer a crispy skin on the outside with fluffy, soft, creamy insides. While it takes longer than a microwave, the extra cooking time is definitely worth it. 
Top with your favorite fillings and serve!
Because you air fry this decadent treat rather than frying it in a pan of oil, it is healthier.
You get the same deep-fried texture without all the grease when using an air fryer since it evenly distributes heat throughout the food to cook it.
This recipe is the perfect afternoon snack when living a paleo diet. Swet, crunchy, healthy. 
They are suitable for kids and highly addictive! Kids can be encouraged to eat more fruit with this tactic. Given that it is covered in coconut and cinnamon, they won't even realize it is a banana.
The air fryer makes these simple tostones, also known as patacones or fried green plantains, healthier. These cook up crispy and tasty with no greasy mess!
This Latin inspired snack is often cooked in oil or in the oven but the air fryer gives them that special crunch. 
Served with creamy guac and you have a delightful afternoon snack or appetizer to serve your guests. 
Transform your thoughts on brussel sprouts with this air fryer recipe. Whether you are serving them at the Christmas dinner or are trying to add a few veggies to your diet, this recipe is perfect. 
Crispy, roasted brussel sprouts coated in a rich balsamic glaze. They are truly divine, even the kids will love them! 
To make each brussel perfect, use smaller brussel sprouts over the large ones. Cut them in half and coat in your marinade. 
Russet potato shreds are used to make these homemade Crispy Air Fryer Hash Browns.
There's no easier way to eat breakfast in your air fryer! You are welcome to stuff these full with red, green, and onion.
This recipe is perfect for a lazy sunday brunch that goes perfectly with a cup of coffee or a mimosa, whatever you decide. 
Serve with bacon, eggs, and sausage for a full breakfast.
Salmon is a tricky cut of fish to master. While it can be eaten raw, it is not ideal when you want it to be flaky with a nice crust. 
This Air Fryer Salmon recipe helps you get that perfect skin every time. And it takes less than 15 minutes!
Pair with your favorite veggies and sides. We especially love salmon with broccoli and creamy mashed potatoes. 
You can even try this recipe with a gorgeous maple glaze. 
Air Fryer Bacon Wrapped Scallops are the perfect way to add some elegance to family dinner or to impress that all important dinner party. And they are super simple to make. 
It only takes a few minutes to cook the meaty, tasty scallops, making this the ideal quick weekday meal.
In less than 10 minutes, scallops prepared in an air fryer are wonderfully moist and soft on the inside, with crisp golden bacon on the exterior.
Final Thoughts
Air Fryers truly are one of the world's greatest creations. From baking to roasting, it really does make cooking super simple and quick. 
If only it done the dishes too!
So, get the most out of your air fryer with the recipe above. While staying true to your paleo diet. Keep your recipes fresh and delicious while experimenting with textures and flavors. 
Serve large groups or make dinner for one with these incredible recipes. All you have to do is choose. 
You really can't go wrong! Pick your favorite recipe and get to cooking and hitting your goals!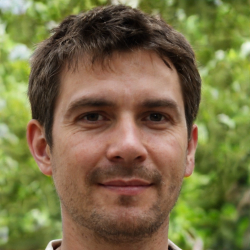 Latest posts by Justin Roberts
(see all)