If you're on the paleo diet (which is short for the "paleolithic diet"), then you'll know that it revolves all around the kinds of natural foods that early humans would be able to hunt and gather.
As a result, you'll be eating a heavier concentration of fruits, eggs, fish, vegetables, nuts, seeds, and more. 
There's plenty of non-processed foods to enjoy in all those natural categories, and one of the best vegetables to have in your paleo meals is the beet.
Beets are packed with fiber and other helpful nutrients, and they're a great choice for paleo dishes.
We have to say, though, that there's an awful lot of sugar in beets, with the carbohydrates being roughly 80% sugar, so if you're diabetic it's a good idea to not eat loads of beets. 
But with so many different paleo beet dishes available, how can you narrow them all down and find the best ones for you?
We've done the work for you! In our delicious guide below, we've got a list of the 12 best paleo beets recipes to try today (see also "15 Best Autoimmune Paleo Recipes To Try Today").
Whatever your tastes, you're sure to find beets dishes that you just love, and they'll help you keep to the paleo diet. Read on!
12 Best Paleo Beets Recipes To Try Today
We're starting our list off with a simple and straightforward (yet no less delicious!) paleo beets recipe – marinated roasted beets.
This is exactly what it sounded like, just diced up roasted beets marinated in a whole load of delicious sauces and seasonings.
The beets are washed and trimmed while your oven preheats, and then the vegetables are put into a baking dish with some water.
The dish is covered with foil and then placed in the oven for around an hour, before the dish is removed and the beets are left to cool.
When they're cooled down? It's time to properly dice them and then marinate them in the various delicious seasonings.
These marinating agents include balsamic vinegar and kosher salt. Safe to say, this is an incredibly easy dish to throw together, yet you're left with a bowl of delicious, crisp beets marinated in lovely flavors. 
Next up is a slightly more complex dish, but still one that's straightforward and easy to throw together. 
This is a salad mainly made up of diced beets and walnuts, along with some seasoning like in the recipe before.
This is a great recipe for people following the paleo (see also: 10 Tasty Paleo Dessert Recipes You'll Love)diet because beets are a great paleo food and walnuts (and all nuts) are a massive part of paleo too.
This is a great recipe for people following the paleo diet because beets are a great paleo food and walnuts (and all nuts) are a massive part of paleo too.
Seasonings include salt and pepper, balsamic vinegar, and extra virgin olive oil. These help to give the salad that bit of extra taste and sweetness. 
This is a totally delicious paleo beets recipe which combines the sharp, tasty beets with the sweet and subtly spicy taste of sweet potatoes.
In addition to these two key ingredients, there's some parsley and seasonings added into the mix too, creating a scrumptious (and healthy!) meal.
The beets and sweet potatoes are both skinned and peeled while the oven preheats, then diced into small chunks.
The beets are then baked for about 15 minutes, with a small drizzling of olive oil on them, before the sweet potatoes are added for an extra half an hour. 
It's a really simple meal that is extremely tasty – who could ask for more? 
This is like an extension of the beets and walnuts salad we looked at earlier, only with far more food thrown into the mix.
It's a delicious dish that's paleo friendly, and you can quickly and easily throw it together whenever you have a healthy craving.
The key ingredients here are the beets themselves, and shallots and walnuts. The beets and shallots are tossed together, before being put into the oven after a sprinkling of salt. As for the walnuts, they're toasted dry in a pan.
Avocado oil is also used during the recipe, which helps to give the paleo beets dish just a hint of that unique nutty, creamy taste of avocado. 
This next paleo beets recipe is a great one, a colorful bowl of healthiness. It's extremely easy to put together, making it the perfect meal for when you're pushed for time and you need something low effort after a hard day. 
The key ingredients for the recipe are beets (obviously!), some raw pecan nuts (another great paleo addition), some cabbage that's been sliced thinly, and then a garnish of chopped green onions.
As you can see, this is a great variety of healthy vegetables, and they're all natural and paleo friendly. 
However, the recipe also adds a balsamic vinaigrette, which it explains how to make from dijon mustard, balsamic vinegar, minced cloves, and other ingredients.
It makes the dish even more delicious, and it's a vinaigrette recipe that you can use as much as you like for other meals!
You might be surprised to see the inclusion of fruit in a savory vegetable salad, but the addition of blueberries into this paleo roasted beets salad is a revelation. 
They're not the only ingredients though, because this recipe uses a whole variety of paleo friendly foods, sauces, and seasonings in order to give you a multi-faceted dish.
For example, the recipe uses some radishes and microgreens as a garnish, while it also uses apple cider vinegar in order to give the salad just a hint of a sweet apple flavoring. 
This is an interesting one! With this paleo beets recipe, you can pickle some beets in a jar, helping to preserve them and giving them a fantastic new flavor.
You'll need a variety of ingredients in order to make this pickled beets dish.
For example, you get to add a sliced small red onion into the mix, which complements the beet flavor very well, and a couple of bay leaves are included too.
You'll also be using a cup of either red wine vinegar or cider vinegar. The choice is up to you, allowing you to pick whichever you like the taste of best. 
There's even a bit of honey used! This is an interesting paleo beets recipe that's easy to make and offers a unique flavor. 
Another roasted beets recipe, this paleo beets dish is great as a side or as a salad topper. It's easy to make, and you'll only need a few ingredients!
Besides 3 peeled and diced beets, you'll need some sea salt, olive oil, honey, and balsamic vinegar.
If you want to make the dish vegan, you can swap the honey out for some pure maple syrup, which might even be a sweeter, tastier option!
Another great example of how versatile a roasted beets dish is. Seriously, you can roast beets and add so many different seasonings to them, totally changing the flavors while still keeping it always paleo friendly. 
For this recipe, the key ingredients are just about 7 beets, some sea salt, and a couple of tablespoons of extra virgin olive oil.
However, you can then customize things a bit. For example, there's a variety of different powders that you can dust the beets with.
These include things like paprika, chili powder, garlic powder, and so on. Each of these will really change the flavor of the beets – especially the spicier powders. 
This pale beet recipe gives you a nutritious, healthy salad with a delicious mustard vinaigrette to bring it extra flavor.
You'll need a few ingredients for this recipe, including 3 medium-size beets. Other ingredients include horseradish mustard and apple cider vinegar.
As you can imagine, this is going to be a salad that tastes really strong and sharp, judging by the beets and those sauces. 
Another salad that mixes the delicious paleo flavors of roasted beets with the juiciness of a fruit, in this case strawberry. It's a simple dish bursting with flavor, and it's healthy too!
Besides the beets and strawberries, the ingredients also include spring onion, walnut pieces, and watercress, among other things. Nuts are great for paleo in particular!
The final entry on our list is this nutritious, flavorful roasted beet and citrus salad. It's a great pick for paleo followers!
For the citrus in the salad, the recipe uses red grapefruits, and either kumquats or orange (the choice is up to you!).
There's also some grapefruit juice used in the dressing. In addition to these, the salad includes onion, spinach, and avocado, among other things.
Final Thoughts
Beets are great for the paleo diet, and there's plenty of delicious paleo beets recipes (see also "Delicious Paleo Ice Cream Recipes"). Use our list to find the best!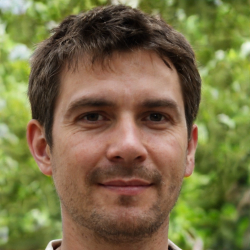 Latest posts by Justin Roberts
(see all)