Most diets can benefit from protein powders. Starting your day with a protein shake can build up energy for whatever is in store for you. Not only this but it is believed that a protein shake for breakfast may also aid in weight loss and help to preserve muscle mass simultaneously.
If you're on a dairy-free diet, such as paleo, you may be thinking that protein shakes at any time of the day are not a viable option. The good news, however, is that there are a variety of paleo protein powders available on the market for you to choose from.
The best paleo-friendly protein powders typically have a combination of a certain type of protein source, such as egg white protein, broth, or beef with collagen. This can provide your body with many healthy benefits.
Paleo protein shakes are generally low in added sugar content and fats, resulting in fewer calories (see also "Is Coconut Sugar Paleo?"). 
Of course, you'll want your protein shake to taste good too, and thankfully, many paleo shakes blend well with natural flavors and taste great. They also contain no artificial sweeteners.
Paleo Protein Powders Product Reviews
If you're looking for a paleo protein powder to start taking, you're in the right place. Today, we have selected 5 of the very best protein powders that are appropriate for paleo diets.
All are free of whey, grain, and dairy, but are still beneficial for your health and can help you reach your fitness goals. 
Let's get started.
First up, we have a brand that is renowned for making top of the line collagen-based products. Vital Proteins have once again excelled with its Natural Whole Nutrition Collagen Peptides to help you get leaner and build strength.
This product is an unflavored version that is ideal for use in hot beverages, smoothies, and just about any drink for that matter.
The peptides dissolve very quickly and easily in liquid and are completely flavorless so you can enjoy the taste of your drink and reap the protein benefits.
Add two scoops of Vital Proteins Collagen Peptides and you will be getting 18 grams of protein in your system. A great way to start your day!
Pros
Helps with skin health – users have reported that their hair is shinier and skin is smoother after using this product
Helps ease pain in joints – regular use has been shown to dissipate pain in certain joints
No taste or odor – effortlessly dissolves in your drink without tampering with its flavor
Cons
Does not come with a scoop – will have to take the powder out using other methods which can be tricky when you only a little bit left
Also available at – Collagen Peptides Powder – 567g | Vital Proteins UK
Gluten and dairy free, PaleoPro Protein Powder is packed with 26 grams of lean beef protein and egg white protein.​
It also contains one gram of fat and a gram of carbohydrates with a calorie count of just 120. This equates to a protein by weight ratio of around 86 percent.
You won't find any soy, sugar, coloring, preservatives, artificial sweeteners, or grains in this powder meaning it is completely suitable for paleo diets.
All in all, there are six ingredients – beef protein isolate, cocoa powder, egg white protein, monk fruit extract, natural flavors, and sunflower lecithin. The last of these ingredients helps the protein mix well with no clumps. 
You may experience a slight beef aftertaste with this protein powder which is not to everyone's taste, and it can be a little gritty.
But, there are three flavors to choose from – Ancient Cacao, Aztec Vanilla, and Mayan Mocha – or you can opt for the plain naked flavor to mix with other drinks.
You can also choose between a 16-ounce or one pound pack, with the price difference being minimal between the two. You certainly get your money's worth with PaleoPro protein Powder!
Pros
Includes sunflower lecithin – no clumping in this powder like you get with others so it goes down smoothly
Unique flavors available – can choose from three distinct flavors or go for the plain one to suit different tastes
High protein content per serving – 26 grams of protein in the powder which is very high for paleo protein powders
Cons
Has a beef aftertaste – beef flavor tends to linger afterward which may not be to everyone's liking
A gritty texture – although not clumpy, it can be a little gritty in the mouth 
Also available at – Paleo Protein Powder (1lb) – PaleoPro
Equip Foods Prime protein powder is made with grass-fed beef protein and is one of our all-time favorites. This powder comes in a variety of flavors, including strawberry, chocolate, and vanilla, all of which are sweetened with stevia.
That being said, the unflavored version is typically the most popular and goes perfectly with breakfast dairy-free smoothies.
Beef protein comes with heaps of health benefits, one of which is that it does not contain any of the top allergens. It is also a full source of protein with high bioavailability.
This helps to increase the chances that your body will take in necessary and beneficial nutrients to help keep you healthy. 
Equip Foods are one of the best manufacturers of paleo products and this powder is no exception. It has a fluffy, light texture, and its flavorless version goes well with most beverages, especially smoothies.
Just one scoop contains 24 grams of protein and 100 calories to help build muscle and remain healthy.
Pros
Contains beef protein – very beneficial for your health, containing none of the top allergens
Available in different flavors – can choose from three flavors and a flavorless option to suit most taste buds
From a reputable brand – you know you're getting a top quality product when buying from Equip Foods
Cons
Packaging does not reseal very well – you may need to transfer the powder to an airtight container once the packaging has been opened 
Also available at – Prime Protein Grass-Fed Beef Isolate Protein Powder – Chocolate & Vanilla – Equip (equipfoods.com)
Our fourth entry on the list today contains just four ingredients but provides 22 grams of protein, two grams of fat, and four grams of carbohydrates. Active Stacks Beef Protein Isolate Powder can act as a great meal replacement on a paleo diet.
However, its sugar quantity is not specified, so it's best to check with the manufacturer to be sure.
This protein powder should be able to help you on your quest to build muscle whilst simultaneously helping maintain skin and joint health.
Your skin and joints can benefit thanks to the BCAAs (Branched-chain amino acids) and collagen that naturally occur in the powder. And, there is even a glycine boost that has been shown to help you sleep and improve overall cognition. 
This Active Stacks retain powder contains no artificial sweeteners, preservatives, or coloring. The protein itself is sweetened with debittered stevia leaf extract, which is paleo-friendly.
You can choose between chocolate and vanilla favors and there is little to no grittiness or chalkiness in the powder.  But, because it contains no lecithin, you may have issues mixing the powder with some beverages.
Great value for money, however, makes this an appealing product for those following a paleo lifestyle.
Pros
Only used four ingredients – the low number f ingredient sussed means it makes it easier to use this product in baked goods
Contains a boost of glycine – may be able to help you sleep better and improve overall cognition
No grittiness – Active Stacks promises that there is no chalkiness or grittiness to the powder's texture, resulting in a more pleasant consumption 
Cons
Does not contain lecithin – you may have issues mixing the powder with liquids
Also available at – Active Stacks – Beef Protein Powder (Paleo, Keto, Dairy-Free)
Okay, many people who follow a paleo diet do not eat eggs, but many others do. If you're in the latter group and tolerate the use of eggs in your diet, then this egg white protein powder from "It's Just!" is a great way to start your day.
This protein powder is non-GMO, made in the United States, and goes perfectly in morning smoothies. Although it is not organic, one serving has 13 grams of protein to give you a boost of energy and help build those muscles.
The texture of "It's Just!" Egg White Protein Powder is pleasantly light and fluffy with no grittiness to it whatsoever.
Ultra fine and unflavored, this powder comes in a resealable package for maximum shelf life. It does not contain any added sugar, soy, msg, preservatives, or fillers. It also contains no lecithin so its mixability may be a little tricky.
However, it is ideal for no-bake protein bars, meringues, macrons, and much more! You can even use it as an alternative to low-carb bread coating on chicken.
This healthy protein can help support your muscle development and will nourish your body with vial vitamins and nutrients to keep your immune system and metabolism working properly. 
Pros
Versatile – can be used in smoothies, beverages, and baked into different goods to substitute other non-paleo ingredients
Tastes like egg whites – has a natural flavor that works well with many foods and drinks
Comes in a premium, sealable pouch – can store for a long time without having to move it into another container
Cons
Doesn't dissolve very easily – may have issues dissolving the powder in certain drinks due to its lack of lecithin
Also available at –  It's Just – Egg White Protein – 138 Foods, Inc.
Buyer's Guide
Above are just a small selection of top-quality paleo protein powder currently available on the market. Before you decide to purchase one, however, there are some important factors to consider.
Below are the main points to think about when looking for paleo protein powder. If you consider each point carefully, you will give yourself the best chance of buying the right protein powder for you.
No Fake Sweeteners Or Added Sugars 
The majority of standard protein powders contain added sugars to enhance the texture and taste. These added sugars are often unhealthy, and as we know, paleo diets are all about being health conscious.​
Therefore, protein powders that contain high levels of fructose, corn syrup, and/or glucose syrup should be avoided. Natural sweeteners, such as dried fruit, stevia, and monk fruit are appropriate alternatives that work well. 
Many protein powders contain artificial sweeteners, too. Examples include Sucralose, aspartame, and maltodextrin, all of which have potential side effects, even though they can reduce calorie intake with protein shakes.
Overall, it's a safer option to go down the natural sweetener route, particularly on a paleo diet. 
Source Of Protein
You can't just choose any old protein powder when following a paleo diet. For starters, you must avoid most dairy products as these would not have been available to our neolithic ancestors.
This is easier said than done, of course, as most protein powders are made with casein or whey powder, which are both sourced from dairy. Moreover, you'll also need to avoid grains in your powder. Soy protein should also not be present in your protein powder. 
Instead of these traditional ingredients, look for a protein powder that is sourced from beef protein isolate. As well as this, collagen peptides from fish are also suitable. 
For those of you who eat eggs on a paleo diet, egg white protein can also be used, plus pumpkin seeds and hemp protein. 
Vegan Or Non-Vegan
A great deal of paleo-friendly protein powders are sourced from beef protein. Therefore, if you're a vegetarian or vegan, these powders will not be suitable for you. The good news is that there are vegan, plant-based alternatives, such as Orgain Organic. 
Flavor 
We all have different tastes so some paleo protein powders will be to your liking, whilst others will not.
If you're expecting something as tasty as ice cream, you may be disappointed with many, but there are many flavors available, including the two most popular – vanilla and chocolate.
For many, though, plain protein powders are the way to go as they mix well with various beverages and can even be used in baked goods.  
Bioavailability 
You should consider the powder's level of bioavailability. Plant-based protein powders are known for being very bioavailable. This means you will not need to use as much to experience the same results from animal-based products, such as beef protein.
In other words, you can digest more plant-based protein powder than its animal-based counterpart and enjoy similar results. 
Manufacturer's Quality
It's important to think about quality isolate. This is in reference to how the manufacturer processes its protein powder. The best quality paleo protein powders tend to only contain the amino acids to help build muscle and keep your body healthy. 
Whey Or No Whey?
Whey is not considered to be paleo in a technical sense. This is because it is derived from dairy, so paleo followers refuse to include it in their diets. However, many believe it is acceptable to use high-quality whey protein in their paleo protein powder shakes. 
Lots of people avoid whey due to a dairy intolerance, but some have found that whey protein does not result in a negative reaction after being consumed.
This is because most of the allergenic ingredients that are found in milk, and cause adverse side effects, are removed from the protein powder.
If you can not consume whey, there are paleo-friendly alternatives. We suggest researching a hydrolyzed beef protein powder for non vegans/vegetarians, or egg white protein powders.
Frequently Asked Questions 
Can You Have Hemp Protein In A Paleo Diet?
The short answer is no, hemp is not considered paleo-friendly. Whilst it has numerous healthy benefits, it shouldn't be used as a main source of protein. Nevertheless, it remains one of the best out of all plant-based protein powders as it boasts a complete amino acid profile.
If you're not on a paleo diet but wish to reduce your animal product intake, hemp protein is a good option as it will provide you with a boost of omega fatty acids and fiber.
That being said, it should only be used in limited quantities, so if you can, we recommend sticking with animal-based protein products. 
Can You Use Stevia In Paleo Protein Powders?
You can use stevia in paleo protein powders and it has many advantages, but only if it is all-natural.
Although it is suitable for paleo diets, stevia does not have much nutritional value at all, though. It is typically used as a natural sweetener, which is of course better than using chemicals or sugar.
You should read the ingredients label to make sure the stevia is all-natural before using it as some products will use artificial stevia manufactured in labs.
Stevia is great for adding a little sweetness to your shakes but unsweetened and unflavored protein powders are considered the best for smoothies and snacks.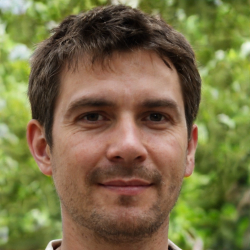 Latest posts by Justin Roberts
(see all)