One of the best ways to fill yourself up at the start of the day is with a delicious smoothie.
And if you are looking to increase your protein intake for the day, then this is one of the best places you can do that.
A lot of protein heavy smoothies can not have a great taste, so that is why we have chosen to go with chocolate for this recipe, since who doesn't love chocolate?
This is a double chocolate protein shake, and the inclusion of oatmeal is what makes this delicious shake so nutritious.
One big issue which you will keep running into when it comes to protein and breakfast smoothie recipes is that they all seem to include bananas (for great gluten-free protein powders, read here).
While I am sure a lot of people enjoy bananas, there are just as many people who do not.
Also, even if you like banana, when they are included in something they tend to dominate the flavor of the shake. This is why we thought it was important to make a recipe which does not include banana!
This smoothie is going to be one of the best chocolate breakfast smoothies you have ever tried, so this is something you are really going to want to try!
The chocolate flavor is rich, but not too much for the start of the day, and you will understand when you make it why the inclusion of oatmeal is such a good idea! 
So, if you are looking for your new favorite smoothie recipe, and are looking for something which is as nutritious as it is delicious, then keep reading!
Why Should We Put Oatmeal In Our Protein Shake?
Something which not everyone knows is that including oats in a protein shake is actually an excellent idea.
The main reason for this is how nutritious they are as well as the thick texture you can achieve without having to use bananas! They also help cut down with the sugar content if you are more health conscious!
By making a protein oatmeal smoothie (see also "The Best Single Serve Oatmeal Protein Cookie"), you will also get some great benefits to help you if you work out, whether this is related to losing weight, or to gaining it!
What Are The Benefits Of Using Oatmeal In A Protein Shake?
One of the main benefits of using oatmeal in a protein shake is that it is an amazing source of fiber, as well as healthy carbs, both of these will help you when it comes to gaining muscle!
An oatmeal shake will also keep you feeling full for even longer, so if you are looking for a drink to help you with working out, then this is a good option!
If you are looking to gain weight, then we recommend adding even more oats into the recipe to boost the calorie content and help you with this goal.
Using oats is a great way to get a creamy texture in your final product without having to use any banana!
What Ingredients Do You Need For A Chocolate Oatmeal Protein Smoothie?
You will need chocolate flavored protein powder, this is the main ingredient you will need, so the better the quality, the better the results and the flavor!
Then the other main ingredient is rolled oats, you can also use gluten free oats as well, this will of course make this a gluten free recipe, as well as suitable for a paleo diet.
The base for the smoothie is unsweetened almond milk, and by using this you can keep the recipe dairy free as well. However, the results will be similar by using whatever type of milk you have on hand, but use this for the best results!
Then you need unsweetened cocoa powder, or a cacao powder.
Finally, you can add ice cubes this is what makes it a milkshake, if you want it thicker, you can also freeze your milk to get a similar texture.
Can Raw Oats Be Eaten In A Protein Shake?
It is completely fine to eat raw oats inside a protein shake since you will be blending all of the ingredients together, this will lead you to a thick and satisfying final drink which is safe to drink!
How Many Oats Should Be In A Protein Shake?
We recommend a half cup of oats for every cup, and every scoop of protein powder, this will get you the best final texture which will be creamy and delicious.
If you want it thinner you can choose to add more milk instead!
How To Make A Protein Shake With Oats
Similar to most protein shakes, smoothies, or similar drinks, the process for making this is not too difficult and will not take you much time, all you need to do is add everything into a blender and turn it on!
We recommend using a high speed blender to get the best results, and all you need to do is add; the oats, the protein powder, the cocoa, the milk, and the ice, you can also choose to add some vanilla if you want a slightly more complex flavor!
We recommend turning the blender on for about half a minute, this will ensure that the ice you use will be crushed properly, and the oats have been broken up properly!
Recipe
This recipe only takes 2 minutes to get ready and to drink, and will get you a delicious and creamy protein shake for a quick and easy breakfast, and the best bit is, you do not have to use a banana!
This recipe will get you 2 cups of smoothie, and this will be roughly 340 calories, contains 8.1 grams of fat, 0.3 grams of saturated fat, 40.6 grams of carbs, 9 grams of fiber, and 28.6 grams of protein. This smoothie does not contain any sugar.
Ingredients
1 scoop of chocolate flavored protein powder (30 grams, or a third of a cup)
Half a cup of quick or instant oats (45 grams)
A tablespoon of unsweetened cocoa powder (you could use cacao powder too)
A cup of unsweetened almond milk (236 ml)
Half a teaspoon of vanilla extract (optional for extra flavor)
¾ cup of ice cubes
Method
All you have to do is mix all of your ingredient into the bender and blend it for about 30 to 45 seconds until you get the creamy consistency you want.
You can make the recipe thicker by adding more ice cubes or oats, or you could make it thinner by adding more milk.
More Options
If you want to make the recipe gluten free, you will want to make sure that you are using gluten free oats, and if you want to make the recipe vegan, we recommend using a plant based protein powder.
A lot of mainstream protein powders are now vegan by default, so make sure to check this if you want the smoothie to be vegan.
Frequently Asked Questions
What Can I Use Instead Of A Banana In My Protein Shake?
There are plenty of different options for what you can put in your protein shake if you want it to still be nutritious and thick, but not be dominated by the taste of banana.
This recipe of course uses oats which is a cheap alternative and does not have as dominating of a flavor. The main issue with oats is that they are not as sweet as a banana. 
If you want sweetness, you can use mango, dates, or even a sweet yogurt, these will all have more of an impact on the taste, but will make your smoothie thicker, so choose something you like.
There are plenty of other options to make your smoothie thicker, for example, you could use cashews, avocado, chia seeds, or flaxseed.
This is something which is easy to experiment with, so try out whatever you want!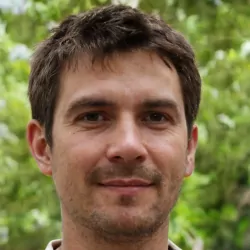 Latest posts by Justin Roberts
(see all)