For a lot of people, dessert is their favorite part of any meal. It is the part they look forward to the most, especially if they have a sweet tooth.
Dessert doesn't always have to be fancy, especially if you want something sweet to help finish your mid-week dinner. 
If you love desserts but don't want to spend hours creating them, then you are going to love the recipes we have collected for you today (see also "Tasty Whole30 Dessert Recipes").
All of these desserts are simple to make, require very few ingredients, and take little effort to create. If that wasn't enough, these recipes are also gluten and dairy free as well (for great gluten-free protein powders, read here). 
In this article, we have gathered 25 easy dairy and gluten-free desserts that you are going to want to make for yourself today!
This vegan and naturally sweetened dessert is really easy to make and has a mouthwatering flavor. Making mousse can be a terrifying thought, but this recipe makes creating mousse a breeze.
It has the perfect rich and thick texture, while tasting heavenly. Any chocolate lover will enjoy sampling this dessert. 
This delectable recipe might end up becoming your new go-to variation on an old favorite if you enjoy handmade chocolate pudding but have to avoid dairy.
The pudding is elevated by the sauce, which complements the cake's richness and indulgence. 
No one would be able to tell that this dessert was free of dairy or gluten. It requires very little effort but always yields delicious results.
Nothing is simpler than a microwaved cake that only takes one minute! Give this dessert a try if you enjoy creating a dessert quickly, and you adore carrot cake!
This is a healthy carrot cake recipe, as it is naturally gluten-free, vegan, dairy free, and has a tried-and-true paleo alternative. Yet, it is moist, and fluffy while being delicate on the outside.
You might want this kind of simple and delectable fruit tart when the warm weather arrives.  Fresh fruit of different hues and flavors are placed on top of a creamy egg, coconut milk, and maple syrup filling, with an almond flour crust.
Any fruits you have on hand can be added. It takes only a few minutes to make this tart, which must then chill for 30 minutes before serving. Consequently, it is ideal for any last-minute summer dessert.
These chewy, soft coconut cookies don't require to be cooked. They don't call for oil, flour, or eggs either. Making the cookie dough merely takes a few minutes and doesn't require any frying or baking. 
Overall, a quick and tasty dessert can be made. Even better, you can personalize them by using different toppings and flavors of your choice. 
Thanks to a simple almond flour crust and lemon curd that is thickened with eggs and coconut oil, this healthy lemon tart dish comes together quickly.
Although the tart is paleo friendly and dairy-free, it nevertheless has the same silky, rich, and tart flavor of a classic French lemon tart.
These tarts can be made in just 20 minutes and will be the talk of any gathering you bring them to. They can be eaten as they are or pair them with a dollop of vegan cream.
If you enjoy Rice Krispie treats, you'll adore this recipe's dairy and gluten-free variant.
You can prepare these on the weekends or during the week for a quick and simple dessert to feed a crowd. This is because the recipe only requires 4 ingredients.
You can prepare this dessert tonight if you have vegan butter, marshmallows, gluten-free crisped rice cereal, and vanilla extract on hand!
All the kids will want a rice krispie treat after their dinner. To bulk them out even more, you could add chocolate chips. However, to make them a bit healthier, you could also incorporate nuts or dried fruit as well.
There are a lot of possibilities for you to choose from. 
This pudding is better than any pudding from a box because it is so creamy and tasty. For this pie, you may use any pre cooked pie crust you choose, as long as it contains almond flour to keep it gluten-free. 
Prior to filling, make sure the pie crust is baked and completely cool. It's recommended to eat this pie within a few hours of making it. The crust will remain crisp, and the bananas will still be fresh.
This is a great dessert to present at any family gathering like a birthday or thanksgiving. 
Using chia seeds as the foundation of your dish, is one approach to increase the healthiness of your treat if you want to feel a bit better about having dessert.
These puddings are simple to make and make a guilt-free breakfast option as well.
Make chocolate chia pudding with dairy-free chocolate almond milk. Or why not add berries and vanilla for a fruity twist. For a luxurious treat, combine peanut butter, cocoa powder, and bananas.
This is a simple recipe for delightfully creamy and cooling strawberry sorbet. It also only requires four ingredients. You could always swap out the strawberries for another berry you have on hand, like raspberries or blackberries. 
This strawberry-flavored sorbet is creamy, cool, and delightful. It is even simpler to make because it doesn't require an ice cream maker.
Although it might take some time to freeze, however, once it is combined, not much else needs to be done.
There are just 6 ingredients needed to make these Peanut Butter Blondies. All of which you most likely already have on hand. They are naturally sweetened and flourless, yet they are wonderfully decadent!
It couldn't be simpler to make these peanut butter blondies. The peanut butter, egg, honey, salt, and baking soda need to be combined before being poured into a baking pan. Then the blondies are ready to be served after 20 minutes. 
The main flavor is peanut, but you could always add chocolate chips to these blondies to make them even richer.
Anybody can appreciate an excellent brownie recipe. This recipe just requires one bowl, is dairy-free, gluten-free, and extremely simple to prepare. This recipe is also vegan and chock-full of delicious chocolate.
Try adding some dairy-free chocolate chips, chopped walnuts, or peanut butter to the top of your brownies if you enjoy adding mix-ins to your baked goods. You can add anything you happen to have on hand!
Hasselback apples are the ideal dessert for chilly weather because they incorporate all the best fall flavors, including apple, cinnamon, maple syrup, cardamom, and vanilla.
Making this 5-star dish at home only involves a few basic cupboard products and little work.
Hasselback is a common cooking technique whereby starchy ingredients, such as apples, are cut not quite through in thin, even layers before being packed or topped with extra flavorings.
The time it takes the apple to cook is reduced by this technique. The final result has a flawlessly delicate interior and a crispy exterior. The hasselback design also has a very appealing appearance.
This is a cookie with a soft, thick middle and a slightly crisp edge. For the ideal crinkly gingersnap cookie top, the cookies are rolled in granulated sugar. They are full of the ginger's warmth, and slightly spiced with cinnamon. 
Making these gingersnaps is a simple and fast delight! The dough is simply mixed, rolled out, and baked! They are ready to be consumed in no time. You must bake these gingersnaps throughout the holiday season.
The ingredients in these peanut butter protein balls include vanilla, honey, peanut butter, rolled oats (gluten-free, of course!), shredded coconut, and vegan chocolate chips.
They are all things you will have in your pantry cupboards, which are naturally dairy and gluten-free. However, you are free to roll the protein balls in any toppings you like.
These balls are very easy to construct. Even as a midday snack, they are healthy and delicious! Or enjoy them as an after dinner dessert. 
Think moist, fluffy, aromatic coffee-infused sponge, rich, creamy icing, and earthy walnuts. That is how good this coffee cake is, alongside being vegan as well. 
It can be made with or without coffee, is simple to prepare, requires only one bowl, and has no processed sugar. 
Whether you include coffee depends on whether you're creating an American or British coffee cake. In either case, the cake has a delicate texture and a delicious flavor.
If you want to intensify the flavor of the sponge even further, you could add other ingredients such as lemon, chocolate or orange. 
You should definitely add these delectable chocolate chip cookies to your collection of recipes. Everyone enjoys a delicious chocolate cookie, but having food intolerances shouldn't stop you from having one.
Almond flour, baking soda, coconut oil, maple syrup, sea salt, vanilla, and dairy-free chocolate chips are the ingredients used to make these. They are quite simple to create.
Once they are removed from the oven, these cookies won't be around for very long.
The shortbread crust, tahini, and date caramel center, and chocolate topping make up these vegan Tahini Millionaire Bars. A dessert bar with three layers typically does not disappoint.
Hence, these millionaire bars for tahini lovers won't either.
They may seem like a more difficult dessert to complete because of all the layers. However, we can assure you that the steps are very simple and that this dessert is much easier than it may initially seem.
You can prepare the other two layers while the first layer bakes. This is quite a straightforward and delicious dessert, with some additional unique flavors.
Everyone likes recipes that are easy to prepare. The ideal dessert is this simple blueberry cobbler. Not only is this recipe free of gluten and dairy, but it also simply requires a few simple steps to complete.
This is a wonderful treat to serve during the spring and summer.
This cobbler is simple to make as a handful of ingredients are needed. The warmth and flavor of the cinnamon help to counteract the sweetness of the blueberries.
Additionally, the ingredients for the topping are things you will already have in your cupboard including gluten-free flour, sugar, coconut oil, almond milk, and vanilla essence. 
In our opinion, finding a dessert recipe with only two ingredients is usually always a success. The texture of the Lemon Whip Fruit Dip is airy and mousse-like. Due to the lemons, this dip has a sweet yet acidic flavor. 
You'll like dunking a variety of fruits in it. All you have to do is combine homemade lemon curd and coconut "cool whip." This recipe simply couldn't be made any easier.
When using store-bought lemon curd, this dessert can be made in a matter of seconds. Everyone will want to try dipping a fruit in the thick yet delicate lemon whip.
At any night of the week, you can satisfy your sweet desire with this quick and simple chocolate mug cake. You can prepare a luscious chocolate single-serving cake with a few basic ingredients.
This mug cake is vegan, dairy and gluten-free. This quick and easy cake requires very little cleanup after baking, while being rich and delicious.
If you wanted, you could make a simple icing to top the cake. Or why not add some whipped cream or a dollop of ice cream.
Something cold always works well for this dessert, as it balances out the heat from the warm, freshly made cake. 
These fruit pops made with iced tea are a simple way to keep hydrated while also satisfying your sweet desire in a healthy way. They are as easy and delectable as they sound. While also being made with fruit and tea.
Making the popsicles is absurdly simple. Simply prepare the tea as you normally would in a cup, let it brew for a couple of minutes, then pour it into popsicle molds and allow to freeze for a few hours.
They are really that easy, and the flavors you can create are endless. In order to make tea pleasant and tasty for kids, you might also need to slightly sweeten it with some honey.
If you love ice cream but don't own an ice cream maker, then give this recipe a go. It's simple to make, delicious, and healthy. This is a straightforward banana ice cream made in a blender!
You just need three ingredients to make this, yet it has the same smooth, creamy feel as real ice cream.
Since the cocoa has such a strong aroma, you can't really taste the banana. However, the banana is what gives it the thick, ice cream-like consistency that you seek.
These desserts are so easy to make that you can serve them to guests or enjoy them alone on any weekday. Chocolate chips, a variety of seeds, nuts, and dried fruit are all you require.
Everyone will want a piece of this dessert, which comes together quickly.
In fact, this dessert is so easy to make, that you could get your children involved in helping you. All that is required is for the chocolate to be melted, and then discs of melted chocolate are topped with fruits and nuts. 
Fall comfort food at its finest, is this velvety pumpkin custard which will warm your heart and fill your soul. This is the ideal pumpkin dish as it is rich, creamy, and sweet. 
If you love pumpkin pie but don't enjoy the crust, then you will enjoy this hearty, and  nutrient-dense pumpkin custard.
It's virtually impossible not to adore this little treat, as it tastes so good and only contains 7 ingredients.
Final Thoughts
Desserts don't have to be feared, there are lots of delicious desserts out there that are really easy to make.
In addition to that, if you happen to have a dietary requirement, you don't have to worry about what desserts you can and cannot eat. We have provided you with 25 super easy recipes that are both gluten and dairy free.
If you have a sweet tooth, now there is no reason why you shouldn't be making one of these desserts listed above. All of them require very few ingredients and aren't complicated to make either.
They are all delicious and won't let you down when you suddenly have a craving for something sweet.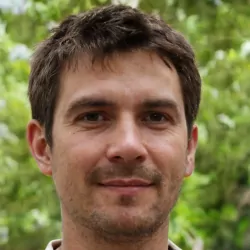 Latest posts by Justin Roberts
(see all)