Brownies are a common and much loved dessert, and are a mainstay in any bakery, party table, or after dinner dessert menu. That being said, the same old recipe can soon become tiresome.
Luckily, there are many brownie recipes out there, allowing you to experiment and try something new with this classic dessert. This pumpkin pecan recipe is one of them, and you will be shocked at just how much you adore them!
But how exactly can you make them? 
Getting Started
Before we get onto the recipe itself, there are some preparatory steps we need to take to make sure we have everything we need. This includes getting the ingredients ready, and sorting the appropriate equipment. 
The Ingredients
For this particular recipe, you will need the following ingredients: 
Unbleached all purpose flour – 296ml
Baking powder – 2.5g
Fine salt – 5ml
Unsalted butter – 237ml
Granulated sugar – 94.8g
Dark brown sugar – 296ml
Pure vanilla extract – 10ml
Large eggs – 6
Mini chocolate chips – 159 ml
Unsweetened Dutch process cocoa powder – 78ml
Pumpkin puree – 118ml
Pumpkin pie spice – 7.5ml
Unsalted butter – 60ml
Light corn syrup – 118ml
Pecans – 355ml (roughly chopped)
The Equipment
There are also some pieces of equipment you might need for this recipe. However, if you do not have access to them, then workarounds are possible. 
Cheese cloth
Seave
Large mixing bowl x2
Whisk
Measuring jug
Wooden spoon/large metal spoon
Baking tray
Grease proof paper
Spatula
Preparation Of Ingredients
There are also a few ingredients that need preparing before we begin. 
These include the following steps: 
Roughly chop the pecans
Squeeze moisture from pumpkin puree – using cheese cloth
How To Make Pumpkin Pecan Brownies
Now that we have everything we need, and all our ingredients have been prepared, we can now get into the recipe itself. 
Step One
First, measure 1 ¼ cups of unbleached flour, and place it into a large mixing bowl. Next, add a ½ teaspoon of baking powder, and ½ a teaspoon of fine salt. 
In a separate bowl, add 1 cup of melted, unsalted butter, ½ cup of granulated sugar, ½ cup of dark brown sugar, and 1 teaspoon of vanilla extract.
Step Two
Whisk until smooth, and then add 4 eggs – whisking once more after adding each individual egg into the mix. 
Then gradually add the flour mixture, and stir until it has all combined together. This will form the basis for the brownie mix and is essentially the 'batter'. 
Take this batter and divide it between two bowls, having around 1 ½ cups in each one. 
Step Three
In the first bowl, add ⅓ cup of the unsweetened Dutch process cocoa powder, as well as ⅔ cup of mini chocolate chips. 
Using a spatula, mix this together until it forms one combined mixture. 
In the second bowl, add the squeezed pumpkin puree, and top it off with 1 ½ teaspoons of the pumpkin pie spice, mixing until properly combined. 
Step Four
Next, preheat your oven to approximately 350 degrees fahrenheit, then spray and line an 8×8 square metal baking pan with parchment paper.
You should non stick baking spray to ensure that the mixture doesn't become stuck to the paper during baking. 
Then add half of the brownie batter to the pan, spreading it evenly from corner to corner, before adding half of the pumpkin mixture. 
Once you have spread that evenly as well, add spoonfuls of both types of batter on top of the flattened layers, until you are left with round batter balls all across the pan. 
Step Five
Once you have done this, you then need to take your spatula – or a fork, knife, or spoon – and gently mix the batter balls together, until you have a swirling pattern of the chocolate and pumpkin mixes.
Then place on the middle shelf of your preheated oven, and allow to bake for approximately 25 minutes. 
Step Six
Then comes the pecan pie filling. 
First add 3 tablespoons of unsalted butter to a heat proof bowl, and set this over a pot of simmering water to gradually begin the melting process. Once melted, remove carefully from atop the heat. 
Whisk in ¾ cup of the dark brown sugar, and combine with ½ teaspoon of fine salt, and ½ a cup of corn syrup. 
Step Seven
Then crack in the remaining 2 eggs, whisking the mixture in between each egg to ensure it combines properly. 
Then place the bowl back on the saucepan and heat until the thermometer reads 130 degrees fahrenheit. 
Once this temperature has been reached, take off the heat and pour in the 1 ½ cups of chopped pecans, combining that with 1 teaspoon of vanilla extract. 
Step Eight
By this point, the brownies should now be partially baked. 
This means that it is now time to pour the pecan pie topping onto the brownie tray, ensuring it is evenly covered and smoothly distributed. 
Then place back into the oven, and continue to cook for another 20 minutes – or until the top layer is set and firm. 
Final Steps
Once you are satisfied that it is properly baked, remove it from the oven, and allow it to cool naturally for approximately 2 hours. 
After this time, you can then slice and serve to your liking. The last step of the process is to dig in! 
Final Thoughts
And there we have it, everything you need to know to make pumpkin pecan brownies!
It's true that any kind of brownie is delicious (see also "Making Vegan Brownies Without Any Strange Ingredients"), but this seasonal pumpkin pecan recipe will drastically change your dessert game, and will make the perfect accompaniment to any fall buffet table as we approach the festive season. 
So if you are looking for a great new brownie recipe to try at home, then why not have a go at this one? Something tells me you won't be disappointed!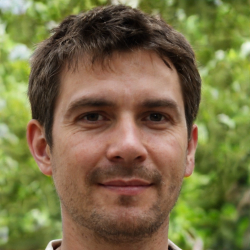 Latest posts by Justin Roberts
(see all)