Fall is one of the best times of year! The crunchy orange leaves are falling on the ground, everything is perfectly chilly, and you've got the spooky Halloween period to look forward to too.
Naturally, fall is a great time for baking as well, and there's a variety of scrumptious fall-related baked treats you can enjoy. And one of the best of them? Fall cookies!
Cookies are already one of the greatest dessert treats out there, with their deliciously crunchy outsides and soft, gooey insides.
They're made even better when you make them fall-appropriate, because there's all kinds of mouth watering fall variations you can make with cookies, including delicious additions like pumpkin fillings and golden syrup.
In our tasty guide below, we've got 12 scrumptious cookie recipes you will love. By the end, you'll have plenty of delicious treats to pair with those cozy fall afternoons!
12 Scrumptious Fall Cookie Recipes You Will Love
We're starting our list with this recipe for some wonderfully chewy pumpkin cookies!
Pumpkin is one of the key things that you'll think about when it comes to fall and Halloween, and this delicious cookie makes the most of it by incorporating pumpkin puree and pumpkin pie spice into its crumbly goodness. 
For the cookie itself, you'll need a handful of ingredients, most of which are things you'd expect for baking cookies!
We're talking ingredients such as egg yolk, brown sugar, baking powder, all purpose flour, and so on.
However, the cookie also uses some canned pumpkin puree in order to give it some of its classic pumpkin taste!
You'll also need to whip up some spiced sugar to make the fall cookie even better, and this takes just two ingredients: granulated white sugar and some pumpkin pie spice.
As you can see, this spiced sugar helps to give the cookie even more of a fall-themed pumpkin flavoring!
Next on our list is a recipe for these deliciously chewy fall harvest cookies, which have a hint of pumpkin pie spice in them and some fruity, fantastic dried cranberries.
These are exactly as chewy, gooey, and scrumptious as you imagine!
You'll need a handful of ingredients to make these fall favorite cookies, but it's not a complicated recipe by any means.
You'll need cookie staples such as baking powder, all purpose flour, and vanilla extract. Meanwhile, you'll want some rolled oats as well.
Dried cranberries help to make the cookies extra fruity, which is helped by the inclusion of some orange extract too.
Chopped walnuts also help to give the cookies a bit of crunch, but you can leave these out if you've got a nut allergy. Finally, some pumpkin pie spice makes these extra fall-themed!
One of the most iconic images of fall is certainly the orange, red, and brown leaves that lie all over the ground.
It's one of the images that makes fall super cozy, with the leaves all crunchy under your feet and the trees bare.
As a result, it's a great idea to make delicious fall cookies in the shape of leaves!
You'll only need a few ingredients for this easy and quick recipe, which will give you a bunch of multi-colored leaf-shaped cookies that are green, orange, and pink. 
All of these ingredients are pretty typical (eggs, sugar, butter, all purpose flour, and so on), and you'll also need some almond extract in order to give the cookies just a hint of warm nuttiness.
Don't use the almond extract if you have a nut allergy!

The chocolate chip cookie is an absolute classic, so it's a great idea to give it a fall twist and make it spiced.
This recipe will give you a spiced chocolate chip cookie that's wonderfully soft and chewy, and it's easy to make too!
You'll need a sizable amount of ingredients for these cookies, but they're still quick to throw together!
Most of the ingredients are all to do with the spiciness, which comes from a variety of delicious sources.
For example, you've got some ground ginger, ground nutmeg, cinnamon, and even 2 tablespoons of Molasses. 
This is another super creative fall-themed twist on the cookie, with a recipe that gives you acorn-shaped cookies.
That's right, these delicious treats come in the shape of acorns, and they have special toppings added onto certain sections of the acorn in order to give you extra flavor and texture.
Despite their complex appearance, these cookies aren't going to be too complicated to make!
You'll need to follow the sugar cookie recipe from the same website, while also collecting a variety of different color food colorings. Additionally, you'll need some special sprinkles in order to jazz up the cookies.
Next on our list is the recipe for these delicious, exciting marble chocolate chip cookies that are styled in a fall harvest fashion.
A marble cookie is like a marble cake, where it's got a mottled pattern on it of light and dark colors, creating a visually beautiful swirl of colors.
As you can guess, the swirls for these cookies involve fall colors, such as brown, orange, and beige.
These delicious fall cookies are almost like a cake, with their supremely soft insides and lightness.
They're coated in spots of powdered sugar, and they've got pumpkin spice inside them in order to give them a bit of a warm fall kick. 
Better yet, they're totally easy to make, taking just 20 minutes to prepare and a further 10 minutes to cook!
You'll need a variety of standard cookie ingredients to make these (a large egg, vanilla extract, and so on), but the fall flavoring comes from two places.
One of these is the pumpkin pie spice, which gives it a warm feeling that you'll love, and the other is some pumpkin puree. 
Next on our list is the recipe for these fantastically chewy pumpkin chocolate chip cookies, a perfect dessert treat to throw together during the fall (see also "Paleo Chocolate Chip Cookies").
They're chewy and soft, with delicious and rich chocolate chips alongside warm spices.
There's a variety of ingredients needed for these cookies, with a lot of them relating to the spices.
The spices come from all kinds of sources, such as ground allspice, ground ginger, ground cinnamon, and some grated nutmeg. 
Meanwhile, pumpkin puree helps to give them a unique edge of pumpkin, fall-themed flavoring.
We've got another batch of leaf-shaped fall cookies here, which look completely colorful and totally fun.
Each one of them has a dazzling mixture of colors, with pink, yellow, green, and orange!
Better yet, you can even draw some lines up their center, making them look even more like leaves. An edible marker can be used to draw these.
Sugar cookie dough is used to make the cookies themselves, which will save you a lot of time. This means that you have more time for the decorating!
The brilliant colors of each cookie are achieved thanks to gel colorings. 
These brilliant fall pumpkin cookies are dense and chewy, with a fantastic blend of flavor that's coming from the terrific combination of maple and brown butter.
Each cookie uses all the traditional ingredients you'd expect, as well as some deliciously gooey maple syrup.
These add real flavor to the cookies, giving them a sweet and warm taste that feels like fall! The fall flavoring is also helped by the addition of pumpkin pie spice, cinnamon, and pumpkin puree. 
This is another mouth watering recipe, but it's a little different to anything we've looked at so far in our list.
These have an icing topping that makes them extremely sickly and smooth, and you can add leaf designs on top of the icing. 
As for the other ingredients, these cookies will be pretty familiar to you, using only traditional ingredients like all purpose flour and baking powder.
However, a little lemon juice helps to make the cookie have the slightest bit of citrus tanginess to them. Delicious!
We're finishing our list with a fantastically fruity fall cookie that makes perfect use of soft apple and warm cinnamon to give you something that will simply melt in your mouth!
Granny Smith apples are used for this recipe, and apple pie spice is even included to give the fruitiness a spicy edge.
This spiciness is helped with the inclusion of a teaspoon of freshly grated nutmeg too. Delicious! 
These warm, crumbly, fruity cookies are sure to delight anyone you give them too, and they'll make those fall evenings even cozier. 
Final Thoughts 
There are so many delicious fall cookies you can make – use our list for the best!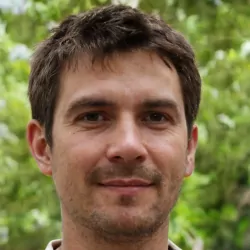 Latest posts by Justin Roberts
(see all)