The carrot cake is a classic American dessert, but it's been around since the early 1900s. In fact, the original version didn't include nuts, raisins or coconut.
But over the years, people began adding those elements to their cakes.
The best carrot cakes are those that taste like a slice of heaven (see also "10 Superb Low Calorie Cake Recipes Everyone Will Love!"). They're moist, dense, and loaded with flavor.
But sometimes, you want something light and fluffy, without being weighed down by tons of sugar.
Thankfully there are many delicious healthy carrot cake recipes out there, so let's take a look at them. 
This cake is made with whole wheat flour rather than white flour. Whole grains are packed with fiber and nutrients, while white flour is stripped down to just the starchy part of the grain.
You won't taste it in the finished product, but it's much healthier for you. 
You don't need a stand mixer to whip up this moist carrot cake recipe. Just mix together the dry ingredients in a large mixing bowl, add the wet ingredients, and fold everything together.
Then pour it into a greased bundt pan, bake, and enjoy.
Instead of refined vegetable oil, this recipe uses mild extra-virgin Olive Oil. Olive oil contains monounsaturated fats, which help lower cholesterol levels and reduce inflammation throughout the body.
Lastly, the recipe calls for maple syrup or honey instead of cups of granulated sugar. Maple syrup adds sweetness to baked goods, while honey lends a subtle flavor. Both work well here.
This carrot cake chickpea ball recipe is perfect for kids because it uses no eggs and is dairy free but is fun to make.
They are packed full of fiber, protein, and nutrients like iron, zinc, vitamin B6, folate, and potassium. Plus, they are gluten-free, low carb, and high in antioxidants.
This carrot cake recipe is truly amazing! You won't believe how moist and flavorful this cake is. And best of all – it's easy to make so you don't need to spend hours prepping. 
I'm sure you're wondering what makes this carrot cake so special?  Well, there are several things that contribute to this incredible dessert.
First off, the batter itself is very thick, almost like pudding consistency. Secondly, the carrots add such a wonderful sweetness to the cake.
Lastly, the cream cheese frosting adds just enough richness without being overpowering.
You can adapt this mixture according to personal preference. You can use oil but many prefer applesauce because it adds moisture without being too sweet.
You can mix everything together and let it sit overnight in the fridge to absorb the flavors before cooking. 
Most of the ingredients are standard cake ingredients that you most probably already have on hand.
You can make this cake ahead of time and store it in the refrigerator. Just let it come to room temperature before serving.
Adapted from Ina Garten's classic carrot cake recipe, this version gets a little boost with leftover sourdough and fragrant chai spices.
You can grate the carrots in advance. Skip the nuts and raisins, and bake the cake one day ahead.
This cake is moist, delicious, and packed full of carrots. But what makes this one really special is that it uses coconut oil instead of butter.
Coconut oil adds a nice flavor boost without adding too much fat. Plus, it helps keep the cake tender and moist.
And since coconut oil doesn't burn like butter does, you don't have to worry about overbaking the cake. You'll end up with a perfectly browned, fluffy exterior and a soft, moist interior.
Another twist on Ina's version is Instead of regular sugar, we use honey to sweeten it. Honey gives it a subtle sweetness, while still maintaining a rich, creamy texture.
To make the cake even healthier, you can swap out white flour for whole wheat pastry flour. Whole wheat pastry flour contains less gluten, making the cake moister and lighter.
In addition,  you can add some ground flaxseed to give it extra fiber and protein. Flaxseeds also contain omega 3 fatty acids, which promote heart health.
Another adaptation to the traditional carrot cake is almond milk. You can use almond milk in place of heavy whipping cream because it's lower in calories and fat.
Almond milk is also lactose free, making it easier for people with dairy sensitivities to enjoy.
And finally, if you don't want to use oil, you can replace it  with applesauce to cut down on both saturated fat and cholesterol.
Applesauce provides moisture and tenderness, while still giving the cake a light, airy crumb.
I hope you love this version of Ina's Carrot Cake just as much as we do!
This sugar free keto carrot cake uses monk fruit sweetener and coconut oil in place of regular granulated sugar and butter. In addition to being low in carbohydrates, monk fruit contains no calories and is naturally sweet. 
As we've mentioned oconut oil is high in saturated fat, but studies show that people who switch to healthy fats such as coconut oil tend to lose more weight over time.
Almonds contain monounsaturated fatty acids, which help reduce cholesterol levels while keeping blood pressure under control. They also provide fiber and protein, both of which keep you full longer.
Plus, almonds are rich in vitamin E, magnesium, copper, manganese, phosphorus, potassium, and zinc. So why not try this carrot cake using the almond flour alternative. 
These cake bars are super popular and one of those recipes to keep around because they never fail to satisfy cravings for something delicious and wholesome. 
These carrot cake bars are packed with fresh sweet carrots, heavenly scented with cozy cinnamon and nutmeg, naturally sweetened with dates, maple syrup and vanilla extract, and frosted with a light dusting of icing sugar.
They're perfect for breakfast, snacks, desserts, lunches, picnics…you name it!This recipe is super simple to make and requires just 5 ingredients.
You'll probably find yourself whipping up a batch of these every week or month!
Whilst the bars are chilling, prepare the delicious cashew nut frosting. Place all of the ingredients into your blender and blend until smooth and creamy. Spread the frosting over the bars, slice and serve.
Store bars in an air-tite container in the fridge for three to four days or they can also be frozen in an air-tight freezer bag for up to three months.
This healthy carrot cake baked oatmeal is packed full of nutrients and tastes like a slice of moist carrot cake. It's perfect for breakfast or dessert (see also "The Easiest And Healthiest Protein Pudding").
This recipe makes many  servings, which is great if you are feeding a crowd. It's also nice because, if you're making it just for yourself, one bowl will feed you for several days.
The best part about this recipe is that it's super simple to make. You don't even need a mixer. Just mix everything together in a large mixing bowl.
Then pour into a greased loaf pan and bake for 45 minutes.You'll end up with a moist, flavorful, and healthy breakfast treat that everyone will enjoy.
This carrot cake baked oatmeal recipe features carrots, raisins, walnuts, coconut oil, flaxseed meal, cinnamon, vanilla extract, eggs, milk, baking soda, baking powder, applesauce, and pureed pumpkin.
We've used whole wheat pastry flour, whole wheat breadcrumbs, and brown rice flour to provide added nutrients and texture.
This carrot cake baked oatmeal contains no refined sugars, gluten, dairy, soy, nuts, or chocolate.
We've also included a few healthy substitutions like applesauce for butter, flaxseed meal for egg whites, and almond milk for regular milk.
This vegan swirled caramel carrot cupcake is moist, perfectly spiced, loaded with carrots and spiced up with cinnamon and nutmeg.
Then it's topped with a creamy vanilla frosting and finally swirled with a simple glaze of maple syrup and caramel. You won't believe how good this vegan carrot cake tastes.
For this recipe, you'll want to use AP flour. If you don't know what AP flour is, it's basically just regular flour mixed with some baking powder..
One reason to use AP flour is because it helps give the cake the perfect structural integrity.
This recipe makes one 8×8 inch cake. If you want to make a larger cake, just double the ingredients. This cake freezes well too. To freeze, wrap the cake tightly in plastic wrap and place in a freezer bag. 
Once frozen, transfer the cake to a resealable container and thaw overnight in the refrigerator.
When you bake cakes with AP flour, they're much firmer than those baked with plain flour. They hold up better too, meaning that you won't end up with a soggy mess.
Conclusion
Healthy carrot cakes are delicious especially when we crave something sweet. These healthy carrot cake recipes are easy to make, with spices that taste amazing! Enjoy.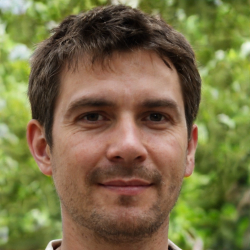 Latest posts by Justin Roberts
(see all)