What makes a good curry? If we asked you to imagine your favorite curry recipe in the world, it'd probably include rice.
Rice is a standard ingredient in virtually every curry imaginable, but if you want to make your curry a little healthier, it may be time to swap your rice for something entirely different – lentils.
Lentils are one of the BEST rice substitutes you'll ever find. We use it all the time, and in this particular recipe, it's glorious.
You won't be compromising on your flavor, and you'll get an extra burst of nutrients with virtually no extra effort. 
If we've piqued your interest, stick around to learn more about our healthy red lentil curry recipe and how you can bring it to life in your own kitchen today. 
What Are Red Lentils? 
These red-orange legumes are essentially yellow lentils that have been split and hulled. Lentils, as a whole, are the dried seeds of the lentil plant, and they're never eaten fresh.
They're super small and cook quickly, making them the ideal ingredient for speedy, nutritious meals. Red lentils also have a very mild, earthy taste making them a more versatile addition to your recipes.
If you've ever tried black or brown lentils, you can rest assured that red lentils have a much milder flavor!
Red lentils are a traditional ingredient in Indian cuisine, and they're often used in curries, soups, and stews for extra nutrients and a creamier texture. 
Red Lentils Vs. Green Lentils
If you've ever thought of adding lentils to a recipe before, you've probably come across two main types: red lentils and green lentils. What's the difference? Well, it's pretty simple. 
While red lentils are split into halves (and don't contain their outer shell), green lentils come as a whole, and you'll get the outer shell, too.
These lentils have almost identical nutritional profiles; however, green lentils are often considered the 'healthier' alternative because they contain fewer calories per portion. 
Are Red Lentils Healthy? 
Yes! Red lentils are incredibly healthy. Let's take a look at their nutritional profile.
One serving (198g) of red lentils contains: 
226 Calories
0mg Cholesterol 
471mg Sodium 
731 mg Potassium
39g Carbohydrates
18g Protein
0.3% Vitamin A
5% Vitamin C 
2.9% Calcium 
37% Iron 
Red lentils also contain:
Selenium 
Folate
Fibre 
Thiamin
Niacin
In short, this lentil curry will provide you with plenty of protein, fiber, and other vitamins and minerals to keep you full, fit, and healthy.
Because red lentils are split and hulled, they tend to cook faster than other varieties, like green lentils and brown lentils. 
One of the reasons we love using red lentils is because they're so easy to cook. You won't need to soak them beforehand, as they simply break down when they cook!
However, you will need to rinse your lentils thoroughly before cooking them.
We'd recommend placing them in a strainer and rinsing them with cool water for around a minute. This will avoid any bitter taste. 
Red Lentil Curry Recipe
Ready to learn more about our red lentil curry? Here's everything you'll need to create it. 
Prep Time: 5 Minutes
Cook Time: 25 Minutes
Total Time: 30 Minutes
Servings: 6 
Ingredients 
1 onion
1 ½ tbsp olive oil
1 cube of ginger
3 garlic cloves
1 celery stalk 
1 carrot 
1 cup of rinsed red lentils 
1 tbsp of maple syrup 
1 tbsp of red curry paste
2 tsp lime juice
1 tbsp soy sauce (if needed)
2 cups of vegetable broth 
Fresh cilantro leaves
Method
Heat your olive oil on medium heat. Chop up your onion, ginger, and garlic and add them to the pan. Let them cook for 2 minutes. 
Chop up your celery and carrot and throw them in the pan to cook for 5 minutes, or until all of your vegetables are tender. 
Now, add in your rinsed lentils, curry paste, lime juice, maple syrup, and vegetable broth and mix them together. Add soy sauce for extra taste if desired. 
Bring your mixture to a boil, then reduce the heat and leave them to simmer for 20 minutes or until your lentils are tender. 
Once it's ready, dish up your lentil curry and serve it with fresh cilantro. 
Nutritional Information
One serving (1/6th recipe) includes 
184 calories
4.5g sugar
400mg sodium 
4.5g fat
27g carbohydrates
10.5g fiber
9g protein
… and it's as simple as that! In just half an hour, you'll have a delicious, nutritious red lentil curry ready to serve. Not convinced? Well, here are a few reasons why you'll love our red lentil curry recipe… 
Why You'll Love This Recipe
It's Quick: This recipe proves that healthy meals don't always take hours to cook. If you're in a rush on a busy weeknight, you can still whip up this healthy red lentil curry in 30 minutes, making it a great choice for families and busy professionals! 
Bursting with Flavor: When we said you wouldn't be compromising any flavor, we meant it. This red lentil curry recipe is far from boring, and it offers so much flavor you really won't miss your traditional chicken and rice combination! 
High in Fiber and Protein: Just one serving of this curry contains 9 grams of fiber and 10 grams of protein. If you need something quick and easy that will keep you feeling satisfied, this recipe is for you. 
Good for Meal Prep: Last but not least, this recipe is meal prep friendly! If you need to cook up something at the beginning of the week to keep you going for a few days, this is the ideal recipe. Cook up a large batch and store extras in the fridge or freezer to save money and time in the week. 
How To Make The Perfect Red Lentil Curry 
One thing we love about this recipe is how quick and easy it is to follow. However, to ensure you produce the perfect curry every time, we have a few tips for you to follow… 
Rinse Your Lentils: Always remember to rinse your lentils before you cook them! This is one of the most important things you can do. If you don't rinse your lentils, you may end up with a bitter-tasting curry. Remember to rinse them before you cook them for around 60 seconds or until the water runs clear. 
Don't Cook Your Veggies On a High Heat: If you're in a rush, you might be tempted to cook your veggies on a super high heat to move things along. This should be avoided. Cook your veggies on medium-high heat to avoid browning them – too much heat will lead to burnt, crispy veggies! 
1 tbsp of Red Curry Paste: Too little is better than too much. Always start off using just 1 tbsp of red curry paste – you can add more if required! Not all red curry pastes taste the same, and some can be spicier than others. If you make your curry too spicy, it will be harder to control the flavor later. If you want to make this curry veggie friendly, be sure to check the label of your curry paste first! 
How To Store And Reheat Your Curry 
This recipe is ideal for batch cooking IF you store it correctly. 
Because there's no meat in this recipe, you can store your leftover curry in an airtight container in the refrigerator for up to one week.
When you want to use it, simply retreat it on the stove or in the microwave. 
When you reheat your curry, it may become thick. Simply add extra water or vegetable stock while reheating to avoid a gloopy consistency.
Reheat your leftovers until they're piping hot, and cook them on medium heat. It should take around 10-15 minutes to reheat your leftovers on the stove and six minutes in the microwave. 
You'll be pleased to know that you can also freeze this recipe! Simply place your leftovers in an airtight container and place them in the freezer for up to three months.
When you're ready to reheat them, defrost your curry on the counter, in the microwave, or cook straight on the stove. 
If you're cooking your frozen leftovers on the stove, allow extra time for your food to defrost, and start by cooking it on a low heat. 
Do Red Lentils Need To Be Cooked Before They're Added To A Curry?
Nope! Your red lentils don't need to be cooked before they're added to a curry.
In this recipe, they're being boiled with your other ingredients, so all you need to do is rinse them and throw them in. No pre-boiling required! 
How Long Should You Cook Red Lentils For?
Red lentils have a much softer texture than black or green lentils. You'll need to be careful when cooking them – too much time in the pot can lead to mushy, overcooked lentils!
Although we're not aiming for a mushy texture in this recipe, it works great for stews and other recipes like Dal.
If you do overcook your lentils, don't worry – you'll just end up with a softer texture with less bite. 
In this recipe, we recommend cooking your lentils for between 15-20 minutes for a slightly softer texture.
If you want something a little crunchier, cook your lentils for 10 minutes. At the end of the day, it all comes down to personal preference! 
Do I Need To Use Coconut Milk?
In most red lentil curry recipes, you'll often see coconut milk listed as another staple ingredient. In this recipe, we use vegetable broth instead, but this doesn't mean you can't shake things up! 
If you want to try making your curry with coconut milk instead, simply substitute a cup of broth for a cup of coconut milk.
This will give your curry a much creamier texture that you won't get with broth. However, it won't add much flavor. 
If you're monitoring your fat intake, be careful… coconut milk is notoriously high in fat, making broth a suitable alternative for healthier curries. 
What To Eat With Your Curry 
In need of some inspiration? Here are just a few things you can eat with your red lentil curry….
Rice: That's right, you don't need to ditch the rice completely! If you still fancy a carby rice kick, serve this recipe with jasmine rice for some added flavor and texture. 
Quinoa: If you want to keep things healthy, service your curry with quinoa rather than rice. Quinoa will give you a nice, crunchy texture and plenty of extra nutrients. If you want to use quinoa, we'd recommend cooking your lentils for longer. This will give them a smoother, creamier texture and avoid too much crunch in your curry. 
Sauteed Veggies: If you just need a little extra something to serve on top of your curry, why not saute some veggies? Bok choy or broccoli tastes beautiful when served on top! 
Seeds: Give your curry an extra nutrient boost with some seeds. We'd recommend a generous sprinkling of sesame seeds for extra flavor and crunch. If you want something a little different, you could even opt for chia seeds or crushed peanuts! Anything goes – play around with the recipe, and find what suits you! 
Frequently Asked Questions
Are Red Lentils Unhealthy?
No! Red lentils, like most other lentils, are rich in protein, iron, and folate and low in calories. They also provide other nutrients like fiber and niacin, making them a healthy addition to your diet. 
Is Lentil Curry Good For You? 
Lentils are rich in vitamins and minerals, and they're a great choice for managing your heart health, cholesterol, and blood pressure.
Adding extra veggies to your lentil curry makes it an even healthier option. 
What Spices Pair Well With Lentils?
Thanks to their mild and delicate flavor, lentils pair beautifully with many seasonings, including garlic, ginger, turmeric, paprika, and more.
Different combinations will add different layers of depth and flavor to your dish, so feel free to experiment. 
Final Thoughts
This red lentil curry is a super healthy alternative to your traditional takeout dish.
Loaded with flavor and nutrients, this quick and simple recipe is super easy to prepare, and it can be stored ahead of time, making it great for busy families!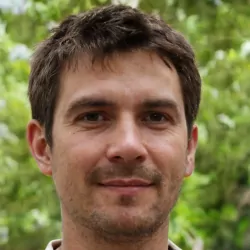 Latest posts by Justin Roberts
(see all)