As we learn more about our bodies and how to keep them healthy, it is clear that fiber is a crucial component of our diets. A lack of fiber can lead to various bodily dysfunctions, mainly digestive problems.
The best way to start your day is with a high fiber breakfast. Not sure where to start? We have got you covered. 
Below are 15 of the best high fiber breakfast recipes. Make them the night before for a quick breakfast on the go or enjoy a slow morning with some incredible dishes.
No matter your preferred tastes or how much time you have, you can enjoy a delicious high fiber breakfast!
Oats are one of the best healthy carbs to get in your diet. Full of fiber, and extremely versatile they are perfect for a quick breakfast to get you moving for the day. 
This recipe does involve protein powder, however, if you are simply looking to get more fiber you can opt not to add any. 
Top with bananas, chocolate chips, and a dash of cinnamon for a wonderful breakfast that is sure to keep you full until lunch! 
Serve with your favorite coffee and you are off to a great start for the day. 
We have all heard of the iconic avocado on toast but why not take it to the next level with a layer of creamy, delicious Burrata? A cream-filled fresh mozzarella cheese that is simply divine for breakfast. 
Using brown or whole-wheat bread and avocado will provide you with that much needed fiber. The avocado and burrata give you some healthy fats while tasting absolutely delicious. 
Add a layer of cream cheese on your bread for some protein, and ground black pepper on top and you have a balanced, healthy, and yummy breakfast to get you ready for the day. 
Smoothies are an excellent way to get in those dreaded greens and nutrients. Packed with kale and avocado you have healthy fats, iron, and fiber. 
Make your smoothie the night before and store it in the refrigerator for a quick breakfast on the go. 
A tablespoon of chia seeds is going to get even more fiber in your system, along with some much needed omega-3 fats. While the honey gives a delicious sweetness that makes it an excellent breakfast. 
After a grueling morning workout, your body is going to need something tasty and extremely filling. This Chocolate Peanut Butter Protein Shake is full of nutrients and is any sweet lover's dream. 
With no need to add protein powder, you are sure to enjoy every sip of this yummy shake. Bananas and peanut butter are what give this breakfast shake its high fiber standing. 
While Greek yogurt keeps things high in protein, you are sure to have enough energy to make it to lunch. 
Try substituting yogurt for milk in your cereal for breakfast, a snack, or a nutritious dessert. Keep the cereal separate if cooking this as a take-out snack, and add just before serving.
Raspberries are extremely high in fiber making them the perfect addition to any breakfast. Plus they are deliciously sweet. \Using shredded-wheat cereal will give you even more fiber or you can use your favorite granola for a delicious crunch. 
Feel free to top it with a drizzle of honey or maple syrup for extra sweetness. 
While we would all love to start our mornings with a peanut butter and jelly sandwich, sometimes we need to be a little more healthy.
This Sprouted-Grain Toast with Peanut Butter and Banana is the upgraded version of your favorite breakfast. 
Quick, easy, and full of fiber, this breakfast is sure to keep things moving. 
With only 3 ingredients this fiber rich breakfast can be made in minutes, allowing you some extra time in bed. 
For a quick, tasty breakfast, hard-boiled eggs are paired with spinach, cheese, and salsa. An avocado that has been mashed adds a creamy component, while a squeeze of lime juice adds acidity.
Full of fiber, protein, and healthy fats, this quick breakfast is absolutely perfect. Add a dash of hot sauce for a wonderful kick in the morning. 
Store your tacos in an airtight container and enjoy them on your way to work or at the office. 
Or enjoy a slow morning as you devour them in bed. 
Start your day off right with this Muesli and Raspberry breakfast. Whether you enjoy your muesli warm or cold, this recipe is sure to have you feeling satisfied all morning. 
Using a cup of low-fat milk, allow your muesli to soak for a minute before adding your raspberries. Or for added protein, swap the milk for some fat-free greek yogurt. 
Add a drizzle of honey and enjoy your sweet, crunchy, and super healthy breakfast. 
The delightful triple-berry smoothie is a traditional smoothie recipe that will make you feel great all day long.
It is a nutritional powerhouse since it is loaded with fiber, protein, antioxidants, omega 3 fatty acids, and other minerals.
A daily smoothie can help you deal with headaches, stomach problems, skin problems, and anything else your midlife hormones decide to throw your way.
Enjoy creating your own unique smoothies, using this Triple Berry Smoothie recipe as a starting point. 
Even your kids will love it!
Swap your sugar-filled chocolate chip muffins for these Apple Flax Muffins. With double the health and just as much flavor, you will never go back. 
Flax seeds are an incredible source of fiber and adding just a handful of your yogurt or cereal will give you so many benefits. This Apple Flax Muffin is a breakfast wonder. 
They are tasty, healthy, and super simple to make. Enjoy on the go with your favorite coffee for a simple yet delicious breakfast. 
Egg and Avocado Toast is quick and simple. Fried, scrambled, boiled, and poached are the 4 options.
It's a straightforward, wholesome, and protein-rich breakfast, snack, or light dinner! Simple, delicious, and filling to make. 
Now is the time to try an egg and avocado toast breakfast if you haven't before!
When it comes to Avocado Toast with Eggs you simply cannot go wrong. With so many nutrients, all it needs is a splash of hot sauce for some much needed heat. 
Chia Pudding has quickly become a cult favorite, as everyone rushes to increase their fiber and to keep their mornings simple. 
Stir together your milk and chia seeds and allow it to sit for 5 minutes before stirring again. Then pop it in the fridge for at least 1 hour or overnight. And there you have it! 
This recipe is super simple and involves no cooking whatsoever. 
Top with your favorite fruits, nuts, and even chocolate chips for a super quick breakfast on the go. 
The superfood components in this delicious quinoa porridge will keep you full and invigorated all day. It's simple to make, delicious, and healthy.
We have healthy fats, fiber, and protein available to us. Even some natural sweetness is present. In a lot of ways, this quinoa porridge is superior to regular oatmeal, and it tastes just as fantastic as it does!
Quinoa has all nine amino acids and is full of protein and fiber making it an excellent breakfast. 
Top with sliced banana and berries for some added fiber. You can never get too much! 
This basic breakfast/brunch recipe for eggs and baked beans is incredibly straightforward but will satisfy your palate. You can easily make this into a quick, easy, and filling dinner!
As a breakfast, however, it is incredible. Filled with protein, fiber, and healthy fats, this simple dish has everything you need. 
Serve with a slice of crust bread to dip into your yolks and you have a delicious, high-fiber breakfast!
Who doesn't want to enjoy pizza for breakfast? Keep yourself on track with this Socca Breakfast Pizza recipe. 
Using just a handful of ingredients, you can create this homemade pizza crust that is full of fiber and essential nutrients. 
Add a layer of artisan cheese for the perfect bite every time. 
Final Thoughts 
Getting enough fiber in our diets can be a challenge for anyone. So, make it easier by starting off your day with a high fiber breakfast. 
From berries and oats to toast, you can create quick, simple, and delicious breakfasts that are full of fiber and other nutrients. 
Above are 15 of the best high fiber breakfast recipes to get your day started the right way. With a range of savory and sweet recipes, you are sure to find something you love. 
Whether you have an hour or 5 minutes in the morning, you can build a high-fiber breakfast that tastes incredible.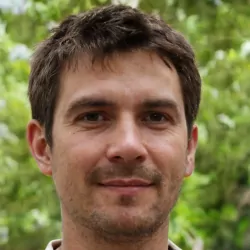 Latest posts by Justin Roberts
(see all)