Fiber is one of many essential nutrients for our physical health. When tracking our nutrition, many of us focus on macronutrients such as protein and carbohydrates, or vitamins like vitamin C.
However, fiber is really important for a variety of biological functions. 
Consuming a diet that is rich in fiber will help to regulate your bowel movements and keep your digestive system healthy.
This nutrient can also help to balance your blood sugar, keep cholesterol levels in a healthy range, and even assist you in reaching your weight loss goals. 
With that being said, one of the best ways to incorporate more fiber into your diet is to have some high-fiber snacks on hand at home or at work to boost your fiber consumption throughout the day. 
We've chosen the 15 best high-fiber snack recipes to share with you today, so what are you waiting for? Pick your favorites and get cooking!
The 15 Best High-Fiber Snack Recipes 
A lot of the energy bite recipes you'll find online require baking, which means you'd need to prepare them ahead of time if you want a quick snack.
However, these granola and peanut butter energy bites are no-bake, so you can have them ready in minutes.
You'll just need some oatmeal, granola, peanut butter, ground flaxseed, raisins, walnuts, maple syrup, banana, and cocoa.
Most of these ingredients are high in fiber, and at just 112 calories per serving, these energy bites are a healthy and fibrous snack option. 
Who doesn't love a muffin at snack time? While many muffin recipes contain a lot of refined sugar and saturated fat, these carrot and banana muffins are not only healthy and packed with vitamins, but they're also loaded with fiber. 
You can bake a batch of these muffins ahead of time and enjoy them as snacks or for breakfast.
The main ingredients are oat bran, carrots, and bananas, but you also get extra flavor from the cinnamon, allspice, raisins and walnuts.
These fiber crunchies really live up to their name: they're high in fiber and deliciously crunchy. 
Even better, these snacks use only 4 ingredients and there are just 57 calories per serving. You'll only need 15 minutes to whip up a batch of 12 crunchies. 
To make these snacks, you will need a Hershey's bar and peanut butter, along with 2 kinds of cereal: Kix and Fiber One. 
Kale chips are known for being a low-calorie alternative to potato chips, but did you know that kale is also an excellent source of fiber?
So, if you want to introduce more fiber into your diet, having air fryer kale chips as a snack is a great choice. 
All you need to make air fryer kale chips (other than an air fryer, of course) is some kale, olive oil, Parmesan, lemon juice, black pepper, salt, and any other seasonings of your choice. They'll be ready in just 10 minutes!
If the idea of having a regular granola bar as a snack doesn't appeal to you, you can make high-fiber granola bars that are a little more exciting.
These brownie granola bars are still healthy and full of fiber, but they taste chocolaty and delicious!
The best part? They're so easy to make, and you don't need any fancy ingredients. You'll just need to get some pitted dates, walnuts, rolled oats, raw nuts, almond butter, cocoa, and either maple syrup or agave syrup.
As an alternative to a granola bar, you could also make these almond-honey power bars, which are just as tasty and high in fiber. 
These bars are filled with seeds and nuts, meaning they are rich in healthy fats as well as fiber from dried fruit. You'll also get a good amount of plant-based protein from these ingredients.
Despite being a healthy choice, these power bars taste really sweet thanks to the honey, turbinado sugar and vanilla extract. 
If you're at home and have the time to make a snack from scratch rather than relying on pre-made treats, white bean and avocado toast is a high-fiber snack option that also happens to be loaded with protein and healthy fats. 
Thankfully, it's quick and easy to make this snack at a moment's notice. Just take a slice of wholemeal bread, mash up a quarter of an avocado and drain a can of white beans.
Add the avocado to the toast first before topping with the beans and seasoning with salt, black pepper and red pepper.
If you have time to make a batch of cookies at the start of the week, oatmeal cookies are amazing for snack time.
They're tasty, high in fiber, and this particular recipe is extra healthy because the cookies are sweetened with applesauce and topped with dark chocolate. 
The cookies only take 12 minutes to bake and the ingredient quantities in the recipe will make a dozen cookies, but you can increase or decrease the ingredients to make as many as you wish. 
A handful of roasted chickpeas is a quick and easy, high-fiber snack that you can easily prepare ahead of time or whenever you feel hungry. 
You only need 4 ingredients for this recipe: chickpeas, salt, cayenne pepper, and white vinegar. Just mix the seasonings and vinegar in a bowl and stir in the drained, dried chickpeas. Then roast for 30 minutes.
Another energy bar recipe for lovers of peanut butter and chocolate, this is one of our favorite fibrous snacks to incorporate into a healthy diet. Although these energy bars are healthy, they're also chewy and sweet, so they taste like treats!
To make these energy bars, measure out some dates, peanut butter, peanuts, rolled oats, chocolate chips, and salt.
Then, combine all the ingredients except for the chocolate in a bowl before spreading the mixture onto a baking sheet. You'll melt the chocolate in the microwave before pouring it on top and refrigerating. 
A smoothie is an easy and nutritious snack, and if you want your snacks to be higher in fiber, we recommend opting for a blueberry smoothie. 
This blueberry smoothie recipe is our favorite because it also contains spinach for more fiber and vitamins, and it's sweetened with maple syrup.
Plus, you have almond butter and oat milk in the mix for extra healthy fats and protein, so this smoothie is a very balanced snack option. 
Just make sure to use both fresh and frozen blueberries to achieve the desired consistency. 
Our final granola bar recommendation in the category of high-fiber snacks is this recipe for seedy granola bars. Seed-filled granola bars are great for getting your healthy fats and protein in along with your fiber. 
This recipe is vegan, gluten-free, and dairy-free, so it's ideal for people with different dietary requirements.
In addition to the main ingredients, which include dates, mixed nuts, rolled oats, and various types of seeds, the recipe suggests some extras such as dried fruit and chocolate chips. 
You can get creative with your ingredients here and make these granola bars personal to your preferences. 
Overnight oats are typically thought of as a breakfast food, but they can make a delicious snack if you prepare them ahead of time.
This recipe for peanut butter overnight oats is a personal favorite because there's also plant-based protein and nutritious fats in the peanut butter. 
The only ingredients involved are rolled oats, honey, milk, strawberries, strawberry jam, and peanut butter, and the preparation time is just 10 minutes. You'll need to allow 2 hours for refrigerating, though. 
Like roasted chickpeas, roasted pumpkin seeds are a great snack to have at home or bring with you to work, since you can quickly eat a handful at a time even if you're very busy. 
To make roasted pumpkin seeds, you will need the seeds themselves along with butter and kosher salt. Just melt the butter and use it to coat the seeds in the salt before roasting.
The seeds will take around 25 minutes to roast so preparing this snack should only take about half an hour. 
You might think of banana split as a dessert, but this recipe for raw banana split is actually one of our favorite high-fiber snack options. 
This banana split recipe only takes 5 minutes from start to finish and the only ingredients you need other than the bananas are nut butter, hemp seeds, rawnola, berries and coconut yogurt. 
Final Thoughts 
The recipes in our guide to high-fiber snacks prove that you don't have to stick to plain fruit or boring granola bars to increase the fiber in your diet! 
From peanut butter and chocolate energy balls to raw banana split, you have so many options when it comes to meeting your fiber requirements while pleasing your taste buds!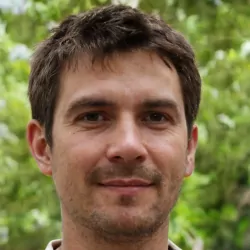 Latest posts by Justin Roberts
(see all)