As everyone is becoming more and more invested in their health and fitness, it is important to know what your body needs. Maintaining a high protein and high fiber diet will keep you full, satisfied, and aid in preventing any digestive issues. 
Below are 15 of the best high protein high fiber recipes for you to add to your diet today. Get everything you need from your meals to ensure you are energized and ready to tackle anything life throws your way. 
Filled with a range of protein sources, fruits, and veggies, these recipes will keep you on track and feel amazing!
Traditional shrimp scampi flavors are included in this cool, fresh, and vibrant shrimp pasta salad recipe. Asparagus gives a pleasant crunch and the dressing is brightened with lemon and Dijon mustard. 
This meal pairs beautifully with farfalle pasta, but any medium-sized noodle shape will do. Even use whole wheat for even more fiber.
This is the perfect dish for meal prepping. Simply cook, store in an airtight container, and keep in the refrigerator for 2 days. Take to the office to ensure you are always getting an excellent lunch. 
Quinoa is an excellent source of natural fiber, making these Chicken Parmesan and Quinoa Stuffed Peppers the perfect meal.
These roasted peppers stuffed with delicious chicken parmesan and seasoned quinoa, topped with cheese, there is simply no better low carb way to enjoy your favorite dishes!
To keep things on the healthier side. Swap your marinara sauce for a low-sodium version. You can also substitute quinoa for brown rice.
Simple, quick, and absolutely delicious. They can be done in the air fryer. Even the kids are sure to devour every bite of this high protein high fiber meal. 
One of the biggest drawbacks of cooking is cleaning up afterwards. This Sheet Pan Chicken Fajita Bowl recipe is tasty, filling, and uses minimal dishes. 
Simply place your chicken, beans, and veggies on the same pan with some oil and spices before popping in the oven to cook. Make sure to cook an extra portion and keep in the refrigerator and use for tomorrow's lunch!
This is perfect for busy nights throughout the week or if you are serving a large crowd. 
This pasta meal with an Italian flair will be ready in a flash since fresh pasta that has been refrigerated cooks considerably faster than dried spaghetti!
The original ingredients for puttanesca include tomatoes, olives, capers, anchovies, and garlic. 
Shrimp is added for more protein, while artichoke hearts increase the amount of vegetables (and fiber!) in the dish. Drained canned artichoke hearts can be used as a substitute if frozen ones are not available.
With over 35 grams of protein and 7.5 grams of fiber, this is the perfect dish!
Think Chili Con Carne only with flank steak. These tasty tacos are simple to make, low in calories and filled with healthy fat. 
Topped with crumbled feta and a homemade salsa made of avocado, tomato, onion, and a zesty squeeze of lime. Everyone can dig in. 
All you need for that delicious asada marinade is white vinegar, chili powder, olive oil, salt, and garlic powder.  Make sure to allow the steak to marinate for at least 1 hour to soak up all of that flavor. 
This quick and easy supper for one is made up of a flavorful cauliflower rice bowl. Instead of using rice, use frozen riced cauliflower to reduce carbs and speed up preparation.
Using black beans and a bunch of different veggies, this meal is rather basic. But that simplicity is what makes it great.  
With a gorgeous blend of spices, these simple ingredients are transformed into something delicious. Perfect for lunches or a light dinner that is filled with plant based protein.
Pork is one of the easiest proteins to cook and it has the same high protein content as chicken. Perfect for switching things up throughout the week. 
To get the most flavor out of this pork dish, marinate the pork the night before or before you go to work in the morning. Then all you have to do is get to cooking when you get home. 
Easily switch up the vegetables each time for a new flavor and color palette every week. Not to mention this recipe creates extra quinoa, perfect for the next day's lunch.
Who knew you could eat Mac & Cheese and still be healthy? For this quick homemade mac and cheese, simply sauté some minced garlic in little olive oil for a minute.
The flavor pairs wonderfully with the cauliflower and Brussels sprouts in this pasta dish for the whole family.
Easily create a large batch of this delicious cheese sauce and use throughout the week for other dishes. Not to mention there is minimal clean up! 
Serve with steamed veggies for a simple, healthy meal that everyone can enjoy. Add a spoonful of greek yogurt for added protein.
For a meatball that is moist, flavorful, and has more fiber and less saturated fat than a classic beef and pork version, lean ground turkey is combined with fresh mushrooms, oats, garlic, spices, and a little Parmesan cheese. 
For a fulfilling variation on spaghetti and meatballs, serve these flavorful meatballs over whole-wheat pasta with fresh tomato sauce. You can also use the leftovers to make sandwiches.
Nothing is more comforting than a big bowl of spaghetti and meatballs. 
The Green Goddess salad took the culinary world by storm due to its tasty yet super healthy ingredients. This version has more focus on getting those wonderful grains into our diets to ensure we reach our fiber goals. 
Ready in just 15 minutes, keep your salad and dressing separate to take into the office for an incredibly filling and delicious lunch. 
You can also swap the tofu for chicken or a different protein source. Or keep things vegan!
Don't forget the toasted pumpkin seeds for garnish!
Cheesy Chicken Enchilada flavoring combined with the holy carb that is pasta, all cooked in the oven until bubbly and delicious. Has anything ever sounded more mouth watering?
This simple meal is perfect for throughout the week and is absolutely perfect for meal prepping. 
This high protein, high fiber meal is super filling on its own but if you have quite a few mouths to feed then you can easily add a range of different sides. We love some cheesy cauliflower and garlic bread!
The sweet and savory combination you didn't realize you needed is apples and chicken breast or chicken thigh. Although this dinner is delicious on its own, it is especially enjoyed when it's served with a whole grain like brown rice as a side dish.
This Apple Cider Chicken Skillet recipe is the perfect way to use up some apples that are less than ripe. Taking just 30 minutes and one pan, there is nothing better than this recipe!
Serve with a range of sides including maple syrup roasted carrots and green beans for a delicious feast.
When you are in a bit of a rush or are in need of a grocery trip, your first instinct may be to order takeout. No more! This flavorsome Taco Soup recipe uses pantry staples and is ready in just 20 minutes. 
Whether you are a vegan, vegetarian, or meat eater, you are sure to love every mouthful of this soup.  
Topped with cheese, avocado, and tortilla chips, this bowl of soup has everything you need for a filling meal. 
Sheet Pan recipes are excellent for batch cooking and to keep your cleaning up to a minimum. This Sheet Pan Salmon with Kale and Farro is delicious, full of nutrients, and is sure to impress. 
Farro is an ancient grain filled with a delicious nutty flavor and a rather chewy texture. Simply prepare farro the same as rice or quinoa for a fiber and protein packed grain added to your meal. 
Slow-cooked pot roast that is fall-apart tender and covered in a delectable sauce with potatoes and carrots. A substantial and comforting meal recipe This beef roast is the ideal whole dinner that requires the least amount of work to make.
Serve with a range of side dishes but most importantly some boiled potatoes for a heart, filling meal throughout the winter months. 
Final Thoughts 
Eating healthier does not mean eating boring meals. Increasing your protein intake i and fiber intake has really never been easier or tastier. 
Above are 15 high protein high fiber recipes that are truly delicious. From apple cider chicken skillets, to taco soup, you can create a range of dishes that fuel your body and keep you on top. 
With a range of recipes including slow cooker recipes and pantry staples, you can stay on track and enjoy your favorite foods. All without the use of protein powder!
All you have to do is take a look, decide which one has your mouth watering and get to cooking!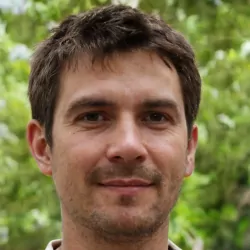 Latest posts by Justin Roberts
(see all)