Finding the perfect healthy alternative to your favorite snacks can be tough.
However, whatever your dietary requirement (or personal plan), there has never been as many options on the market as there are currently – with enough products and recipes to suit even the most challenging diet. 
This particular recipe focuses on a healthier replacement to potato chips – using baked crispy carrots and cutting them into chips to act as a delicious replacement for your favorite savory snack. 
But how exactly are they made, and can it be done at home? 
Can They Be Done At Home? 
The great thing about these crispy baked carrot chips is that they are incredibly easy to make, meaning you and your family can make them at home with little to no effort. 
Getting Started
Before we get started, we need to first pull together all our ingredients, as well as any equipment and utensils we might need for the process. 
The Ingredients
The ingredients for this recipe are incredibly simple, and include: 
Carrots (large/fat) – 2 pounds
Olive oil (or melted coconut oil) – ¼ cup
Sea salt – 1 tablespoon
Ground cumin – 1 tablespoon
Ground cinnamon – 1 tablespoon
The Equipment
The equipment for this recipe is quite minimal, and includes: 
A sharp vegetable knife
Metal baking tray
Greaseproof baking sheets
Large glass bowl
How To Make Carrot Chips
Now that we have everything prepared and ready to go, it is time to start the process. Don't worry, this really won't take long, and you'll soon be crunching on them in no time!
This process will be broken down into bite size steps to make things easier to follow, and you can go at your own pace once we get going. 
Step One
The first step is to cut the carrots. For this you can either use your sharp vegetable knife – or if you have a mandolin slicer you can use that. We used the knife, and it was perfectly easy – just be mindful of those fingers!
Before you start slicing, you first need to remove the ends of the carrot and throw them in the garbage. Once you have done that, you can then start slicing. 
These should be relatively thin, so that they go crispy once they go in the oven. 
Step Two
Place the large carrot slices in a glass bowl, and add the olive oil (or coconut oil), the salt, the cumin, and the cinnamon. 
Once they are all in the mix together, toss the ingredients, making sure everything has a good covering of the oil and the spices. 
Step Three
Once they are all mixed together, the next step is to lay out some greaseproof baking sheets on your metal baking tray, before laying out the carrot slices individually in evenly spaced rows. 
You might need more than one tray for this – depending on how thin your slices were – but if you don't have one then you can always do half now, half later. 
Step Four
Once they are all laid out neatly, turn on your oven to 425 degrees fahrenheit, leaving the oven to heat until it reaches optimal temperature. 
Once it has, take the baking tray and put it in the oven, allowing the chips to cook for 12-15 minutes – until the edges start to curl over.
At this point, you then need to take them out of the oven, flip them onto their backs, and then cook them for a further 5-8 minutes. 
The finish should be crispy and crunchy, so be sure to leave them in until this finish is achieved. Just be sure to monitor them so they don't burn to a crisp!
Final Step
Once you have done all this they will then be ready to cool before eating. Once they have reached a manageable temperature, feel free to dig in! Enjoy!
How Long Should The Process Take? 
In total, the whole process should take around 40 minutes in total – separated into 20 minutes of prep time, and 20 mins of cooking time. 
This makes them the perfect, easy, quick snack for when those late night carb cravings come knocking at your door. What's more, they're pretty guilt free, meaning that even those on a diet can partake without feeling too bad about it. 
How Long Can They Be Stored? 
Once they have been cooked and cooled, they should be stored in an airtight container for no more than 2 weeks. 
The airtight container will ensure that they remain crispy, crunchy, and that no bacteria or food particles drip onto them during storage. 
What Is Their Nutritional Information? 
These snacks are relatively healthy, and this is reflected in their nutritional information. So for those paying attention to their carbs and their calorie intake, here are the stats for one serving of this delicious, easy snack. 
Calories – 107kcal 
Carbohydrates – 11g
Protein – 1g
Fat – 7g
Saturated fat – 0g
Cholesterol – 0mg
Sodium – 950mg
Potassium – 367mg
Fiber – 3g
Sugar – 5g
Vitamin A – 18945iu
Vitamin C – 6.7mg
Calcium – 42mg
Iron – 0.5mg
Just How Healthy Are They? 
The great thing about these chips is that they are low in carbs, low in fat, and contain no traces of saturated fat or cholesterol – meaning those looking to eat better or improve their physical health are in for a treat with these delicious snacks. 
The fact that they are baked means that they are healthier too, and are not deep fried or flash fried as regular store bought potato chips usually are. They also contain only 5g of sugar – making them great snacks.  
They do however contain quite a lot of salt – although this is a somewhat necessary ingredient and helps encourage them to crisp up and become crunchy after cooking. 
However, it is fair to say that they contain a darn sight less salt than regular, store bought potato chips – which are notorious for being high in salt, saturated fat, and numerous other negative nutritional traits that those on special diets would do well to avoid. 
Final Thoughts
And there we have it, everything you need to know to make crispy baked carrot chips at home!
These carrot chips are the perfect healthy snack for you and your loved ones to enjoy, and make a great addition to any get-together or buffet table. 
So if you are looking for a healthy alternative to potato chips, then why not give this recipe a try? Something tells me you won't be disappointed!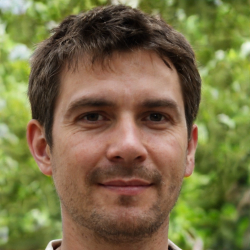 Latest posts by Justin Roberts
(see all)