Everybody loves a delicious brownie every now and then as a treat, but a lot of us might feel guilty having them more regularly since – let's face it – they're not the healthiest of foods.
However, what if we told you that they could be a lot healthier than you thought?
That's the case with the delicious collagen brownies we're going to tell you how to make today, which are good for you because they're high in protein and free of sugar!
We know what you're thinking: a healthy dessert treat must not taste as good, right? Thankfully, that's not true!
These collagen brownies are still deliciously rich and chocolatey, like all the best brownies you've had, with plenty of gooey fudge flavor for you to enjoy.
In our guide below, we're going to tell you exactly how to make these healthy collagen brownies for yourself, with a detailed step by step recipe that's easy to follow.
On top of that, we'll tell you all about the health benefits of our brownie, including an explanation of collagen, as well as plenty of other useful info. Read on!
Why Will You Love Our High-Protein Collagen Brownies?
Before we get to the recipe for our mouthwatering high-protein collagen brownies, the perfect dessert for anyone looking to enjoy a treat that's a little healthier than most, it's worth looking at all the reasons why you're sure to love it.
There are plenty of things to love about our high-protein collagen brownies!
For a start, they use collagen peptides. These are essentially collagen that's been broken down, which makes it much easier for your body to absorb it.

For those who don't know, collagen is an essential part of our bodies, and it's the protein that our bodies have most of.

Collagen helps to make up our bones, skin, and cartilage, and so getting more of it with the help of these high-protein collagen brownies can help your body to become much healthier and more robust.


Our brownie is free of sugar! One of the reasons that brownies (as delicious as they are) might get a bad rap is because of their high amounts of sugar, which won't be too good for you and could even affect your teeth.

With our high-protein collagen brownie, though, you'll find that it's sugar free, using a zero calorie sugar substitute and various unsweetened ingredients instead.


They're totally delicious! Despite the lack of sugar, our collagen brownies still taste just as good as a regular brownie, with the perfect mix of gooey and rich chocolate.

Seriously, you'll love the mouthwatering fudge flavor of these brownies, and you'll get to enjoy their healthy protein benefits at the same time.


They're very easy and quick to make! If you're worried that such delicious and healthy treats will takes ages to prepare and bake, that simply isn't the case.

Despite a range of ingredients, you'll find that these brownies take no more than five minutes to prepare, and then only a further twenty five minutes to bake them.

This means that they're a great treat for throwing together last-minute, because you'll have piping-hot tasty brownies waiting for you just half an hour later. Perfect!
What Do You Need To Make High-Protein Collagen Brownies?
In order to make our delicious and rich high-protein collagen brownies for yourself, you'll need only a small range of ingredients.
Unfortunately, they may not be ingredients that you already have lying around your kitchen, because a lot of them are quite specialist alternatives – like gluten-free or unsweetened items.
On the other hand, though, you won't need many ingredients that you usually associate with baking. For example, you won't need any oil, eggs, or sugar. That should make things a bit easier!
Ingredients
Collagen peptides – these are the key ingredient for your brownie, and we recommend that you get unflavored ones.
All-purpose baking flour – if you want the brownies to be gluten-free, then make sure that your flour is gluten-free.
Non-fat Greek yogurt – since our brownies don't use oil, this delicious and smooth yogurt will help to keep the right moisture levels in its place.
Unsweetened cocoa powder – as you might guess, unsweetened cocoa powder involves no sugar at all, instead simply being 100% cocoa. This helps to keep the brownies sugar free, yet still very chocolatey.
A zero calorie sugar substitute – in order to fill the empty place of sugar in this brownie recipe, you'll need a sugar substitute. We recommend that you get one that has zero calories and is an exact 1:1 replacement for sugar. This way, your brownies should taste just like their sugar-heavy cousins!
Egg whites – though the recipe doesn't use eggs, these egg whites will help to add even more protein to the brownie. Yet, at the same time, you won't be getting the increased levels of fat that the egg yolk would give you. Perfect!
Milk – you can use either regular milk or almond milk, if you would prefer a dairy-free alternative.
Coconut flour
Vanilla extract – a staple of baking projects, you'll find that this helps to give the brownies an even better flavor!
Peanut butter – this will help to give the brownies a slightly nutty edge, as well as some extra creaminess. Leave this out if you're allergic to nuts.
Baking soda
On top of all these, you have the option to add some chocolate chips to make the brownies even more chocolatey, as well as improve their texture.
If you do want to include these, make sure that you get ones that are sugar free, in order to keep the brownie's sugar levels as low as possible.
How To Make High-Protein Collagen Brownies
Now that you've got all your ingredients together, it's time to look at the easy recipe for our delicious high-protein collagen brownies.
For measurements of all the ingredients, and an expanded recipe, you'll want to go to the bottom of our guide!
You'll find that this recipe is extremely quick and easy. For one thing, preparing the brownies shouldn't take more than five minutes, and then you'll only need to wait a further twenty five minutes on top of that as they bake in your oven.
They're perfect for a low-effort, high-reward, last-minute dessert!
Step One: Pre-Heating And Preparing
First things first, you'll want to pre-heat your oven. Always make sure that you do this in advance, because otherwise your brownies will take much longer to cook than you expected. Switch your oven on and set it to 350 degrees Fahrenheit.
While it's pre-heating, you can spend time preparing the brownie! This begins with lining your baking pan.
We recommend that you have an 8 inch baking pan for these brownies, but you can work with what you've got.
You need to line it with parchment paper, which will help to protect the pan and make it much easier to clean up afterwards.
Step Two: Whisking The Wet Ingredients Together
Once you've lined the pan, and the oven is still heating up, it's time to mix together all of the wet ingredients.
For this, you'll need to get a bowl, and then add the following into it: the milk (almond or regular dairy milk), peanut butter, non-fat Greek yogurt, vanilla extract, and egg whites.
When these are all in the bowl, you can mix them together by whisking them thoroughly.
Step Three: Whisking The Dry Ingredients Together
Once you've whisked together all of the wet ingredients, it's time to do the same for the dry ingredients – only in a DIFFERENT BOWL.
So, get another clean and empty bowl, then add all the dry ingredients to it.
This means that you'll need to put the collagen peptides powder, unsweetened cocoa powder, coconut flour, zero calorie sugar substitute, gluten-free baking flour, and baking soda all into it.
Then, in order to mix them all together, you'll need to whisk the bowl's contents thoroughly.
Step Four: Combining
As you can probably guess, you now need to combine the whisked contents of these two separate bowls.
In order to do this, add the mix of dry ingredients into the mix of wet ones, then fold gently. Make sure not to be too firm when combining them.
Step Five: Pouring Into The Baking Pan
Now you need to carefully pour your combined mixtures (the brownie batter) into the lined baking pan.
Do this very carefully, making sure not to spill any and ensuring that you get it to fill the pan evenly and fully.
If you've decided to add any sugar free chocolate chips to the brownies, then now is your time to do it! Simple top the batter with the chocolate chips.
Step Six: Baking
By now, your oven should have pre-heated to the correct temperature.
Carefully put your batter-filled baking pan onto a shelf in your oven, then leave it in there for anywhere between twenty five and thirty minutes.
Step Seven: Removing The Baked Brownies
After that time has passed, you'll want to make sure that the brownies are actually properly baked.
In order to tell that they're done, first check out the top. Is it dry and set? Good.
Additionally, insert a thin and sharp knife into the brownies (a toothpick will also work), then remove it. If your testing object comes out dry, then the dessert has been properly baked.
Knowing that they're done, put some oven gloves on and very carefully remove the baking pan from the oven. Set it down somewhere where it won't be touched, then wait for the brownies to cool down.
If you don't let them cool before you cut them up, then the brownies will end up being too soft. You want them crunchy and crisp!
Step Eight: Serving Up
When they're ready to cut, try to use a plastic knife to do the job for you, rather than a metal one. Metal knives might stick to the brownie, which could cause it to become all bitty and crumbly.
Serve your brownies onto whatever utensils you want – and dig in!
If you want a little something extra with your brownie, you can always drizzle some strawberry or chocolate sauce on the top of it. Alternatively, you can add some whipped cream to it!
How Do You Store High-Protein Collagen Brownies?
On the subject of serving your delicious high-protein collagen brownies, you may find that you can't manage all of them. After all, there is a lot in the baking pan!
Even if you've got a bunch of guests who are enjoying them, you may find that you still have some brownies left over. So what do you do?
Well, you need to store them properly. If your brownies aren't stored properly, they will lose their flavor and tastiness, as well as eventually go off.
Storing Brownies At Room Temperature
If you want to leave your brownies out at room temperature, then they will need to be put in a secure and airtight container. Stored like this, they will only keep for up to 2 days.
Storing Brownies In The Fridge
On the other hand, your brownies are going to last longer if you put them in the fridge.
In order to do this, make sure the brownies have fully cooled down, then put them in a secure and airtight container. Put the container in the fridge, and you'll be able to enjoy them for up to a whole week!
Storing the high-protein collagen brownie in the fridge is really useful if you want to enjoy them throughout the week, saving them for after your workouts or as a treat in the evening.
Storing Brownies In The Freezer
Alternatively, you could have the brownies last even longer if you store them in the freezer.
And when we say much longer? We're talking up to 3 months! However, you will need to of course defrost them afterwards in order to eat them.
To store your brownies in the freezer, you will first need them to fully cool down. After that, you need to wrap each individual brownie in plastic wrap, then put it in either an airtight container or freezer-bag.
When you want to defrost a brownie, remove it from the bag and unwrap the plastic wrap. Put the brownie on a plate and leave it on the counter at room temperature, waiting for it to defrost.
Alternatively, you can unwrap it and put it in the microwave – in 15 second increments at 50% power.
Recipe For High-Protein Collagen Brownie
Preparing Time: 5 minutes
Baking Time: 25 minutes
Amount: 16 2 inch bars
Ingredients
12 120g scoops of collagen peptides
⅓ of a cup of baking flour (gluten-free)
3 tablespoons of Greek yogurt (non-fat)
½ a cup of unsweetened cocoa powder
⅔ of a cup of 1:1 sugar substitute (zero calories ideally)
4 egg whites
¼ of a cup of almond milk (unsweetened for less sugar)
¼ of a cup of coconut flour
2 teaspoons of vanilla extract
⅓ of a cup of peanut butter
½ a teaspoons of baking soda
(Optional) 1 tablespoon of sugar free chocolate chips
Recipe
Pre-heat your oven to 350 degrees Fahrenheit. While you wait, line a baking pan (8 inches by 8 inches) with parchment paper.
Put all of the wet ingredients into a large bowl and whisk them together. These ingredients are: Greek yogurt, peanut butter, egg whites, vanilla extract, and almond milk.
Put all of the dry ingredients into a DIFFERENT bowl and whisk them together. These ingredients are: collagen peptides powder, baking soda, the 1:1 zero calorie sugar substitute, gluten-free flour, and coconut flour.
Now combine them, pouring the mix of the dry ingredients into the mix of the wet ingredients, and folding until the two have been properly and thoroughly combined. Be very gentle when folding them.
Very carefully pour the new brownie batter into your baking pan, making sure that it's poured out evenly and flatly. You can use the back of a spoon to help smooth down the top of it, or a spatula will do the trick too. If you want to add the sugar free chocolate chips, you can add them to the top of the mix now.
The oven should have pre-heated by now, but continue waiting if it hasn't. Carefully put your baking pan into the oven and leave it in there for anywhere between 25 and 30 minutes. When the time's up, test that the brownies are done by inserting a thin knife or a toothpick into their center. If it comes out dry, they're done.
With oven gloves, carefully remove the pan from the oven. Leave it somewhere safe to cool down.
Serving time! For added fun, serve with strawberry or chocolate sauce, or even whipped cream. Store any leftovers properly with our guide above.
Final Thoughts
Our high-protein collagen brownie is that rare brownie that's healthy! You still get the delicious and gooey chocolate flavor, but you'll also be treated to lots of protein.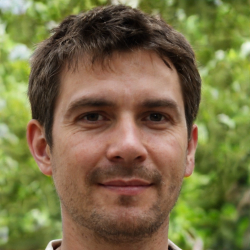 Latest posts by Justin Roberts
(see all)