Some of the best cookies out there are undoubtedly sugar cookies. There is nothing quite as sweet as the crunch of a sugar cookie as you bite into it.
Other than the crunch of biting into a homemade sugar cookie, of course. 
While sugar cookies are utterly delicious, if you are somebody who suffers from gluten intolerance, then the after-effects of eating these cookies are not pleasant.
Like many snacks, the majority of sugar cookies contain gluten, and cut-out sugar cookies are no different. 
However, if you are keen on the idea of making your very own sugar cookies, then you shouldn't have any issues with preparing your own gluten-free cut-out sugar cookies.
To make it even easier for you, we've given you a step-by-step guide to making super easy cut-out sugar cookies in this guide. 
So what are you waiting for? Keep on reading to find out how to get started!
How To Make Gluten Free Cut-Out Sugar Cookies
If you are looking for an utterly delicious cut-out sugar cookie recipe that is totally gluten-free, you are in the right place.
The recipe below will allow you to produce 12 gluten-free cut-out sugar cookies, but you can easily halve or double the recipe to decrease or increase the number of sugar cookies you want to prepare. 
This gluten-free cut-out sugar cookie recipe is super simple to follow, and in no time at all, you'll be able to enjoy these cookies.
With a prep time of roughly 20 minutes and a cook time of just 8 minutes, you'll be eating these sugar cookies before you know it.
Keep on reading to find out what ingredients you need to gather, and how to get started. 
Ingredients
Before you start baking your gluten-free cut-out sugar cookies, you will need to gather the ingredients. The ingredients that you need for the job include the following:
For The Cookies
140g All-Purpose Gluten-Free Flour
½ Teaspoon of Xanthan Gum
⅜ Teaspoon of Gluten-Free Baking Powder
⅛ Teaspoon of Kosher Salt
50g Granulated Sugar
11g Confectioner's Sugar
56g Unsalted Butter
½ Beaten Egg
½ Teaspoon Pure Vanilla Extract
For The Frosting
70g Unsalted Butter
1 Fluid Ounce of Milk
½ Tablespoon Vanilla Extract
⅛ Teaspoon Kosher Salt
1 Teaspoon Meringue Powder
230g Confectioner's Sugar
Seeds from a Single Vanilla Bean
Sprinkles to Decorate
Methodology
As you can see, the list of ingredients that you need in order to prepare gluten-free cut-out sugar cookies is pretty extensive.
However, thankfully, the method is actually pretty straightforward. To make things easier for yourself, we would recommend weighing all the ingredients before you even consider getting started. 
Keep on reading to find out how to prepare delicious gluten-free cut-out sugar cookies.
Step One
With your ingredients gathered and weighed, you need to start off by preheating your oven. Set your oven to 350 degrees Fahrenheit before you do anything else.
Line two baking sheets with parchment, and set them to one side for the time being. 
Step Two
With your baking sheets lined, take a large bowl and add the flour, xanthan gum, salt, baking powder, granulated sugar, and Confectioners sugar to it.
Take your whisk and stir the ingredients together until fully combined. 
Step Three
With the dry ingredients combined, you can then add wet ingredients. First, begin by adding the butter to the bowl.
Press down on the butter with a spoon and mix the ingredients until they begin to look sandy. Then add the vanilla extract and egg and mix the ingredients together until they are fully combined.
Step Four
Wash your hands and then begin to knead the mixture until it forms a cohesive dough.
Place the dough on a clean, dry work surface and then begin to roll it out until it is about ⅓ of an inch thick. Sprinkle the dough lightly with flour, then it is time to start cutting. 
Step Five
Take whichever cookie cutter you want to use and then begin to cut the dough. Ideally, leave around 1 inch between each cookie cutter as you begin to place them on the baking sheet.
This is important as the cookies will expand when baked.
Once you have used up all the available space, gather the dough into a ball and roll it out again until it is impossible to cut any more cookies. 
Step Six
With all your cookies cut, take your baking trays and place them in the oven.
Typically, it will take between 6 and 8 minutes for the cookies to bake fully, and you will be able to tell for certain when the cookies start to brown around the edges.
When this happens, take the cookies out of the oven and leave them to cool.
Step Seven
As your cookies cool, it is time to start preparing your frosting. Take the bowl of your stand mixer and add the butter, milk, and vanilla to the bowl and mix until creamy.
Then add all the remaining ingredients and mix together slowly. As the frosting begins to thicken up, slowly turn up the speed to ensure the ingredients are fully combined. 
Step Eight
Once the cookies are cooled, add your frosting to a piping bag and pipe evenly on top of every cookie. Then finish each cookie with a small number of sprinkles.
You have a lot of creative freedom when it comes to decorating your gluten-free sugar cookies, but for us, we find that a small amount of frosting and sprinkles work best.
After you have decorated all your cookies, simply sit back and enjoy! 
Summary
In short, preparing your very own gluten-free cut-out sugar cookies is incredibly simple.
The recipe that we have outlined above truly is one of the most delicious sugar cookie recipes we have looked at, and it is totally gluten-free. 
So, if you want to prepare some delicious cut-out sugar cookies that won't affect those who live with celiac disease or gluten intolerance, check out the recipe above. 
Thanks for reading!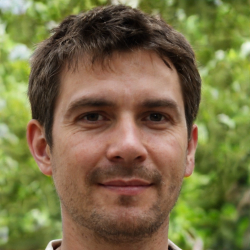 Latest posts by Justin Roberts
(see all)