Are you looking for more exciting breakfast options, but aren't sure where to start? Well allow me to let you in on a little secret. Chia seeds are on the up and up in terms of popularity, and for good reason.
These humble little seeds are packed full of a lot of history, as well as nutrients that will set you up for a great, healthy day. 
If you've already tried chia seeds before but want something a little more challenging, or maybe you're brand new to chia and are just looking for a challenge, then this Neapolitan chia seed pudding will make a great addition to your breakfast repertoire. 
Why Chia Seeds?
Like I said, chia seeds are on the up and up. But why? Well, the short answer is that they're just so good for you.
As mentioned previously, they're full of nutrients that are really great for you and your body. They've also been credited with helping people dealing with constipation thanks to the fiber content. 
Beside the obvious health benefits that anyone would want, they're also very filling.
This unsuspecting mason jar of goop is so surprisingly filling that it rivals a full fried breakfast in the way that it'll keep you going until lunch – and maybe more. 
 Chia seeds are chock-full of antioxidants, vitamins, fiber, and omega-3.
They have been credited as having the ability to reduce the risk of heart disease and significantly improve the health of your gut and digestive system. If you haven't tried a chia seed recipe, then this is the absolute best place to start. 
Preparation
If you've ever dabbled with overnight oats, you know how beneficial it can be to your flow in a morning to already have a filling and delicious breakfast already made for you.
This Neapolitan chia pudding can be made in advance and stored for a couple of days in the fridge – perfect for hectic mornings or late night snacks. 
It's Portable
If you have a REALLY busy morning, or find that you only get to eat once you're already at work, then this breakfast still has you covered.
If you made this pudding in a jar with a lid, then it can just get thrown in your bag in the morning and enjoyed at your desk or even on your commute. 
It's Neapolitan! 
I mean, come on! What is better than chocolate, strawberry, and vanilla all put together?
But Neapolitan can't be properly enjoyed if you've gone Vegan, which is why this chai seed version is so great. No matter your diet restrictions, you're going to be able to enjoy this pudding. 
It's Versatile
You can enjoy this pudding for breakfast, or as a dessert after a meal. It even makes a great late snack, though it is actually very filling, so you'll have to make sure you time your snacks well otherwise it might just end up being another meal.
On top of the multitudes of times that you can make this recipe, you can also alter it however you like.
Once you've mastered how to make flavored chia puddings, you'll be able to make whatever flavors you like to switch it up whenever you want. 
You can also top it with a variety of different things. If you want, you can top it with fresh fruit, granola, honey – whatever makes you happy!
Ingredients
So, in order to make this recipe, you're going to need a few ingredients, these are split up into the different layers: 
Chocolate Later
2 Tablespoons chia seeds
½ Cup unsweetened chocolate or vanilla almond milk
2 Teaspoons cocoa powder (or cacao if you have access to it)
½ teaspoon vanilla extract
¼ teaspoon almond extract
Vanilla Layer
2 Tablespoons chia seeds
½ Cup unsweetened vanilla almond milk
½ teaspoon vanilla extract
Strawberry Chia Jam
1 & ½ Cups chopped strawberries
3 tablespoons chia seeds
1 teaspoon agave syrup
Strawberry Layer
½ cup strawberry Chia Jam
6 Chopped strawberries
4 teaspoons cacao nibs
If you want to increase the sweetness, you can add stevia or other natural sweeteners, however, I think that this can make it a little too sweet for a morning and might be better if you're planning on eating this for dessert. 
Details
Prep Time: 1 Hour (to sit in fridge)
Cook Time: 10 Minutes
Total Time: 1 Hour 10 Minutes
Serves: 2
Calories: 277
Instructions
Without further ado, let's get on to the instructions. Although this recipe might be looking a little intimidating, it's actually surprisingly easy if you give yourself enough time. 
For all the layers, you'll need to mix the chia seeds in the corresponding milk and let it sit in the fridge for at least an hour.
For the chia jam, instead you'll need to mix all of the ingredients together in a food processor and then let it sit in the fridge for an hour.
Once set, take the chocolate chia and mix in the vanilla extract and sweeteners, if included.
Do the same for your vanilla layer.
Assemble 
To assemble, you'll need to divide your puddings between two 8 ounce mason jars.
Put half of your chocolate pudding at the bottom, then half of your vanilla pudding on top. Finally take 4 tablespoons of your Strawberry chia jam and top with the chopped strawberries and cacao nibs for decoration and flavor.

See, that wasn't so complicated, was it! Now it might not look perfect the first few times that you make this, so don't worry about the aesthetics too much. Just enjoy the pudding for what it is: A delicious, super healthy, super filling breakfast. 
Now that you've got the basics of making flavored chia pudding down, you can experiment and see if you can make chia puddings that taste like whatever it is that you prefer.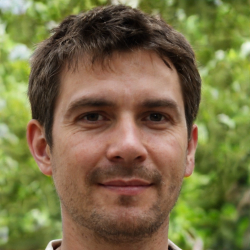 Latest posts by Justin Roberts
(see all)