If you're looking for ways to experiment with Thai recipes and flavors, one of the best recipes you can try is this Thai coconut soup. 
Our recipe for Thai coconut soup is based on two Northern-Style Thai soup dishes: Khao Soi and Tom Kha. 
Therefore, this is not actually a traditional Thai dish in itself, but it draws inspiration from authentic Thai cuisine and combines elements of different Thai recipes to create a soup that is filled with the flavor of Thailand. 
We're going to be giving you the full recipe for our Thai coconut soup today, plus tips and tricks to make your first attempt as delicious as possible.
If you still have questions at the end of the recipe, be sure to check out our FAQ section at the end!
What Is Tom Kha?
Before we get into the recipe itself, we mentioned that one of the recipes our own soup is based on is Tom Kha.
In order for you to get a real sense of the origins of this recipe, we'd like to spend a moment outlining what Tom Kha really is.
If you're not familiar with Thai cuisine or have never heard of Tom Kha, it's basically a traditional soup from Thailand which is made from coconut milk, lemongrass, chili, and various other herbs and spices. 
Traditionally, this soup contains chicken, but since we're trying to make more of our recipes vegan-friendly, we haven't included any chicken. 
What Is Khao Soi?
The other Thai soup recipe we based our soup around is Khao Soi. This is a Northern Thai dish that is also frequently served in some areas of Laos. 
Khao Soi is a very different type of soup compared to Tom Kha. The main flavor in this soup comes from red curry paste, and it's usually served with egg noodles.
However, coconut is also a main ingredient in Khao Soi, so you can see how it would be easy to combine with Tom Kha for inspiration. 
The Recipe 
Here is the full recipe for our Thai Coconut Soup. The ingredient quantities expressed on the recipe card are enough to make 4 servings, but you can scale these quantities up or down to make more or less soup. 
Total Time: 30 minutes 
Prep Time: 10 minutes 
Cook Time: 20 Minutes 
You Will Need
Full-fat coconut milk (1 cup)
Thai red curry paste (2 tbsp)
Curry powder (2 tsp) 
Vegetable broth (1 liter) 
Rice noodles (7 oz)
Soy sauce (2 tbsp) 
Lime juice (from ½ lime)
Turmeric powder (½ tsp)
Ginger (cube, 1 inch)
Garlic (4 cloves)
Onion (1 medium)
Avocado oil/vegetable oil (1 ½ tbsp)
Coconut sugar (2 tbsp)
Cilantro (to garnish)
How To Make Thai Coconut Soup
Get a large pot and put it over medium to high heat with the avocado oil or your substitute of choice in it. 
Once the oil is hot, turn the heat down to medium and put the onion into the pot. Leave it to cook for around 2 minutes, or until the pieces of onion have turned translucent. Once this has happened, you can go ahead and add the ginger and garlic. 
Let the garlic and ginger cook with the onion for around a minute before transferring the Thai red curry paste, turmeric powder, and curry powder into the pot. Stir thoroughly for about 30 seconds. 
Now it's time to put the coconut milk, vegetable broth, lime juice, soy sauce, and coconut sugar into the pot. You can add these all at once and then turn up the heat to bring the contents of the pot to a boil. 
Once the soup is boiling, you can turn the heat back down so that it's between medium and low. Once you've done this, just let the soup simmer for around 10 minutes.
During the 10 minutes' simmering time, you'll need to cook the rice noodles. Cooking instructions may be different depending on your chosen brand, so read the packet carefully, but it will usually be a matter of frying them for a few minutes.
You can now put the rice noodles into the soup before transferring to serving bowls. 
If you like cilantro, use some to garnish each serving. A wedge of lime is also a great touch. 
The Ingredients 
We've listed all the ingredients you'll need to make this Thai coconut soup above. However, there are some situations where you might want to adjust the ingredients or make substitutions. 
Here are our recommendations and tips when it comes to the ingredients in this soup: 
Coconut Milk – If you want your soup to be rich and creamy, we recommend using full-fat coconut milk. Make sure it comes out of a can and not a carton because the latter is for drinking rather than cooking and won't be as thick.
Similarly, reduced-fat coconut milk won't deliver the same creaminess, but if you're trying to get less fat in your diet, you can still use it as long as you're prepared for a less creamy soup. 
Vegetable Broth – While we do recommend vegetable broth, you can use chicken broth (see also "15 Best Bone Broth Recipes Paleo To Try Today") if you don't need this recipe to be vegan or vegetarian.
We like to use organic, low-sodium vegetable stock for the health benefits, but you can use any brand you like. 
Thai Red Curry Paste – Our soup recipe is vegan-friendly, which is why we've made sure to use a vegan curry paste.
Not all red curry paste brands are vegan because many are made with shrimp paste, so if you're vegetarian or vegan, be sure to read the ingredients on the tube or jar carefully.
Since Thai red curry paste can be very spicy, you could also substitute the paste for basically any red curry paste you enjoy. It doesn't have to be red, either – you could use yellow or green.
Coconut Sugar – Coconut sugar is not a traditional Thai ingredient. Usually, for Tom Kha or Khao Soi, palm sugar would be used to add sweetness.
However, coconut sugar is more readily available, so this is what we have used, and it works beautifully with the overall flavor of the soup.
You could also use maple syrup or agave syrup to sweeten the soup, though. 
Soy Sauce – Depending on whether or not you want your soup to be gluten-free, you may need to find a gluten-free soy sauce brand.
You could also use tamari as a substitute. However, unless gluten is a concern, you can use any kind of soy sauce.
Rice Noodles – If you want to be as authentic as possible with this soup, you could use pad Thai noodles. However, if you're not vegan, you could use egg noodles instead.
Vermicelli noodles are also an option. Konjac noodles work, too, if you need a grain-free alternative.
Tips And Tricks 
We've made this Thai coconut soup dozens of times now, so we've adjusted our technique and ingredients to make it as tasty as possible.
Here are some of our top tips for producing the perfect Thai coconut soup: 
Cook your noodles separately to your soup rather than trying to cook them in the soup. The latter method will lead to a diminished quantity of soup because of the noodles absorbing all the moisture. 
It might be best to add just 1 tbsp of red curry paste and taste the soup before deciding whether to add another. This is because some brands are very spicy, and if you're not used to a lot of spice in your food, the recommended 2 tbsp might be too much. 
If you're not going to serve all 4 servings of your soup at once, don't add all the noodles into the soup at the same time. Instead, store leftover noodles and soup in separate containers in the refrigerator. They should both keep for a week as long as you don't store the noodles in the soup, in which case, they'll quickly get soggy. 
Storage 
As we mentioned earlier, the recipe for our Thai coconut soup serves 4 if you don't adjust the quantities listed in the ingredients (see also "Easy Recipe For Tuscan White Bean Soup").
This means that if you don't have 4 people to cook for, you may need to find a way to store your soup so it doesn't go to waste. 
The good news is that this soup keeps easily in the refrigerator for anywhere up to a week, although we recommend trying to use it up within 5 days.
The key is to store the noodles separately from the soup itself to avoid soggy noodles, so if you know you won't be using all the soup at once, keep some noodles separate for storage. 
Alternatively, if you don't think you'll be able to use all the soup and noodles within 5 to 7 days, you can keep the soup in the freezer instead.
This storage method will ensure that your soup stays good for around 3 months. 
When you want to enjoy your leftover soup, just leave it out on the counter to defrost and heat it on the stove or use the microwave to warm it.
Please don't freeze the noodles along with the soup, though. You'll have the same sogginess problem when defrosting. Just prepare some fresh noodles to serve with your reheated soup instead. 
Frequently Asked Questions 
Why Should I Make This Thai Coconut Soup?
There are plenty of good reasons to make this delicious Thai coconut soup. First of all, it only takes 30 minutes to make in total, so it's fairly quick and easy.
It's also both vegan-friendly and gluten-free, and you can easily customize it by adding any extra ingredients or making any substitutions you want. 
Because we make this soup using low-sodium broth, avocado oil, coconut milk, turmeric and ginger, we also love the fact that it's full of healthy fats and antioxidants. 
What Are Some Other Thai Soup Recipes?
Some traditional Thai soup recipes we recommend trying if you love this Thai coconut soup recipe include Tom Yum, Thai Green Curry soup, Thai Gaeng Som, and the much-loved chicken noodle soup. 
Is Thai Coconut Soup Suitable For Vegetarians And Vegans?
This Thai coconut soup is suitable for vegans and vegetarians because we haven't used any chicken and have chosen to use vegetable broth as well as a Thai red curry paste that doesn't contain shrimp. 
However, the traditional recipe for Tom Kha, which is what this recipe is largely based on, does use chicken, and many Thai red curry brands contain shrimp paste, so this recipe would likely not be vegan in the context of traditional Thai cuisine. 
If you want to make sure that your Thai coconut soup is suitable for vegetarians and vegans, make sure to read all the labels on your packaged ingredients carefully, looking out for any fish, meat, or dairy ingredients.
Final Thoughts 
There you have it! Our recipe for Thai coconut soup, based on the traditional recipes of Tom Kha and Khao Soi from the North of Thailand, is easy to make in just 30 minutes, but it's packed with authentic Thai flavor. 
Remember to check any ingredients' lists carefully, especially Thai red curry paste, for animal products if you want to make this soup vegan.
However, if you're not vegetarian or vegan, feel free to add chicken pieces or use chicken broth to add a meaty flavor to the dish. 
We hope you enjoy making this Thai coconut soup as much as we do!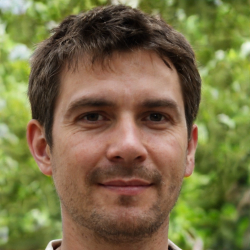 Latest posts by Justin Roberts
(see all)