Rice is a staple food around the world but it can taste relatively bland when you don't add vegetables, spices or other ingredients.
That's where this delicious vegan fried rice with tofu comes in. This dish has plenty of veggies, grains and plant-based proteins that make it tasty and healthy.
What makes this veggie fried rice so unusual is that it uses scrambled tofu instead of the traditional scrambled eggs for classic fried rice.
This does not just give the dish a better texture but there is also plenty more protein which combines well with the added fiber of the grains.
Here is our ingredient list for tofu fried rice and how to make this tasty meal (see also "Totally Tasty Tofu Stir Fry For Weeknight Meals").
Ingredients For Vegan Tofu Fried Rice
Traditional fried rice is made with scrambled egg but egg is not vegan. 
However, when you replace the egg with plant-based tofu, then you can also turn your fried rice into a vegan-friendly dish.
Fried rice with tofu is packed with a range of ingredients that are healthy and pair very well.
In addition to the below vegetables, you can also add the veggies of your choice. Some popular additions include spinach, red onions, bell peppers or leek.
Fried rice is so variable that you can even turn this into a spicy dish. Just add some chili peppers or chili powder to the rice for an extra spicy kick.
Some people also prefer their fried rice a little more sweet. Simple sprinkle in some raisins, pineapple pieces or mango bits to create a sweet flavor.
Rice
While some like to use jasmine rice, others prefer basmati. You can use any type of rice you have available.
Brown rice is also a great option for fried rice as it contains a lot of nutrients and some additional fiber that combines well with the tofu.
Just make sure to check the instructions on how to cook your rice as the cooking times may vary.
You can use a varying amount of rice for your vegan fried rice, depending on the rice and vegetable ratio you prefer.
Scrambled Tofu
The key ingredient in this vegan fried rice recipe is the scrambled tofu. You can use any brand of firm tofu.
Firm tofu is one of the most popular types of tofu that you can use for almost any savory recipe. 
This means that if you have any leftover tofu, then you can also sprinkle it over other savory dishes.
Tofu usually comes as a firm block that should feel solid with some give.
One of the biggest advantages of using firm tofu is that it fries extremely well. You can also use it as a stuffing.
Plus, firm tofu blocks are a lot more forgiving when it comes to cooking, while silken or soft tofu can get rubbery very quickly.
Carrots
Carrots are one of the most popular vegetables around the world. That's why, you can find them in so many savory foods.
They are full of healthy vitamins, minerals and other nutrients that add some health benefits to your meal. Carrots are also a classic in fried rice.
This being said, if you don't like carrots, then you can substitute them with plenty of other vegetables, including broccoli or cauliflower.
Celery
Celery is another great vegetable that works well in fried rice. It gives your rice a classic flavor and taste.
Celery is full of vitamin C, antioxidants and phytonutrients that are said to reduce inflammation in blood vessels, organs and cells.
It's not just a super healthy vegetable but also adds some unusual flavor to your rice dishes.
If you are not a fan of celery, then you can also try leek, spinach or other green vegetables.
Green Onions
Green onions, also known as scallions, are one of the best ways to give your fried rice is a little spice.
You can also use red or white onions. However, we found that green onions have just the right flavor for tofu fried rice.
Garlic
Garlic is the magic ingredient in many savory dishes. Most of us don't even notice when there is garlic in a recipe because it tastes so subtle.
For your scrambled tofu fried rice, it's best to use fresh garlic. This will create a nice flavor in your dish. Plus, it is healthier.
If you really want to make fried rice but you don't have fresh garlic, then you can also use powdered garlic. However, you may need to taste test how much garlic you need.
Peas
Peas aren't a must-have in fried rice but it adds some more protein and color to your recipe.
If you don't like peas, then you can also easily substitute them with edamame beans, chickpeas, lentils or other pulses.
Just bear in mind that lentils and beans can take a little longer to cook.
Other Vegetables That You Can Add To Fried Rice
Fried rice is a traditional Chinese dish, so you can also add plenty of different Chinese vegetables, including bok choy, winter radish, yard-long beans, Chinese cabbage or snow peas.
Alternatively, you can also put some eggplant, different types of cucumbers or melons into your fried rice.
You may not find all these veggies in your local grocery store but you may be able to get them online or in your nearest ethnic food store.
How To Make Vegan Fried Rice With Tofu
Making vegan fried rice with scrambled tofu is super quick and easy. Just check the full recipe before you start cooking, so you know the ingredients and quantities you need.
Step 1: Prepare Your Scrambled Tofu And Rice
You can cook either fresh rice with the instructions on the package or use some cooked leftover rice.
If you want to cook fresh rice, then put some water into a pot, let it come to the boil and add the rice in.
Next, prepare the scrambled tofu. You will need to take the tofu out of the packaging and drain it in a paper towel.
This will remove all the excess liquid inside the tofu that you don't want in your rice dish.
Then cut the tofu into small cubes or crumble it into a hot pan with some oil. You can add any seasoning or marinate you like to your tofu to give it a little more flavor.
Allow the tofu to fry for 4 to 5 minutes until it is slightly crispy and golden-brown on all sides. Then, set the tofu aside.
Step 2: Fry Your Vegetables
Once you prepared your tofu and your rice, add some more oil into your pan and then put the celery, garlic, carrots and onions in.
If you want to add more vegetables, then it is a good idea to use a large wok. It is big enough to hold more veggies and it also cooks them more gently.
Step 3: Add The Rice And Tofu
When your vegetables are lightly brown and sautéed, you can add the scrambled tofu, peas and rice to your wok or pan.
If you want to add any soy sauce, hoisin sauce or sriracha to your fried tofu rice, then you can do this now.
Blend everything together properly and cook gently on a medium to high heat.
Step 4: Allow Everything To Cook
It's important to let your fried rice sit for a couple of minutes until the rice is slightly brown. While you don't want to burn the rice, it should be nicely fried.
Step 5: Add Toppings And Serve
When your fried rice is ready, you can serve it immediately. If you like, you can add some roasted cashews or vegan cheese on top of your rice.
If you use your vegan fried rice with tofu as a main dish, then there are plenty of side dishes that can you serve with your rice, including salad, more tofu, or soup.
Can I Use Frozen Vegetables For Fried Rice?
Yes, you can use both fresh and frozen vegetables to make your fried rice. It's a good idea to get some mixed frozen veggies that contain at least peas and carrots.
This does not just save you a lot of space in your freezer but it also saves you time cutting the vegetables.
We would recommend that you defrost the frozen vegetables before you start with cooking. 
You can just let them sit on the kitchen counter for an hour or put them into the microwave for a minute on a low setting.
Which Tofu Is Best For Fried Tofu Rice?
Firm tofu is the best type of tofu to use for your scrambled tofu rice recipe. It's ideal when you prefer a more firm texture. It browns well and also gets slightly crispy.
Saying this, if you prefer a softer texture with your tofu, then you can also choose to make your fried tofu rice with medium tofu.
What To Serve With Vegan Fried Rice
You can easily enjoy this vegan fried rice just on its own. However, if you want a little more variety, then you can also serve it with other delicious dishes.
All of the below side dishes are also vegan. Just make sure to use stocks and broths that are plant-based.
Do you still have some tofu leftover from your recipe(see also: Easy Tofu Sofritas Recipe)? Then you can use it to make this tasty salt and pepper tofu side dish.
It takes only 15 minutes and you only need three ingredients. These tofu sticks are perfect for dipping in sauce or enjoying with your fried rice.
Kimchi is super delicious and you can add it on top of your fried rice. Alternatively, you can also turn it into a tasty kimchi soup that has a slightly sour and spicy flavor.
This kimchi soup is made with broth but you can also swap the broth with white miso paste.
While you are having your frying pan out, why not make another stir fry and serve it with your tofu fried rice.
Cabbage is a great vegetable that works in almost any recipe. Plus, you can also use a variety of different cabbages, such as bok choy or dakon radish.
As this recipe uses some of the same ingredients as our vegan fried rice, you can make this in a matter of minutes.
You can never have enough tofu in a traditional Chinese recipe. As you already use scrambled tofu in your fried rice, just make this sticky tofu on the side.
Covered in delicious teriyaki sauce, sticky tofu adds a little bit of sweetness to your dinner.
Edamame beans have a beautifully savory flavor. You just add some garlic sauce and a few spices on top, and you have the perfect side dish.
What makes these soybeans so tasty is that the recipe is super simple. 
Dumplings are just the perfect way to create a traditional Chinese lunch or dinner. However, making dumplings from scratch can take some time.
That's why, frozen dumplings are a quick and easy option. You can put them into your air fryer or spray some oil on top and bake them.
Dumplings are perfect for feeding a large crowd.
Top Tips For The Perfect Tofu Fried Rice
There are a few things you need to look out for when making your perfect fried tofu rice.
Choose Your Rice With Care
Rice is one of the most important ingredients in your fried rice. That's why, it is essential that you choose the right type of rice.
While you can use any type of rice for fried rice, some are better than others. Ideally, you should use medium grain rice.
It doesn't go mushy or clump together, so you can enjoy the texture of your rice. In addition, this type of rice also absorbs the flavors much better.
You can also use leftover rice. In fact, cold leftover rice is better than freshly cooked rice for fried rice because it doesn't form clumps.
Cook Your Rice Ahead To Save Time
If you are struggling with time, then it's a good idea to cook your rice ahead of time to quickly whisk your fried rice together.
Use The Right Frying Oil
The best frying oils to use when making fried rice are vegetable oil, palm oil or peanut oil. They have a mild flavor that doesn't change the taste of your rice.
Use A High Heat
You need to make sure that you use a high heat setting when you stir-fry your rice. A too low setting would steam your rice which is not going to fry it nicely crispy and brown.
Let The Rice Brown Properly
Don't remove your fried rice from the heat too early. You should allow the rice to sit for a while, so it gets a brown color and crispy texture.
Add Your Favorite Seasoning
Once you made tofu fried rice a couple of times, you will realize that it's very easy to adjust. You can add any ingredients, seasoning and sauces you like.
Simply experiment with some oyster sauce, fish sauce or soy sauce. 
If you want to keep your dish fully vegan, then check the sauce ingredients. For example, soy sauce is plant-based and vegan-friendly.
Choose Good Quality, Fresh Ingredients
It doesn't take much to make a delicious rice dish. However, you need to make sure that you use as many fresh ingredients as you can.
Fresh garlic, vegetables and tofu gives your fried rice a much stronger flavor.
How To Store Tofu Fried Rice
You can store your fried tofu rice in the fridge for up to 6 days. The frying of the tofu and the rice preserves the food relatively well.
Just put your rice into a sealed container and place it into the refrigerator. It's best to use your rice up as soon as possible because it loses flavor with each day.
Can You Freeze Fried Rice With Tofu?
We don't recommend freezing fried rice with tofu. While rice is a relatively hardy grain, the scrambled tofu in your rice isn't suitable for freezing.
Plus, the defrosted fried rice wouldn't taste pleasant anymore, and the texture would be mushy.
Can You Reheat Tofu Fried Rice?
Yes, you can easily reheat your tofu fried rice in the microwave. Just make sure that the rice has been stored in the fridge.
Add some water to your fried rice to ensure that it doesn't dry out. Then place it into the oven or microwave to heat it up.
Frequently Asked Questions
Is Rice Vegan?
Yes, all types of rice are definitely vegan, including brown rice, Jasmine rice and Basmati rice.
If you buy a pre-cooked dish with rice, make sure to check the ingredients as this could contain animal-based products.
Is Fried Rice Vegan?
Traditional fried rice is not a vegan dish as it usually contains eggs and animal-based sauces, such as oyster sauce.
However, when you substitute the scrambled eggs with pieces of tofu in your fried rice, then you make this dish gluten-free and vegan friendly.
If you like sauces in your fried rice, then just use soy sauce. This is made only with vegan soy beans.
You can also add a variety of other vegetables to make your meal healthier.
Final Thoughts
Vegan fried rice with tofu is a simple and super delicious dish. You can make it in just a few minutes with some basic, fresh ingredients.
Plus, you can vary this fried rice recipe in any way you like with other vegetables and sauces.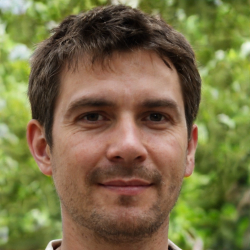 Latest posts by Justin Roberts
(see all)