Everybody loves a bowl of rice noodles for their dinner, because it's a quick meal that's simply mouthwatering. Better yet, they can be a decent source of fiber, vitamins, and minerals!
However, there are loads of ways that you can spruce up your noodle dish, with all kinds of different sauces and flavors, and it can be difficult to find the perfect noodle dish.
Well, we've got the answer: vegan Thai red curry noodles.
We all know that Thai food is delicious, and this brings you the best of both Thai's curries (Also check out Thai Massaman Curry) and their noodles, all ending up in a perfectly creamy and flavorful dish. Plus, it's vegan!
Want to know how to make it? We've got a detailed recipe for you below, along with information on all the ingredients and advice on how to pick the best versions of them. On top of that, you'll see that the meal is really quick to make – perfect for a quick dinner!
Are Rice Noodles Healthy?
Before we get onto the recipe and its ingredients, it's worth having a look at one of the most important parts of the dish: the rice noodles. Since they're such a key ingredient, you'll want to know how healthy they are, and just what they bring to the table. 
For a start, rice noodles are low in sodium. If you have too much sodium in a day (particularly via salt) then it can be harmful to you, putting you at more of a risk of problems like heart disease and high blood pressure. 
Their low sodium levels work to off-set one of the other ingredients in the recipe too – soy sauce. Soy sauce is often high in sodium, so having noodles that are naturally lower will help to balance the meal's sodium content a bit.
On top of that, rice noodles are gluten-free, which will be especially important for any people who have a gluten intolerance. 
What Are They Lacking?
Admittedly, rice noodles aren't going to be giving you as much fiber content as you need though. Though they do contain vitamins, minerals, and fiber, they contain a lower level of fiber than other types of noodles. It's always important to get the right amount of fiber in your diet, because it will help your digestion, among other things.
As a result, you may want to swap out the rice noodles in this recipe for spaghetti squash noodles, whole wheat noodles, or another type. However, we believe that the rice noodles do bring a certain texture to the dish, as we're about to explain!
Why Are Rice Noodles A Good Choice?
On top of the health benefits we listed earlier, rice noodles will bring a texture to the Thai red curry dish that really adds to it, which differs depending on what variety you get.
For example, if you use wide rice noodles for the dish, then you'll find that it makes the meal extra chewy. This can really add to it and make the dish seem even more filling than it already is!
Similarly, you'll find that rice noodles like the traditional Pai Thai ones have a chewy texture themselves, but one with bounce to it. 
On the whole, though, you'll find that rice noodles bring your dish a pleasant amount of chewiness normally, as well as a tender touch to them.
What Red Curry Noodle Ingredients Do You Need?
You'll need quite a range of ingredients for the Thai red curry noodles, but don't let that put you off! A lot of them are food items that you will probably already have in the kitchen, for a start. In addition to that, the meal will take only ten minutes to prepare, so the ingredients clearly aren't going to be a nightmare to work with!
Rice Noodles – you can choose which variety you use. Alternatively, you might want to use another type of noodle for more fiber content.
Red Curry Paste – read the label carefully and buy the one that suits your needs. We go into detail about this more later on.
Soy Sauce – if you can, it's good to get a reduced sodium one.
Vegetable Broth – try to get a low-sodium version.
Green Onions
Sesame Seeds
Cilantro
Maple Syrup
Coconut Milk 
Garlic
Lime Juice – either squeeze juice from a lime, or use a bottle of lime juice.
How To Make Vegan Thai Red Curry Noodles
Now that you've got all your ingredients together, it's time to go step by step through the recipe for our delicious (see also: 11 Delicious Almond Butter Noodle Recipes)vegan Thai red curry noodles! 
Follow our detailed instructions carefully and you should have this great meal ready in no time. It should take about ten minutes for you to prepare it, then a further ten minutes to cook it.
Step One: Preparing The Rice Noodles
To begin with, get a bowl and fill it with warm water. Then take your rice noodles and place them in it, leaving them to soak for no more than five minutes. This will soften them up a little, but not too much. 
Step Two: Preparing The Curry Mix
After that, take a large skillet and add your red curry paste to it. Put it on a medium to high heat. Add the coconut milk to the skillet, mixing the two together in the heat. You'll notice that the paste turns the coconut milk orange.
Step Three: Combining Noodles And Curry
Get your semi-soft rice noodles and drain them, then add them to the mixture in the skillet. 
As the two are cooking together, add the soy sauce to it, continuing to mix. On top of that, season it with lime juice and maple syrup.
Step Four: Vegetable Broth 
While all of those ingredients are mixing together, you'll notice that the noodles are starting to absorb the sauce mixture. 
Take your vegetable broth and add a tablespoon of it to the mix, watching for when the noodles start softening further due to absorbing the broth. On that, add another tablespoon, wait for absorption to begin, then add a third and final tablespoon.
The point of adding vegetable broth is to make the sauce thinner as you go along. THis means that you'll end up with an extra creaminess to the sauce, which will really add to your enjoyment of the dish.
Step Five: Garnish
The noodles should be nice and soft by now, as well as being covered in the delicious red curry sauce mixture. 
Slice your green onions carefully and add them onto the noodles. In addition to that, garnish it with sprinkles of sesame seeds and some cilantro leaves. Mix these in, if you want.
Step Six: Serve!
Finally, serve the meal up. Our recipe will give you two servings, if you use the amounts of ingredients listed later on.
How Important Is The Seasoning And Soy Sauce?
If you're thinking about skipping some ingredients in the recipe, we recommend you don't! Every ingredient, particularly the seasonings, play an important role in achieving the authentic Thai taste in your red curry noodles dish. 
In terms of the lime juice, this is essential to the meal because it will give it a tart and tangy edge. On its own, this may be too much for some people, but it works brilliantly when it's mixed in with the other flavor types.
Similarly, the soy sauce is also incredibly important to the dish. Soy sauce is one of the key ingredients in Thai cooking as a whole, and it's crucial to this specific dish because it brings a touch of bitterness and saltiness. Of course, you can use a reduced sodium soy sauce if you wish, to lower your daily intake of sodium.
Finally, the maple syrup is also necessary. You might be surprised at the inclusion of something sweet like maple syrup, usually used in sweet desserts rather than savory meals. However, the sweetness that the maple syrup brings is important to the dish, because it helps to balance out the hints of tanginess and bitterness that the other seasonings add. 
Together, you get a well balanced blend of flavors that really brings the dish to life. 
How Can You Choose The Right Red Curry Paste?
The red curry paste is one of the key ingredients for the Thai red curry noodles, because they give it some of its major flavor, as well as its notable red color. 
However, there is a wide variety of different red curry pastes that you can buy on the market, and it's important that you shop carefully and get the one that's going to suit your meal needs best.
Spiciness
To begin with, you'll want to ensure that you're buying a red curry paste with an appropriate level of spiciness. Curries are known for their spiciness, and you can get all kinds of different spice levels with the curry paste, from very mild to very spicy. As a result, you're going to want to read the label carefully when shopping.
If you're inexperienced with spices, it's best to go for the mildest red curry paste. On the other hand, you might love spicy food, in which case you should go for the hotter ones.
Keeping It Vegan
If you want to keep your Thai red curry noodles vegan and vegetarian friendly, then you're going to need to be careful which red curry paste you buy. 
The reason for this is that some pastes will use animal-related products in them to give them an added edge in their flavor, such as prawns or even prawn paste. Obviously, these will make the meal unsuitable for anyone who is vegan or vegetarian.
On the other hand, you might eat meat and find that you want that added flavor in your red curry noodles. In that case, why stop there? You can cook some diced beef, chicken, pork, shrimp, or anything else that takes your fancy, and add it to the dish.
What Sides Go With Thai Red Curry Noodles?
You might want to cook some side dishes for your Thai red curry noodles, in which case there is a range of delicious options to choose from!
For example, a chopped Thai salad will do the trick, as well as being very healthy for you. These use vegetables like carrots, kale, cilantro leaves, and green onions, as well as cashew nuts for a nutty edge.
On the other hand, you might want to have spring rolls. These can have a delicious blend of cilantro, basil, and mint leaves, as well as shrimp for meat-eaters. 
Vegan Thai Red Curry Noodles Recipe
Preparation Time: 10 minutes
Cooking Time: 10 minutes
Amount: 2 servings
This delicious authentic Thai dish is wonderfully creamy and incredibly quick to make. 
Ingredients
½ a pack of rice noodles (8oz)
2 tablespoons of Thai red curry paste (ensure it's vegan, unless you want meat)
1-2 tablespoons of soy sauce
½ or ¼ cup of vegetable broth (buy low sodium version)
1 sliced green onion
Sesame seeds
Cilantro leaves 
1 tablespoon of Maple syrup (alternatively use sweeteners like agave or honey)
1 cup of canned coconut milk
2 chopped cloves of Garlic
1 tablespoon of lime juice (freshly squeezed or a bottle)
Recipe
Fill a bowl with warm water, then place the rice noodles in it for no more than five minutes. They should be relatively soft by the end.
Add red curry paste to a large skillet, then put it on medium-high heat. 
Add garlic after a minute of cooking, then wait another minute and lower heat to medium. Add coconut milk, then stir. 
Drain noodles and add them to the skillet, stirring with the sauce. Add maple syrup, lime juice, and soy sauce. Mix.
One at a time, add 3 tablespoons of vegetable broth, waiting until the noodles begin to absorb them before each subsequent tablespoon.
Garnish with onions, sesame seeds, and cilantro leaves.
Final Thoughts
Thai red curry noodles are a great dish – follow our instructions carefully!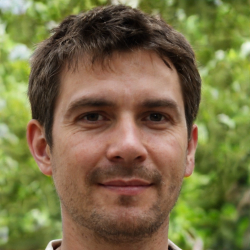 Latest posts by Justin Roberts
(see all)