Chances are that if you've just started the keto diet, you've come across a whole host of recipes that involve the inclusion of cauliflower.
But why is this such a popular vegetable in the low carb world? Well, that's simply because cauliflower contains so few net carbs per serving. In fact, it only has 3 carbs per cup. 
Therefore, it's an excellent substitute for a whole host of different ingredients, namely rice.
So, if you've been on the lookout for some fantastic keto cauliflower recipes to try today, we're pleased to tell you that you've come to the right place. 
Below, we've compiled a list of what we believe to be some of the very best keto cauliflower based recipes on the internet. 
To find out more, simply keep reading below, as we take a closer look. 
Why not start out with a simple recipe, that makes the perfect accompaniment to almost any dish.
When we first start a low carb diet, we have to forgo potatoes as a side dish, therefore many of us aren't accustomed with how to best roast a cauliflower. 
If this is you, then thankfully we've found a recipe that shows you how to get it exactly right each and every time. We think that this one would go particularly well with grilled meats, such as gammon or steak. 
"Tortillas made out of cauliflower?" We hear you say. That's right! This recipe shows you how to make some super easy and delicious tortillas using just a few ingredients, including mashed up cauliflower. 
The result is a super tasty tortilla that can either be served to accompany a main dish, or you can simply eat it as a snack with some dip.
Either way, we can guarantee that you're bound to fall in love with this tasty recipe. 
So, you've found yourself on the lookout for the perfect keto cauliflower cheese recipe. If this is the case, then we're here to assure you that you've come to the right place.
This is honestly one of the best cauliflower casserole recipes that we've ever tried, and it itches all the milk found in a regular cauliflower cheese recipe to make it keto friendly. 
This dish is absolutely packed full of gooey cheese, and is incredibly rich and indulgent.
We'd recommend that if you want to take this recipe to the next level, that you top it off with some crispy bacon pieces to make it even more luxurious. You can thank us later!
If you're looking for a delicious keto based soup to warm you up as the weather grows colder outside, then we'd recommend that you try this delicious cheese bacon cauliflower soup recipe. 
It's loaded with warming flavors, and is perfect for when you need a heartier soup to fill you up when it's cold outside.
This soup is oh so cheesy, and we think that the best thing about it is the crispy bacon pieces that are scattered on top. 
There's no denying that mashed potatoes are one of the very best side dishes around.
When we adopt a keto lifestyle, they're often one of the things that we miss the most. But, don't worry, because we can offer an alternative. 
How about some super creamy, smooth, cheesy, cauliflower mash?
If you've never had the delight of trying mashed cauliflower before, then please let us direct you toward this recipe, as it's absolutely to die for.
It works well as a side dish for casseroles, grilled meats, and just about anything, for that matter!
Next up, we've got the perfect keto cauliflower dinner recipe that's sure to please the whole family. When it comes to casseroles, cottage pie is up there as one of the very best.
When we start the keto diet, we may feel as though we really miss having this dish in our lives. 
That's where this recipe comes in. This cauliflower cottage pie tastes just like the one that we all know and love.
But, instead of having all of those carby potatoes loaded on top, this recipe boasts some super creamy and fluffy cauliflower mash instead. 
The meat sauce in this recipe is super thick, rich, and delicious, and might just become a weekly staple in your household. 
Have you ever seen anything that's quite so luxurious as this loaded cauliflower and chicken casserole? We think not.
This casserole is really one of the most indulgent that we've ever tasted. It's packed full of tender, shredded chicken breast, then topped with a big portion of cheddar cheese. 
This is a great comfort food dish for when you need something tasty to dig into. 
No matter what age category we fall into, if somebody were to ask us what our favorite carb based side dish was, we'd probably say tater tots.
That's why it feels like such a travesty having to give them up whilst following the keto diet. 
But, what if we told you that you didn't have to, and that we'd found the perfect alternative? Well, the good news is that we have.
There's no denying that cauliflower is one of the most versatile vegetables out there, and this recipe proves this point very well.
Did you know that you could actually make cauliflower based tater tots using just a few key ingredients? 
These ones taste strikingly similar to the potato based variety, and are sure to curb all of your cravings. In addition, they're packed with lots of gooey cheese. 
When it comes to the keto diet, cauliflower rice is one of those staples that everyone should learn how to prepare.
Those of you reading this list probably already know how to make cauliflower rice, but why not put a spin on this keto classic? 
This Indian cauliflower rice recipe is perfect for when you're making curries, or Asian based recipes in general. It's super simple, and involves the same process as usual, but just with a few more spices added to the mix. 
It's incredibly flavorful and aromatic, and is sure to get your taste buds excited. 
Sometimes, there's nothing that we love more than chowing down on a good pizza, but, on the keto diet, this feels impossible. This recipe, however, makes all of our carb based dreams come true.
It shows us how to prepare a low carb crust that won't cause our blood sugar to spike. It's incredibly moist, dense, and filling. Practically everything that we would want from a pizza crust. 
The best thing about this recipe is that you can create any toppings that you like. Have fun experimenting with this dish and really making it your own. 
In need of something to bring along to your next picnic? If that's the case, then we've got you covered. This keto cauliflower potato salad is super tasty, easy to make, and perfect for a warm summer's day. 
The sauce is just like the one you'd find in a regular potato salad, with plenty of sweet, mellow, and creamy flavors.
The cauliflower is cooked until it's the perfect consistency, somewhere between crunchy and tender. 
We bet that you thought you couldn't possibly make a dessert using cauliflower. We don't blame you, because we did too until we came across this delicious recipe.
As the weather grows colder outside, one of the desserts that we look forward to the most is rice pudding. Unfortunately, with the keto diet, this is a definite no go. 
Vut, this recipe offers an alternative version that's sure to keep your cravings at bay. It's super soft, creamy, and delicious.
If you can get past the fact that it's made from cauliflower, you're sure to love this one. 
If you're looking for a cauliflower based snack to indulge in throughout the day, then we'd recommend these jalapeno and cheddar muffins. 
They're packed full of tangy, spicy flavors that are sure to leave you feeling satisfied. 
Final Thoughts 
To sum up, there are so many keto based cauliflower recipes out there that aren't limited to rice. Why not get creative this afternoon, and try out some of these delicious recipes?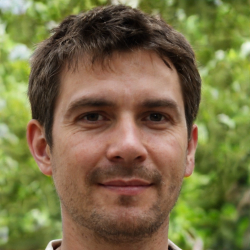 Latest posts by Justin Roberts
(see all)