Cauliflower gets a bit of a bad wrap. Most people think it's boring and bland and has no flavor, but those people couldn't be more wrong! Cauliflower is incredibly versatile, and it pairs well with so many other ingredients.
If you are on a keto diet, cauliflower is one of the best things you can eat. It's low in calories and it's also really good for you, and when you find the right cauliflower recipe, you will want to eat it all the time!
One of the best ways to eat cauliflower is in a form called "cauliflower rice" and once you try it, you will find yourself making so many recipes with it. 
We have put together 15 of the very best keto cauliflower rice recipes that you need to try right now! So let's take a look at them! 
15 Best Keto Cauliflower Rice Recipes To Try Today
Whether you are a meat eater or a strict vegan, there are plenty of cauliflower rice recipes for you to try! Cauliflower rice is really simple to make and it's perfect for anyone on a keto diet who is trying to watch their calorie intake!
Check out the list below to find the perfect keto cauliflower rice recipe to try! 
First, on the list, we have these delicious ground beef cauliflower rice taco bowls. If you love tacos but you haven't been able to eat them since you started your keto diet, then this is the perfect recipe for you!
Along with ground beef, you will also be using ingredients such as chile peppers, avocados, cherry tomatoes, and grated cheese to bring this recipe to life.
This is the perfect keto recipe for anyone who wants some Mexican-inspired food without having to cheat on how many carbs they are eating. 
This cilantro lime cauliflower rice recipe is perfect if you want something tasty to accompany your main meal. The cilantro and the lime blend together with the other spices perfectly to make a dish that is irresistible. 
This recipe is also really nutritious as well, so you can enjoy it without feeling guilty about what you are eating! 
Jerk chicken and rice is already a popular dish all around the world, but have you ever tried it with cauliflower rice instead? Sure, normal rice is a great choice, but cauliflower rice is more nutritious and way more keto-friendly! 
This is a really recipe to make as well and you only need one pan too, so it's not messy. If you are looking for an easy recipe that tastes good as well as being keto-friendly, then you are going to absolutely love this recipe. 
Normal sushi isn't exactly keto-friendly, and if you enjoyed it before you started your keto diet, then you probably miss it quite a bit now. But just because you are following a keto diet, that doesn't mean that you need to give up sushi, not when you have this recipe! 
Instead of regular rice, you will be using cauliflower rice that still tastes just as good, but without all of the carbs. This is a really healthy alternative to regular sushi, but it tastes just as delicious. 
This grilled teriyaki tofu and roasted cauliflower rice are absolutely incredible. When you taste it for the first time, you will find it impossible to believe that it is keto-friendly, but it definitely is! 
This is a dish that is absolutely bursting with flavor and you honestly won't be able to get enough of it once you have tried it for the first time. 
Risotto isn't usually keto-friendly, but when you make it using cauliflower rice, it definitely is! For this recipe, you will be combining mushrooms, cauliflower, heavy cream, and Parmesan cheese to create an absolutely delicious dish that sticks to the parameters of your keto diet. 
This recipe is really easy to make as well and it's perfect for those days when you need something a little different from your usual keto dishes. 
Casserole is another one of those dishes you've probably had to give up while you have been on your keto diet. But if you are missing all the comforts that come with casserole, then you are in luck with this dish!
Not only is this casserole inspired by the dishes and flavors of Mexico, but it is also incredibly low in carbs and you won't find a casserole more delicious anywhere else. 
Coconut dishes are always a great choice, and once you try this recipe you will agree with that statement even more.
The shrimp is absolutely covered in coconut milk, giving it a refreshing and sweet taste. When you pair it together with cauliflower rice, you are in for an incredible taste sensation. 
This recipe even has a slight kick to it thanks to the blend of spices, which only adds more taste to the whole meal. 
Here's another cauliflower rice casserole recipe that you are going to absolutely love! Sausage casserole is the ultimate form of comfort food, and this particular dish is low in carbs and will fit into your keto diet with no problems. 
It isn't the prettiest dish in the world, but the taste really makes up for the lack of presentation! This is one of those recipes that you will find yourself making again and again and it's perfect for warming you up during the colder months. 
Roasted cauliflower rice is one of the most popular ways to eat cauliflower rice, and this recipe is the perfect one to start with if you've never tried it like this before. 
Not only is this recipe incredibly tasty, but it's super easy to make as well, so you can add it to your keto diet really easily. 
As the name would suggest, this cauliflower rice recipe is super colorful and beautiful to look at, but it's also nutritious and low in carbs! It will fill you up without the need for extra carbs and you can really experiment with the ingredients you use when you make it. 
The original recipe is fantastic though, and some of the main ingredients you will be using include hard-boiled eggs, avocados, cayenne, rainbow chard stems, and much more! 
Normal cauliflower rice is great and so is roasted, but once you try lemon & herb cauliflower rice, you will never look back! The addition of salmon in this dish really takes it to the next level, while also keeping the whole dish healthy. 
This dish is so simple to make as well, but its simplicity doesn't take away from the flavor in the slightest! This recipe will easily become one of your favorite midweek dinners and you will look forward to eating it every time you make it! 
Dirty rice is another popular dish that people on a keto diet usually have to miss out on, but this cauliflower rice alternative is just as tasty! It has just the right amount of spice that brings the flavor out even more and it's so easy to make! 
You can even experiment with different ingredients once you've made it a few times, so have a go at making it today! 
Stuffed peppers are fantastic because they are incredibly tasty and incredibly versatile. You can make them however you like and if you make them with cauliflower rice, you can make sure that they are completely keto-friendly! 
If you have never tried stuffed peppers with cauliflower rice before then you are in for a real treat here! 
And finally, we have this delicious baked chicken and cauliflower rice recipe. Chicken and rice is another very popular dish, but this variation is low in carbs but still has all the same great flavor! 
This is another great recipe to make when you want something quick and easy to make during the week and don't let the simplicity fool you into thinking that this recipe is not delicious, because it totally is! 
Conclusion
So there you have it! 15 of the best keto cauliflower rice recipes that you absolutely need to try today! There is something for everyone to enjoy on this list, and these recipes are so good that even people who are not on the keto diet will love them! 
Just because you are on a keto diet, that doesn't mean that you have to eat boring meals! Try some of these recipes out for yourself and see which one you enjoy the most!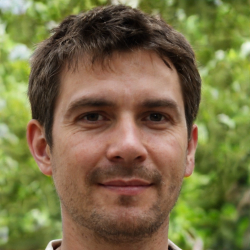 Latest posts by Justin Roberts
(see all)