Coconut flour is a very fine type of flour that is usually used in desserts, but it's also a popular alternative ingredient used in a ton of recipes to make them keto-friendly.
Regular flour is not suitable for the keto diet because it adds too many carbs to the food when cooked, but coconut flour is much lower in carbs per serving – making it the ideal alternative ingredient to regular flour!
So, what keto foods exactly can you make using coconut flour?
Here is a list of the 15 best keto recipes that require coconut flour. This way, if you have some leftover coconut flour you need to use up (or simply want to try baking with coconut flour) then you have plenty of options to choose from.
From bagels to sweet treats and beyond, there are tons of ways you can make keto food with coconut flour – so take a look at the options below and pick out your favorites!
First, let's start out with an easy option – bread!
Bread should be served as a side at pretty much every dinner or supper but regular bread is filled with carbs and is not suitable for the keto diet.
So, this recipe uses coconut flour to help make a keto-friendly loaf of bread you can enjoy in a ton of other recipes.
Make sandwiches, make stuffing, eat it alongside your salad, dip your slices in some stew – eat your bread however you like but eat it knowing that it doesn't break the rules of your keto diet!
Cornbread is a tasty side dish often eaten during the holidays like Thanksgiving or Christmas – but classic cornbread recipes aren't suitable for the keto diet.
So, if you want to make this classic holiday favorite side dish, try out this recipe for keto cornbread.
This recipe uses not only coconut flour but also almond flour so it's a great recipe to try out if you need to use up some leftover almond flour too.
Plus, it tastes great and goes along with a ton of main dishes you can enjoy all year round. You can even break it up and make a bread sauce!
Cheesy biscuits are super tasty and they are a great alternative to other types of bread as a side dish.
They are rich in flavor and go with a ton of main dishes but classic cheesy bites are not suitable for those on a keto diet.
So, check out this recipe that uses coconut flour to make keto cheese bites. Other recipes tend to use almond flour because it's a little more savory but it works fine if you are using coconut flour instead!
Brownies – they're one of the most popular sweet treats and desserts in the world, yet alone in the US.
However, traditional brownies are not suitable for those on a keto diet so if you want to enjoy some delicious brownies, try out this recipe here.
This recipe will show you how to make keto brownies using coconut flour and a ton of other ingredients including almond or peanut butter, maple syrup, and more.
They are rich, indulgent, and super tasty – and you can barely taste a difference from traditional brownies!
Another go-to dessert and sweet treat is chocolate chip cookies. These are one of America's most popular desserts and they are popular with a lot of people.
To bake your own batch of keto-friendly chocolate chip cookies, you can use either almond or coconut flour to create a gooey, soft batch of cookies that taste just the same as traditional ones.
Muffins are a great breakfast option for those on a keto diet and this recipe will show you how to make them using coconut flour.
This recipe also uses bananas for additional flavor but there are recipes out there for plain keto muffins and more.
Need to use up some leftover bananas before they go bad? Then banana bread is probably your go-to recipe!
This recipe will show you how to make a loaf of delicious banana bread using coconut flour instead of almond.
It's a great way to use up any leftover ingredients and make yourself a sweet treat for breakfast, lunch, or dessert!
Bagels are a great food to make yourself as they taste amazing when freshly baked, plus they can be used to make some great lunch or breakfast meals!
To make your very own keto bagels, follow the recipe above. You can also swap out your coconut flour for almond flour in this recipe if you need to, so it's versatile and a great way to use up whatever leftover flour you may have before it goes off.
Here we have the ultimate American breakfast food – pancakes!
Everybody loves pancakes and if you want to enjoy them even while on your keto diet, then just follow the recipe above!
You will be able to create a stack of soft, fluffy, coconut pancakes that are perfect to enjoy early in the morning!
Another popular breakfast food is waffles. If you prefer the crispy texture of waffles over the super softness of pancakes, then you will definitely prefer this coconut flour keto waffle recipe.
It's super easy and will help you get the perfect batch of waffles that are crispy but light and fluffy on the inside.
All you need to do now is decide what kind of topics you want to add to your waffles! Don't worry – this recipe will also give you some ideas for keto-friendly waffle toppings!
Cinnamon rolls are a popular sweet treat that a lot of people love to eat as a tasty but light breakfast food.
This easy recipe will show you how to make your own batch of keto cinnamon rolls using coconut flour as well as some other keep ingredients like cream cheese and mozzarella.
This makes them rich, sweet, and a real treat to indulge in first thing in the morning. If you love cinnamon rolls, then check out this keto recipe to use up your coconut flour!
Who doesn't love donuts, right?
Donuts are a tasty treat people love to eat at all kinds of places and occasions. However, traditional doughnuts aren't suitable for those on a keto diet – unless you try out this recipe!
You can make your own keto donuts using coconut flour at home. They taste almost like traditional donuts (albeit a little sweeter).
Although this recipe adds coconut flakes to help tie in that sweetness, there are other recipes out there that can help you make a keto-friendly dip or icing to swap out for the coconut flakes.
If you love Mexican food, then having a recipe for keto tortillas is super handy to keep around.
This is because tortillas are used in a ton of recipes, especially in Mexican cuisine, and these are very popular with a lot of people.
This recipe will show you how to make keto tortillas out of coconut flour. It's super easy so you can whip up a batch of keto tortillas in no time to go with your Mexican-inspired main meal!
Breadsticks are delicious. They're a great side to serve with a ton of main dishes and are also a really tasty snack in their own right, especially at lunch.
This recipe will show you how to make the perfect batch of cheesy, herb-filled breadsticks made using coconut flour so they are keto-friendly.
So, instead of buying your own keto breadsticks, use up your leftover ingredients and make your own batch – it's super easy if you follow the above recipe!
Celebrate your birthday with a cake that is suitable for your diet – the keto birthday cake!
Cake is great and you shouldn't be forced to miss out due to your diet. This recipe will show you how to make a delicious keto birthday cake using coconut flour.
If you are not a fan of birthday cake and prefer a different flavor, then don't worry – coconut flour can be used to make a wide range of keto cakes in lots of different flavors.
However, this recipe will help you make a classic birthday cake that is keto-friendly and tastes just as sweet and delicious as a traditional one. So, give it a go!
Final Thoughts
A lot of people on keto diets end up making their own meals from scratch and this means you probably have a ton of ingredients that need using up – like coconut flour.
Coconut flour can be used to make a ton of keto versions of traditionally carb-rich foods like bread, cakes, and more.
The list above is filled with keto recipes for these classic foods so you can avoid wasting your coconut flour and still enjoy some delicious, classic foods!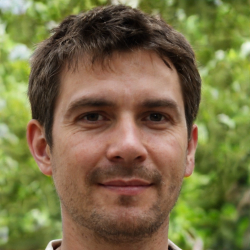 Latest posts by Justin Roberts
(see all)