Strawberries are a classic ingredient used in baking and a variety of other uses in the kitchen. From jams to pastries, strawberries are some of the most popular fruits – and for good reason! They are not only easy to work with, but absolutely delicious. 
In many cases, no additional sugars or sweeteners are needed for strawberry dishes. This adds to the allure, as most strawberries are wonderfully sweet as-is.
The natural sweetness of this fruit makes it a great option for anyone on a keto diet, as long as it is enjoyed in moderation. 
If you are on a keto diet and are trying to keep your sugar and carbohydrate intake low, but have a load of fresh strawberries, we can help!
Here, we will be going through 15 delightful keto-friendly strawberry recipes that you are going to fall in love with. 
15 Delightful Strawberry Recipes Everyone Needs to Try
Starting off strong with this mouthwatering keto strawberry cake – just look at it! This cake is moist and packed full of incredible flavors that you can't help but love. It's a perfect dessert for the summer, and the sweetness of the strawberries really shine through. 
Almond flour will be used to make this, along with eggs, coconut oil vanilla extract, baking powder, and a keto-friendly sweetener of your choice. Oh, and don't forget that cream cheese frosting! That will really pull everything together and make it perfect for any occasion. 
A mousse is one of the classic desserts that many of us grew up with, no matter where we were! This particular recipe is wonderfully fluffy and light, and perfect for those summer days around the corner.
To make it, you only need five simple ingredients, so you can be sure that this recipe is going to be a breeze to follow. 
You will need cream cheese, vanilla extract, heavy whipping cream, strawberries, and a keto-friendly sweetener of your choice.
Essentially, all you need to do is combine everything until it is wonderfully soft and mousse-y, but you better check out the recipe for the specifics!
These keto strawberry crumb bars are perfect for breakfast, dessert, or simply a snack.
To make it, you only need a handful of ingredients like almond flour, butter, a sweetener of your choice, salt, tapioca flour, and those fresh strawberries! In under an hour, you can have this wonderful dish ready to go.
This recipe will get you some wonderfully flaky and sweet crumb bars that you definitely will not be able to get enough of. It is a bonus that you only need five easy ingredients to actually get the job done, don't you think?
Looking for a low-carb, gluten-free dessert with strawberries and cream cheese? This easy strawberry cream cheese cobbler is going to be exactly what you're looking for! The recipe is nice and easy, and packed full of flavor. 
As usual, almond flour is used in this keto-friendly dessert, and the strawberries and cream cheese adds a great mix of sweet and creamy. Imagine enjoying this in the summer with some fresh ice cream!
All you need for this easy dessert is strawberries, heavy cream, monkfruit sweetener, lemon juice, and vanilla extract – that's it! You only need around 30 minutes to get everyone together and ready to enjoy, so you can make this any time of day and for any occasion. 
This is not a recipe you want to skip! Come summer, you might want to make this every week to enjoy on those hot evenings. 
Everyone loves a super easy shortcake dessert, right? Well, this quick and easy shortcake recipe is going to be everyone's new favorite.
You just need five minutes, strawberries, shipped cream (sugar-free), almond flour, and a handful of other ingredients. 
Get everyone to help out with this recipe, because absolutely anyone can do it. It's too good to pass up, right? 
We like cheesecake around here. As such, it is only right to include a delicious no bake strawberry cheesecake for everyone to enjoy.
This easy-peasy recipe needs ingredients like cream cheese, your favorite granulated sugar substitute, sour cream, heavy cream, and a few other simple things. 
This is arguably one of the best ways to use strawberries, and you can even use strawberry jam if you like! Everyone is going to love this easy dessert – just make sure you give it at least 6 hours to set!
Muffins are a must, and you can use all kinds of berries for them. Not only are muffins incredibly easy to make, but they are always rewarding simply because of how delicious they are.
With a few simple ingredients like almond flour, eggs, butter, and some full fat yogurt, you are already well on the way!
Muffins can be a great breakfast food, snack, or dessert, so they already have points for versatility. Make these, and fall in love with them like we have.
Did you ever think of making bread with your strawberries? Well, you can! Combining almond flour, some salt, your favorite keto-friendly sweetener, and a few other ingredients, you can get this wonderfully soft strawberry bread. 
In this recipe, the strawberries get chopped up and added to the mix, allowing them to become wonderful and sweet as the bread bakes. Just make sure you have the right loaf pan to get the job done, or use something similar!
These mouthwatering low-carb strawberry pastries have a strawberry filling and an almond flour pastry with mozzarella! If you have never tried this combination, it might feel like a strange one. However, you are going to be blown away the moment you taste this. 
Everything in this recipe works beautifully together to make the ultimate snack or even breakfast! You will not be able to get enough of this, and it is a lot easier to make than you probably think.
This super easy and keto-friendly dessert will transport you back to your childhood and the best memories of your life. The crust is made using almond flour, butter, Swerve, and a pinch of salt – it doesn't get easier than that! 
The filling is primarily whipped heavy cream, with chopped up fresh strawberries for that wonderful, fresh flavor. Enjoy this any time of day and bask in the sunshine as you do!
Milkshakes are perfect for the summer, right? As such, there's no way you could be on a keto lifestyle and think that you could never have a milkshake again. This recipe uses frozen strawberries as well as sugar-free strawberry syrup. 
Add some almond milk and heavy cream, and you have the perfect summer refreshment.  
The pound cake gets its name because it was traditionally made with a pound of eggs, flour, sugar, and butter…who knew! Whatever the reason for the name, this low-carb strawberry pound cake is not one to miss, especially if you are on a keto diet. 
Like most keto recipes, almond flour is used instead of regular flour, so you can enjoy a wonderfully delicious cake after all your hard work. 
Everybody loves crêpes, right? They are perfect for breakfast, lunch, dinner, dessert…you name it. So, it only makes sense to include a mouthwatering low-carb strawberry and cream crêpe recipe for you to enjoy at your leisure. 
This super simple recipe is going to blow you away any time of day, and you can enjoy it guilt-free. You can also enjoy the subtle hint of coconut if you choose to use coconut milk for the crêpes and filling, so it will be a tropical delight.
Jam is a classic use for strawberries (and a variety of other fruits), so we couldn't make this list without a recipe! This sugar-free jam is perfect for all your jam-needs – from adding it to teas and cake fillings to the good old jam and toast. 
The chia seeds in this recipe give it a great consistency and texture, while also adding protein and useful fiber. So, this is more than just a tasty treat – it has health benefits, too!
Final Thoughts
Strawberries can be used for a variety of things, including cakes, pies, breads, ice cream, jam, and much more. So, if you are on a keto diet, but still want to enjoy some of your favorites, you now have 15 incredible recipes to try out. 
Each one of these recipes have something different to offer, so you will definitely find something that suits your preferences. Enjoy your guilt-free strawberry dishes!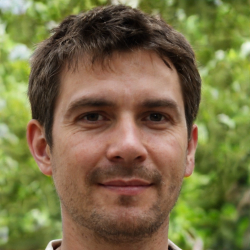 Latest posts by Justin Roberts
(see all)