Do you love peanut butter? If so, you're going to love these brilliant recipes. Peanut butter has a delectable taste that works well in a range of sweet treats, including cookies and cakes. It pairs well with a range of flavors, including chocolate. 
These 15 fantastic peanut butter recipes are keto-friendly, allowing you to consume them as part of this diet. 
15 Best Keto Peanut Butter Recipes To Try Today
These keto peanut butter cookies are super straightforward but are nonetheless delicious. They have a strong peanut butter flavor which will make them the perfect choice for people who adore this ingredient.  
One of the advantages of making this recipe is that it requires only 4 ingredients, specifically peanut butter, egg, vanilla extract, and sweetener. As a result, these cookies are budget-friendly and convenient to make.
Ready in just 25 minutes, these peanut butter cookies are ideal for people who crave a quick and easy recipe.
If you thought the peanut butter cookies were easy, this recipe can be made in even less time. It can be made in just 5 minutes and will necessitate just 5 ingredients.
The result is an incredibly indulgent mousse that tastes exquisite.
By combining peanut butter, sweetener, heavy cream, cream cheese, and vanilla extract, you can make this creamy and decadent mousse. 
This dessert will work especially when well served with chopped nuts or chocolate sauce. Nuts will create an enjoyable textural contrast with the creaminess of the mousse.
These keto peanut butter bars are ideal for when you fancy a scrumptious snack. The delicious bars have been made without sugar or grains.
Utilizing the time-old combination of peanut butter and chocolate, these snacks are comparable to peanut butter cups.
There are two layers to these brilliant bars. The bottom layer is dedicated to a nutty layer with a strong peanut flavor thanks to the use of peanut flour and peanut butter.
This has then been topped with a rich and luxurious chocolate glaze. This creates a dessert that's difficult to resist.
These no-bake keto peanut butter balls are great for people who want a no-fuss baking experience.
Simply by combining three ingredients, you can make these phenomenal peanut butter balls, which have a soft and chewy texture.
Ready in just 5 minutes, this recipe is an outstanding option if you are looking for a kid-friendly recipe. It is an excellent excuse to bake with family members.
Kids will not only love making these peanut butter balls but also adore eating them.
Fudge can be made in a plethora of different flavors. One of the best fudge flavors is peanut butter, which pairs phenomenally with this sweet treat. 
This recipe will need just 3 ingredients. This makes it a cheap recipe that you can make without locating loads of unique ingredients.
All you will need is butter, peanut butter, and sweetener. You can also add vanilla extract if desired. 
Despite the simplicity of this recipe, you can make fantastic fudge that has a nutty taste and creamy texture. These cubes of fudge make great snacks or can be given away as gifts.
Ideal for summer, this keto peanut butter ice cream is amazingly refreshing. Homemade ice cream is superior to store-bought varieties, as it tastes much fresher.
So why not make this appetizing peanut butter ice cream?
This ice cream is super straightforward to make. The 4 ingredients can simply be combined in a mason jar to make a magnificent treat that is wonderful for warm weather.
A bowl of this ice cream is sure to cool you down during the summer. 
This dessert has an indulgent creamy texture. 
This keto peanut butter cheesecake is a great option if you want to make a grandiose dessert. Ideal for dinner parties, this luxurious cheesecake will impress anyone that sees it.
The cheesecake is fantastically light and creamy. 
The cheesecake has a light biscuit base which has been covered by an opulent cheesecake filling.
This recipe will ensure that the cheesecake is primarily made of filling, which is the layer that people get most excited about. This creamy filling has been seasoned with peanut butter and vanilla. 
With an optional topping, this cheesecake can look truly extraordinary.
Gooey and tender, these peanut butter brownies have the desired texture. A peanut butter blondie swirl has been utilized to create a unique marble effect, thus creating a super striking aesthetic. 
These brilliant brownies are a marvelous dessert for chocolate lovers. They have a rich and decadent flavor thanks to the use of chocolate chips and cocoa powder. 
Thankfully, this chocolate flavor does not overpower the peanut butter. Instead, these two flavors complement one another beautifully. 
If you fancy a refreshing beverage, it's worth making this super sweet peanut butter smoothie. Though peanut butter can often be a rather heavy flavor, this sensational smoothie nonetheless feels light and airy. 
Unlike many smoothie recipes, this peanut butter beverage is dairy free and low in carbs. This is because almond milk has been used instead of cow milk. Plus, this recipe will be ready in just 5 minutes. 
An additional benefit of making this succulent smoothie is that it can be transformed into a nutty protein shake. 
Who doesn't love a delectable donut? With the help of this recipe, you can make incredible chocolate donuts that have been coated in an alluring peanut butter glaze. The donuts have a soft and tender texture.
Though this recipe is a little more complex than some of the other recipes on this list, these donuts are nonetheless worth making if you love sweet flavors. Luckily, the glaze is super straightforward to make.
These donuts will look particularly inviting when they have been decorated with chopped peanuts. 
Chocolate and peanut butter cups are popular snacks. This incredible keto recipe brilliantly captures the essence of these candies to create a scrumptious sweet snack. 
These peanut butter cups will require just 5 ingredients, meaning that you won't have to spend a fortune to bake them. Some optional ingredients can be used to boost the flavor.
Essentially, this dessert is formed of a creamy peanut butter filling encased in a chocolate coating. If you adore pairing chocolate with peanut butter, this will be a great match for your tastes. 
If you want to make a breathtaking showstopper, this elegant peanut butter and chocolate pie is perfect for parties. This phenomenal pie looks almost too good to eat. 
The pie is made of three components. The first is a chocolate crust, which has a rich taste and a crunchy texture. This is then topped with a thick and creamy filling, which has an indulgent creamy butter flavor.
Lastly, the pie has been finished with a mouth-watering topping made from ingredients like whipped cream, chocolate, and peanuts. 
By following this recipe, you can bake an irresistible peanut butter cake that is suitable for keto diets. This recipe will result in a moist cake with the ideal texture.
The peanut butter has been enhanced by flavoring like cinnamon and vanilla extract. Cinnamon is a particularly ingenious addition, as it gives the card an earthy taste. 
The result is a simple cake with a potent peanut flavor. If you love the taste of peanut butter, this will be an extraordinary recipe for you. 
Made without flour, these tasty keto peanut butter muffins are also rich in protein. As a result, they are a great snack if you are attempting to increase your protein intake.
This means that they can give you lots of energy and sufficient fuel to power you through the day.
This recipe utilizes a popular flavor combination, namely chocolate and peanut butter. The peanut butter muffins have been baked with chocolate chips, giving these desserts a rich and complex flavor.
If you enjoy eating something sweet in the morning, these keto peanut butter muffins can make a brilliant breakfast. 
Last but not least, you can also make this scrumptious keto peanut butter bread. This recipe will help you to make a fantastically fluffy and soft dessert bread. Thanks to its sweet and nutty taste, the bread makes an amazing afternoon snack.
This peanut butter-flavored bread will also make a great breakfast food, especially when slathered with a generous layer of butter or jam. 
Packed with peanut flavors, this recipe is both keto and gluten-free. Consequently, it is a delicious treat that a wide range of people can consume.
Final Thoughts
Peanut butter is a fantastic flavoring that works wonderfully in an amazing assortment of dishes, including cakes, smoothies, brownies, and cookies.
If you enjoy keto baking, peanut butter is an incredible ingredient to use.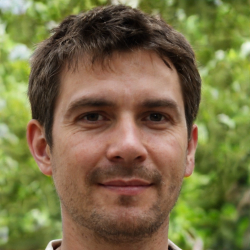 Latest posts by Justin Roberts
(see all)