The skillet is the lazy cook's best friend. In the skillet, you can make everything from breakfast to dessert, and you'll only have one pan to wash up at the end of it!
If you're following the keto diet, you might think it's hard to find quick meals that fit your lifestyle. But that's not true!
With these skillet recipes, you can deliver meals that are big on flavor, low on carbs, and easy for any day of the week.
Feeling hungry? Read on to find our guide to the best keto skillet recipes to cook today.
Creamy herbed bacon and egg skillet is an easy one-pot keto-friendly meal that you can enjoy throughout the day. It's perfect for breakfast, delicious for lunch, and a warming evening meal.
This recipe is made by baking eggs in a seasoned creamy sauce. The eggs become incredibly soft while absorbing the flavors of the herbed sauce they sit in.
Finish with a sprinkle of bacon and your favorite toppings and tuck in!
The cousin of red shakshuka, green shakshuka uses all your favorite leafy greens to create a healthy and luscious sauce for your eggs.
It's best known as a breakfast dish, but you can enjoy green shakshuka at any time of the day.
Green shakshuka is an excellent recipe for using up the bits and pieces in your fridge. This recipe mixes Brussels sprouts, zucchini, and baby spinach, but experiment with whatever leafy greens are in season.
You can also play around with the spices. Cumin adds an earthiness, paprika brings pep, and you can't go wrong with a dash of cayenne pepper!
A traditional breakfast hash uses potatoes to bulk out the meal, but as we know, that's a no-go on the keto diet.
Instead, try replacing potatoes with turnips! Turnips are an underappreciated root vegetable.
They taste like a cross between a carrot and a potato, they're easy to prepare, and they make a meal filling without causing bloat.
For your southwestern breakfast hash, turnips are given a boost with taco seasoning and a Mexican cheese blend.
You can really experiment with toppings. Sliced avocado will add a creamy smoothness, while plenty of jalapenos pile on the heat.
The crustless quiche is a bit like a frittata, a bit like an omelet, and a lot like a quiche. It's also a must-have recipe for anyone following the keto lifestyle.
Once you've mastered one crustless quiche, you can have lots of fun playing around with the flavors. Try switching bacon for sausage, and adding some bell peppers!
Once cooked, a crustless quiche can stay fresh in the refrigerator for roughly 3 to 4 days. You can help yourself to a slice for breakfast, but it's also a great on-the-go lunch.
When you need a meal that's low-effort but filling, while still delivering flavor, turn to this lemon dill chicken dish. It's the perfect combination of juicy and refreshing, with the lemon adding a zing of citrus.
You can make this dish with chicken breasts or thighs, but thighs tend to hold onto their moisture better.
In summer, serve it with a fresh green salad for a light dinner. In winter, try pairing your lemon dill chicken with a side of cauliflower rice.
If you're new to the keto lifestyle, then spaghetti squash is about to become your new best friend.
Once cooked, the interior flesh of the spaghetti squash turns into chewy strands that resemble noodles. It's an amazing low-carb replacement for pasta!
There are many different ways to cook spaghetti squash, but this recipe recommends microwaving your squash for ease.
Your strands of spaghetti squash are then cooked with ground beef, keto-friendly marinara sauce, and a heaping of cheese. Enjoy fresh from the oven, or reheat a slice for an easy midweek lunch.
There are some pretty good recipes out there for keto-friendly pizza crusts, but they tend to require a lot of hard work.
This recipe does things a little differently. It removes the crust entirely, for a fuss-free take on the keto pizza.
What exactly is a crustless pizza? This recipe cooks pork sausage, bell peppers, and mushrooms to form the base.
This is then topped with marinara sauce, a sprinkle of shredded mozzarella cheese, and your favorite pizza toppings. It's kind of like a pizza casserole, and it's perfect for a midweek meal.
This keto chicken and broccoli skillet comes together in less than 30 minutes and uses ingredients that you probably already have in the fridge. It's a quick meal that fills you up with comforting flavors.
Thinly sliced chicken tenders are used to speed up the cooking time, but you can use any type of chicken you have on hand.
You can also mix and match your veggies when you're looking for a meal that clears out the fridge! It doesn't freeze well, so you'll want to eat it all in one go — but we don't think that will be a problem.
Traditional meatballs use flour or breadcrumbs to help the whole thing hold together, which is obviously no good for the keto diet! This recipe cleverly replaces the binding ingredients with cheese.
This means the meatball holds its shape, has extra flavor, and has an improved texture! Even if you aren't on the keto diet, these meatballs might be good enough to convert you.
The meatballs are cooked in the skillet and then removed. You then make the tomato sauce in the same skillet, allowing the sauce to absorb all the flavors from the meat and cheese. Finish with a sprinkle of Parmesan cheese, and enjoy!
Instead of arborio rice, this keto-friendly risotto uses cauliflower rice. This allows you to enjoy the classic side dish without the carbs!
For the best keto risotto, you need to exercise patience. Allow the liquid to fully evaporate before you add the next pour.
When this has evaporated, you can add some more. Don't rush it! If you add all the liquid in one go, your risotto will turn to mush. A few tablespoons of cream helps thicken the sauce and adds a luscious finish.
Bring some Mediterranean flavors to your keto lifestyle with this Greek skillet chicken. The ingredients list is limited, but the addition of feta cheese and green olives ensures a big hit of flavor!
This recipe calls for Greek seasoning, which you can find online or in some stores. If you don't have Greek seasoning, switch it for dried oregano and a touch more garlic powder, and taste for salt and pepper.
Olives and feta have a lot of salt on their own, so use a light touch with the salt!
There are only a few steps to make these cajun garlic butter steak bites, and speed is needed for the perfect sear.
You start by coating your steak bites with your cajun seasonings, before prepping the garlic and parsley.
Then, it's time to cook! Get your skillet nice and hot, so the steak sears the instant it touches the oil.
The steak is then removed from the pan while you make the garlic butter before the whole thing is tossed together. And now for the tricky part — resisting eating all the steak bites straight from the skillet.
We'll admit, there's a lot to be curious about in the words "keto skillet lasagna". How can you make lasagna keto-friendly? And how do you cook lasagna in a skillet?
It turns out, not only is keto skillet lasagna a delicious and low-carb replacement for a pasta-heavy dish, but it's also really easy to make.
In just 30 minutes, you can have a skillet full of meaty and cheesy goodness ready to enjoy.
We've covered breakfast, lunch, and dinner. But what about when you're craving something sweet? This keto chocolate molten lava skillet cake is an incredible date night recipe.
It's the perfect serving size for 2, and if you're feeling extra romantic, you can try sharing it from the skillet!
You'll need to grab some sugar-free chocolate chips and powdered erythritol to ensure your lava cake doesn't skimp on flavor while remaining keto-friendly.
When your cake mixture is ready, keep an eye on it in the oven. You want to retain the molten center, so avoid overcooking!
The skillet keto blondie tastes just like a chocolate chip cookie, with the gooey texture of the brownie. And clever substitutions ensure it's completely friendly to the keto lifestyle!
These blondies use almond butter, cacao butter, and shredded coconut to create that soft brownie texture without the carbs.
Final Thoughts
Can you believe just how much you can do in the skillet? Skillet recipes are an excellent way to save on washing up and cooking everything in one pan helps deliver big flavors.
We hope this guide to keto-friendly skillet recipes has inspired you to get cooking!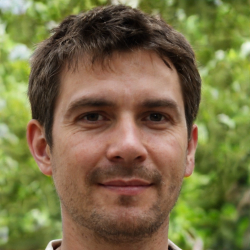 Latest posts by Justin Roberts
(see all)