This Lentil Loaf recipe is the perfect vegan alternative to meatloaf. It's full of good ingredients, including quinoa, mushrooms, and lentils.
Finished off with a tangy balsamic sauce, this recipe tastes as good as it looks!
This recipe is great to whip up around Thanksgiving and the holidays, especially if you're catering to any vegan friends and family.
Even meat eaters are sure to enjoy this lentil loaf, as it's full of rich and hearty flavors. 
The secret here is the portobello mushrooms, as they give the loaf a meat-like texture, while the lentils keep everyone full and satisfied.
A lot of lentil loaves tend to break apart easily, but the mix of mushrooms and lentils manages to hold together very well. 
You'll find out how to make this vegan lentil loaf in this post, including more about lentils and their health benefits! 
Lentils: The Basics
Lentils come from the legume family. They have a distinct lens form and can be sold with and without their outer husks. 
Lentils are enjoyed in many different countries, like Turkey, Morocco, and Tunisia, though the largest manufacturing of lentils actually comes from Canada. 
Lentil Varieties
Lentils are usually classified by their color, ranging from red, yellow, green, black, and brown. 
Here are the most common types of lentils:
Brown Lentils: These are the most popular type of lentils. They have an earthy taste and hold their form well while they are being cooked. Brown lentils work well in soups and stews.
Beluga Lentils: These are small black lentils that look a little like caviar. These work well in warm salads. 
Puy Lentils: These are sourced from Le Puy, a region in France. They are smaller than green lentils and have a herb-like, peppery flavor. 
Green Lentils: Green lentils come in different sizes and are often used as a cheaper alternative to Puy lentils.
Red and Yellow Lentils: These cook and split fast. They are usually used to make dal and have a nutty, sweet taste.
Benefits Of Lentils
Here are some of the benefits of lentils. 
Very Nutritious
Lentils are a less expensive way of getting in a range of nutrients. Depending on the type you go for, lentils can be full of magnesium, potassium, zinc, and B vitamins.
Lentils also consist of over 25% protein, so they are a great meat substitute for vegetarians and vegans. They also have a lot of iron, a mineral that non-meat eaters often lack.
They are also high in fiber, which is necessary for supporting healthy gut bacteria and frequent bowel movements. Lentils can help improve your gut health and stool density.
They also contain a variety of phytochemicals. These are plant compounds that may defend against some diseases, like type 2 diabetes and coronary artery disease. 
Polyphenols And Their Effects
Lentils are packed with polyphenols, a class of phytochemicals that may support health.
A few of these polyphenols, like flavanols and procyanidin, are known to have anti-inflammatory, neuroprotective, and antioxidant effects. 
Lab testing has shown that the polyphenols from lentils may be able to curb cancer growth, particularly on cancerous skin cells.
While we still don't understand how, polyphenols in lentils may also improve blood glucose levels.
It seems that the polyphenols in lentils don't lose their health benefits once they have been cooked. However, all of these results are from animal and lab tests.
Studies with human participants are required before we can be sure about these health claims.
Improve Heart Health
Lentil consumption is linked with a lower risk of coronary artery disease, as it has effects on a few risk factors. 
An eight-week study looked at 39 participants living with type 2 diabetes, who were also obese or overweight.
The findings were that consuming 60 grams of lentils per day improved levels of HDL cholesterol, known as the 'good' cholesterol. This also lowered levels of the 'bad' cholesterol, called LDL cholesterol, as well as triglycerides. 
Lentil consumption may also regulate blood pressure. One study looked at rats and found eating lentils helped lower blood pressure more than consuming beans, chickpeas, or peas. 
Additionally, the proteins in lentils may block the angiotensin i-converting enzyme. This makes the blood vessels constrict to increase blood pressure. 
Another risk factor for heart disease is large amounts of homocysteine. This may happen due to poor dietary folate intake. Lentils are a good source of folate, so they may hinder homocysteine from building up within the body. 
A different factor that makes you more susceptible to heart disease is obesity or being overweight.
Consuming lentils may lower your average food intake, which may help you lose excess weight. Lentils are very satiating and can help prevent large blood sugar spikes, making you feel less hungry later. 
How To Cook Lentils
Cooking lentils is a very simple job. They are different from other types of legumes as they don't need to be soaked beforehand and can be ready in under half an hour. 
If you're not using canned lentils, make sure you rinse the lentils before you start cooking, as this will remove any dirt and impurities. 
To cook your lentils, simply fill a pot with them, cover them with water and a little salt, then start boiling them. Leave to simmer without a lid for 20 to 30 minutes. 
Cooked lentils should be soft or a little crunchy, based on your personal preference. After they have been boiled, drain them and rinse them with clean, cold water. This will stop the lentils from cooking more afterward. 
There are some types of lentils, like split orange ones, that can be ready in five minutes. These are perfect for last-minute, quick meals, or when you want to add more food to a different meal. 
Lentils can last a maximum of five days when refrigerated, so you can cook them in larger batches and use them for meals over the week. 
Reasons Why You Should Make This Vegan Lentil Loaf
Now you know some of the health benefits of lentils, here are some reasons why you should try baking this vegan lentil 'meatloaf'. 
The mix of lentils, portobello mushrooms, and quinoa makes this dish hearty and filling. You'll certainly be satisfied after eating a slice of this loaf! 
It's great to whip up for Christmas or Thanksgiving dinner. Whether you serve as a side dish or a main, your guests are bound to be asking for seconds! 
Completely gluten-free and vegan. This suits a range of different requirements, so you can serve this to any friends with dietary needs.  
The loaf is topped with a simple, yet tasty glaze. All you need is balsamic vinegar, maple syrup, and ketchup. These ingredients combine to make a sweet, yet savory topping. It's absolutely divine, especially on top of all of the lentils and vegetables! 
Ingredients You Will Need To Make The Lentil Loaf
Here are the ingredients you will need to prepare this vegan lentil loaf. 
Lentils: It's best to use brown or green lentils for this recipe. These will have a little bite to them and will hold their form and consistency after they are cooked. Don't use red lentils, as are softer and will break apart in the loaf.
Quinoa: If you prefer, you can use brown rice or other kinds of cooked grains
Vegetables: Red pepper, onions, celery, carrot, and garlic.
Portobello Mushrooms: Portobello mushrooms are the best for a meat-like consistency, but you can use other types of mushrooms if you don't have these on hand.
Oats: Acts as a binding ingredient.
Flax seeds: Vegan ingredient that binds the ingredients together. You can use a normal egg if you are vegetarian. 
Red wine: This deglazes the pan and gives the loaf a great flavor.
Herbs: Use any herbs that you like, though thyme, parsley, and oregano work well in this recipe.
Tomato paste: Adds a little acidity to the loaf.
Ketchup: Gives the loaf a little sweetness.
Soy sauce or tamari: If you are gluten-free, use tamari, otherwise stick to soy sauce.
Vegan Worcestershire sauce: This gives the loaf an intense savory taste which rounds off the whole recipe. 
Ingredient Substitutions
There are a lot of ingredients used in this recipe, but if you don't have some of them, here are some substitutions that also work.
Ground flax seeds: Use ground chia seeds
Quinoa: Use white or brown rice
Oats: Use breadcrumbs
Red wine: Use vegetable stock 
Note: If you are substituting red wine with vegetable stock, make sure it's low in sodium, or else the loaf will taste too salty. 
How To Make Vegan Lentil 'Meatloaf'
Here are the steps you need to follow to make this vegan lentil loaf recipe.
Step 1: Sauteeing The Vegetables
Begin by chopping your vegetables, then sauteing them in a pan with some oil. Allow the vegetables to cook for 10 to 15 minutes. Don't perform this step too quickly, as this is where the flavor comes from. 
After you have finished cooking the vegetables, use red wine to deglaze the pan, then add the seasoning and tomato paste to the pan. 
Step 2: Cooking The Lentils
Next, cook your lentils in vegetable stock, then drain the excess liquid. Add the lentils to a blender or food processor, along with the oats, quinoa, and vegetables. 
Pulse the blender a few times so there are still a few chunks left over. Don't pulse the lentils down too much, as this will prevent the loaf from sticking together. 
Step 3: Lining The Pan
Use parchment paper to line an 8×4-inch loaf pan. Pour the mixture into this pan, compressing it down well. 
Step 4: Adding The Glaze
Combine all of the sauce ingredients, then cover the loaf with the sauce, spreading it evenly over the top. 
Step 5: Baking
Put the pan in the oven and bake at 350°F for 45-50 minutes. Allow the pan to cool for half an hour before you take the loaf out of the pan. 
Making The Vegan Lentil Loaf Glaze
The glaze coating for this recipe is very simple to put together. It rounds up all of the flavors in the dish, making it taste divine!
You will make the glaze by mixing the balsamic vinegar, maple syrup, and ketchup in a little bowl. Use a silicone brush or spoon to coat the loaf evenly with the glaze. 
Storing The Vegan Meatloaf
You can keep this loaf in the fridge for seven days. Reheat in the microwave until warm, or in the oven at 350°F. 
You can also freeze the vegan loaf to enjoy at a later date. Store it in a freezer bag or freezer-safe container. Make sure you defrost the loaf fully and reheat it until the dish is warm throughout. 
Tips On Making Vegan 'Meatloaf'
Here are some tips to help you make this vegan lentil loaf. 
Don't rush through cooking the vegetables in a pan. It's best to do this for a minimum of 15 minutes. The vegetables will brown well and start releasing their flavors, which makes the loaf taste great later on.
Don't pulse the mixture too much in the blender. The ingredients won't be able to keep their shape if they are fully pureed. Make sure that there are still some lentil pieces left to give the dish some consistency.
Always line your loaf pan with parchment paper. This will stop the loaf from sticking to the pan, allowing you to remove it easily once it's finished cooking. 
Vegan Lentil 'Meatloaf' Recipe
Cooking time: 35 minutes
Total time: 65 minutes
This recipe makes ten servings.
You Will Need
Loaf
Cooked green lentils – Three cups
Portobello mushrooms – Two, chopped
Cooked quinoa – ½ a cup
Oats – ½ a cup
Ground flax seeds – Two tablespoons
Olive oil – Two tablespoons
Large onion – One, chopped
Large carrot – One, chopped
Garlic cloves – Four, chopped
Celery stalk – One, chopped
Red bell pepper – One, chopped
Dried parsley – One teaspoon
Dried oregano – One teaspoon
Paprika – Two teaspoons
Pepper – One teaspoon
Salt – ½ teaspoon
Tomato paste – Two tablespoons
Ketchup – Two tablespoons
Tamari – One tablespoon
Vegan Worcestershire sauce – ½ tablespoon
Glaze
Ketchup – ¼ cup
Balsamic vinegar – Two tablespoons
Maple syrup – One tablespoon
Steps
Mix the water and ground flax seeds, then leave for five minutes until the mix turns into a gel.
Heat some olive oil in a pan on mid-high heat. Add the mushrooms, celery, carrot, red pepper, onions, and garlic, then brown the veggies for 15 minutes. Keep stirring the vegetables so they don't burn, then season the mix with paprika, pepper, dried herbs, and salt. 
Lower the heat down to medium, then use red wine to deglaze the pan. Add the tamari, tomato paste, and ketchup to the pan, along with the vegan Worcestershire sauce. Mix all of the ingredients. 
Put the vegetable mixture into a blender or food processor, then add the flax seed mixture, quinoa, lentils, and oats. Pulse a few times until the mixture just combines, but don't pulse too much, as the mixture should still have some texture. 
Use parchment paper to line an 8×4 loaf pan, then spray with some cooking spray. Pour the lentil mix into the pan and spread until even. 
Make the glaze by mixing balsamic vinegar, maple syrup, and ketchup, then cover the loaf with the topping. 
Bake the loaf at 350°F for 35-45 minutes, depending on how powerful your oven is. 
Take the loaf out of the oven and leave it to cool for half an hour before you take it out of the pan. 
Final Thoughts
We hope that you enjoy making this vegan lentil loaf! 
Make sure you go through our tips above, as this will ensure your loaf turns out amazing every time you make it.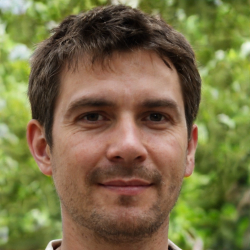 Latest posts by Justin Roberts
(see all)