Pumpkin is a flavor and ingredient that is frequently associated with fall- particularly around Halloween- but pumpkin can be used at all times of the year to create a range of delicious dishes. 
There are plenty of low-calorie pumpkin recipes available, too, making for an ingredient that is versatile and can be used in all kinds of healthy recipes.  
If you are looking to make some low-calorie pumpkin recipes, then keep reading as we are going to be looking at twenty different low-calorie pumpkin recipes that are sure to be enjoyed by pumpkin lovers! Let's get started. 
Donuts might not be the first food item that comes to mind when you consider a low-calorie dish, but this baked pumpkin donut recipe (see also: 10 Tasty Paleo Pumpkin Recipes You'll Love)might surprise you!
As long as you don't overindulge in these pumpkin treats (though that might be difficult as they are very moreish!), you can enjoy these donuts free from guilt. 
This is another recipe that you are sure to think would have way more calories than it actually does, though we wouldn't advise eating the whole cake in one go!
A range of classic fall flavors- nutmeg, ginger, and cinnamon alongside pumpkin- all come together in this cake and is finished off with a bittersweet and rich chocolate glaze. 
The flavors are enhanced by whole wheat flour, which also makes this cake a somewhat healthier dessert choice. 
Gluten-free and paleo-friendly, these pumpkin snickerdoodles are low in sugar but packed full of delicious flavor, making for a low-calorie pumpkin treat.
You don't need that many ingredients to make these cookies either (see also "10 Superb Low Calorie Cookie Recipes Everyone Will Love!"), as you will need pumpkin purée, coconut sugar, coconut oil, cinnamon, baking powder, baking soda, ground ginger, maple syrup, and paleo baking flour.  
Bite-sized, delicious, and with only one hundred calories per pie bite, these pumpkin pie bites are a must-try for pumpkin fans as well as a great low-calorie dessert treat. 
As well as unsweetened pumpkin, you will also need eggs, low-fat evaporated milk, brown sugar, salt, and pumpkin pie spice for the filling of the mini pies. 
Simple yet delicious and lower in calories than you might think, these pumpkin cookies are light and moist, with a fluffy texture on the inside of the cookie that contrasts well with the crunchy exterior. 
The cream cheese icing on the top makes for a rich and velvety topping that combines well with the pumpkin flavors. 
Frozen yogurt is a great lower-calorie alternative to ice cream and if pumpkin is your flavor of choice, then you can easily whip up a low-calorie pumpkin frozen yogurt treat. 
There are only a few ingredients that you will need for this frozen pumpkin treat, those being Greek yogurt, canned pumpkin, vanilla extract, low-fat cream cheese, pumpkin pie spice, dark brown sugar, and kosher salt. 
There are plenty of delicious savory pumpkin dishes that are low in calories as well as sweet ones, such as this crustless pumpkin quiché. 
This quiche is packed full of vegetables as well as healthy fats and proteins, not to mention that all-important fresh pumpkin. 
This is also a dish that is well suited to various dietary restrictions, being paleo-friendly and vegetarian-friendly. 
Cranberry and pumpkin are two ingredients that combine to create a match made in flavor heaven. This flavor combo is one that is well associated with fall and the Thanksgiving holiday. 
For a low-calorie autumnal taste, these mini cranberry and pumpkin muffins are a perfect choice. 
These guilt-free muffins have only three grams of fat in each muffin, and they are also chock-full of vitamin A thanks to the pumpkin. 
The sweet and subtle tang of the cranberries also blends well with the earthy taste of the pumpkin, creating a moreish low-calorie snack. 
This simple and delicious recipe is another that is lower in calories than you might think, basically benign mini pumpkin pies that you can hold in your hands to eat. 
You only need a few ingredients to make these hand pies as well, those ingredients being pumpkin pie filling, premade pie crusts, three eggs, some icing, and condensed milk. 
Pumpkin pie is one of the most popular pumpkin dishes, and there are plenty of ways that you can bake a delicious pumpkin pie without going overboard with the calories, such as with this particular recipe. 
By making the pie crust from scratch, you have more of a say as to what goes into it, and so you can switch up some of the ingredients to make them lower in calories. 
A moist and tender dessert roll filled with sweet and light cashew cream, this paleo pumpkin roll is lower in calories thanks to using an almond base. 
Not only does this lower the calories to be found in the dish, but it also makes for a dairy-free and gluten-free treat. 
You don't have to be relegated to just food with tasty pumpkin dishes, as shown with this healthier pumpkin spice latte recipe. 
These recipes are all the rage when the cold weather comes around, but they can be chock-full of sugars and unnecessary calories. 
This recipe allows you to make an equally delicious drink that only has 85 calories!
Looking for some extra protein in your pumpkin dishes? Then consider these protein-filled pumpkin chocolate chip muffins!
The batter for these muffins is made up of Greek yogurt, pumpkin, pumpkin spice, protein powder, and chocolate chips, which come together perfectly to create a delicious sweet muffin treat. 
These muffins are both low in carbs and high in protein, with only 122 calories in each muffin. 
For a bite-sized pumpkin snack that is sure to give you a much-needed burst of energy, these low-calorie pumpkin spice energy bites are a must-try. 
These treats feature various spices- including cloves, cinnamon, ginger, nutmeg, and allspice- to give these small bites a strong and delicious autumnal flavor.  
Another delicious savory pumpkin dish, this pumpkin chicken chili is a healthy recipe that only needs a handful of ingredients, those being chicken breast, pumpkin purée, onions, chicken stock, and peppers. 
You will also need a wealth of spices to get that chili kick, such as paprika, garlic powder, chili powder, and cumin along with pepper and salt for taste. 
Another pumpkin beverage that is low in calories, these pumpkin pie smoothies are full of protein and are just as delicious as any of the higher-calorie pumpkin drinks. 
You only need a few ingredients for this recipe too, those being a frozen banana, pumpkin pie spice, pumpkin purée, vanilla protein powder, and unsweetened almond milk. 
Whilst we are on the topic of protein pumpkin dishes, this cookie dough is full of protein and pumpkin whilst also being paleo-friendly, gluten-free, vegan friendly, and low in calories (see also "The Very Best Instant Pot Vegan Chili"). 
Eat it by the spoonful or dip fruit into this tasty cookie dough for a delicious and guilt-free treat!
If you are looking for an alternative to your run-of-the-mill spreads, then this pumpkin butter is definitely a must-try, particularly if you have a fondness for pumpkins. 
The great thing about this pumpkin butter is that it is incredibly versatile as it is able to be used in a range of dishes such as on oatmeal, spread on bread, in yogurt, or on top of your pancakes.  
For a hearty stew that is sure to be warming in the cold weather whilst also being low in calories, this slow cooker pumpkin, and beef stew is a delicious choice. 
The pumpkin purée of the dish combines beautifully with the tenderness of the beef for a mixture of comforting and homely flavors. 
You can jazz the dish up and make it even more seasonal by serving the stew in a roasted sugar pumpkin. 
Last but not least, these pumpkin cheesecake pops are a delicious treat to snack on and can make for fun desserts for a Halloween party. 
Despite what they might look like, these cheesecake pops are totally guilt-free thanks to only containing ninety calories and five grams of fat each. 
Final Thoughts
So there you have twenty pumpkin recipes that are low in calories whilst also being highly delicious (see also "15 Best High Protein Low Calorie Recipes To Try Today")!
No matter what your preferences are in terms of pumpkin recipes- or whether you prefer sweet or savory pumpkin dishes-, then you are sure to find something that takes your liking from our extensive list.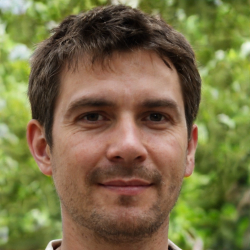 Latest posts by Justin Roberts
(see all)