Do you want to make brownies, but perhaps you don't want eggs or dairy? It may not even be because you're vegan but because you want to enjoy them on a budget.
Eggs and dairy are expensive ingredients, but what if you chose to use alternatives instead? That's where we come in.
This article will help you understand why we make vegan brownies and how you can make them at home without needing any strange ingredients.
We'll give you situations where you might find having a vegan brownie recipe useful and our favorite recipes that we've found online. 
What Ingredients Do You Need?
Vegan brownies don't have to include any weird ingredients, especially if you don't want them to. In fact, they can be easy to make, and they taste just like their dairy and egg counterparts. If you want to make vegan brownies, a basic ingredient list includes:
Flour — You can use any type of flour you want when working on this recipe.
Water 
Butter or oil — You can use vegan butter, coconut oil, or any other vegan ingredient you want. 
Cocoa powder
Sugar
Salt
Vanilla
Baking powder
Chocolate chips — These can be vegan chocolate chips or dark chocolate chips, depending on your taste. 
So long as you have those ingredients, you can easily make your own vegan brownies. Of course, we'll go into more detail about other recipes later on. First, let's talk about why we make them.
Why Should You Make Vegan Brownies?
You should make vegan brownies for many reasons, including that they're super healthy for you. However, there are other reasons too.
Eggs and milk can be expensive, especially when you're using them for baking. When you remove those from the recipe, they become so much more affordable to make.
If you're making brownies for an event of some kind, you may not realize how many people are either lactose intolerant, vegan, or have nut allergies.
By removing these allergens and intolerances and considering other perspectives, you'll find that your guests will appreciate your brownies more. But you may wonder what equipment you need. So let's give you a hand. 
What Equipment Do You Need?
Now, if you want to make some vegan brownies, you don't have to do much more than you already would.
However, it does help to include a list of the things that you need so you're not blindsided. So, here's everything you need to make your vegan brownies at home: 
Mixing bowl
Whisk
Saucepan
Baking tray
As long as you include these pieces of essential equipment, then you're good to go. But, if you need more pieces of equipment, we'll include them in each recipe so you know what to expect.
Making Vegan Brownies
Before discussing some of our favorite brownie recipes, we think it's best to include a basic recipe to give you a taste of what you're missing: 
So here's what you need to do: 
First, preheat your oven so that it's at 350°F.
Grab ⅓ of a cup of flour and a cup of water, and whisk them together in a small saucepan.
Heat the mixture in your saucepan over medium heat, and stir it until the mixture thickens.
Remove your pan from the heat, and with a rubber spatula, scrape the mixture into a large mixing bowl. Then, let it cool down
Put butter or an alternative into your saucepan on medium-low heat. Then, remove it from the heat when the butter melts.
In the pan of butter, put ⅔ of a cup of cocoa powder into it. Then, stir it until the mixture is completely smooth.
Set the cocoa mixture aside. Your flour and water mixture should be cool now.
In the flour and water mix, add a cup and ¾ of sugar, ½ a teaspoon of salt, and a teaspoon of vanilla. Stir everything together until the mixture becomes smooth.
Once the mixture is smooth, add the cocoa and butter mixture into the bowl and combine your two mixtures.
Grab a medium mixing bowl and stir 2 ½ teaspoons of baking powder into two cups of flour, then add it to the large mixing bowl to stir together to complete the batter mixture.
Grease your baking pan, which should measure 9 by 13 inches, and pour the batter into the pan.
Bake your mixture for up to half an hour maximum, but check on it when 20 minutes pass. You'll know the brownies are complete when you insert a knife into the center, and it leaves clean.
Finally, let it cool for about 20 minutes and cut it into pieces to serve or store away.
As you can see, these are super easy to make and only take a little under an hour to cook, and you don't need to purchase any fancy ingredients.  
Our Favorite Vegan Brownie Recipes
Now that we've looked at our recommended recipe, let's take a closer look at some of our other favorite vegan brownie recipes. In this section, you'll be able to explore the world of vegan chocolate brownies and enjoy the vast tastes there are to enjoy. 
One of our favorite vegan brownie recipes is for the one bowl fudge brownie (see also "11 Raw Vegan Blondie Recipes You Will Love!"). It's essentially a double chocolate fudge brownie but with vegan ingredients instead.
These brownies are gluten free, nut free, and made from simple ingredients that you would find anywhere. They only take twenty minutes to prepare and 25 minutes to cook, taking only 45 minutes altogether 
To make this recipe, you just need some: 
Olive oil — or any other oil with a light taste
Rice milk — or any other non-dairy milk you have available
Vanilla extract
Unbleached cane sugar — or any other sugar you have on hand
Ground flaxseed
Cocoa powder
Rice flour or whole sorghum flour
Salt
Dairy-free chocolate chips
This recipe is delicious, and you can adjust it based on your own tastes. If you don't like certain ingredients, you can substitute them for another or remove them altogether. By the time they're done, you'll be able to enjoy them and even save some for later. 
There's a reason these vegan brownies are called the best ever: they're gooey and easy to make. These are dairy-free, nut-free, and completely delicious.
Like the other recipes we have, the ingredients you use to make them are easy to find, and you may already have some in your house. Taking just under an hour to cook, you'll find that you'll have sixteen brownies available to enjoy. 
To make this recipe, you just need some: 
Ground flaxseed
Water
Vegan butter
Granulated sugar
Brown sugar
Vanilla extract
All-purpose flour
Unsweetened cocoa powder
Salt
Baking powder
Non-dairy chocolate chips or chopped non-dairy chocolate pieces
By the time you finish these brownies, you'll understand why they are known as the best ever. They're so good that they feel like they're original brownies, but we assure you that these are completely vegan. 
Are you looking for some quick vegan brownies to make? If so, don't worry because we have the perfect recipe for you.
These vegan brownies only take half an hour to make, and you can adjust them, so they're also gluten free as well as vegan, vegetarian, and dairy free.
With only five minutes to prepare and 25 minutes to cook, you'll have plenty of time to enjoy them.
To make this recipe, you need some: 
All-purpose flour — or gluten-free baking flour
Sea salt
Baking soda
Applesauce
Brown sugar
Coconut oil
Water
Vanilla
Raw cocoa powder
While it may not look gooey, and there's no melting chocolate in this recipe, don't be alarmed. You'll find that this recipe is still both fudgy and chocolatey, so there's still plenty to look forward to.
If you want to freeze them, you can. Bake some in bulk and freeze them for up to a maximum of six months in some aluminum foil so that you're ready for a rainy day. 
If you're looking for some more homemade vegan brownies, you don't need to look much further. These vegan brownies have a crackly crust that you can make by melting sugar into a bowl.
It only takes 45 minutes to cook this recipe, and then you'll be able to enjoy some dairy free, vegan, and you can adjust them to be gluten-free to fit your tastes. 
To make this recipe, you need some: 
Granulated sugar
Water
Ground flaxseed or apple sauce
Water
Oil
Vanilla extract
Cocoa powder
All-purpose flour — or a gluten-free flour blend
Salt
Dairy-free chocolate chips
Looking at these ingredients, it's hard not to fall in love with the glazed frosting. You can still adjust many of the ingredients, so anyone can enjoy this tasty treat. Of course, we recommend you eat them within three to five days so that you can enjoy them at their best. 
Vegan brownies are a versatile treat, and now here's another favorite recipe, these best fudgy vegan brownies. They have double the chocolate and have a rich and fudgy taste.
These brownies only take 40 minutes to make, with ten minutes spent on prep and half an hour to cook them.
By the end of it, you'll be able to serve up nine vegan brownies to your family and friends and maybe even share some more for later. 
To make this recipe, you need some: 
Vegan butter
Sugar
Non-dairy milk
Vanilla extract
All-purpose flour
Cocoa powder
Baking powder
Salt
Vegan chocolate chips 
As you can see, there's plenty of chocolate available in this recipe, and once you taste them, it will be difficult to go back to store-bought brownies. The good news about these brownies is that you can make them in bulk and freeze them for three months.
While normally, these would last for five days at room temperature, you can ensure they last longer by putting them in an airtight container and storing them in the cold. 
These brownies look just like the real thing, with a flaky and shiny crust. These only need seven ingredients to make altogether, as we detail below.
But that's not all, this recipe is easy to make, and it only takes 45 minutes to make. That's 15 minutes of prep time and another half an hour to bake them in the oven. 
To make this recipe, you need some: 
Dark chocolate
Sunflower oil — or any other oils with a neutral taste
Caster sugar
Water
All-purpose flour
Cocoa powder
Salt
By the time you make these brownies, you'll have 16 available to serve. But don't worry, you don't have to eat them all at once.
You can put them in a closed container, and they'll be good to eat for another three or four days and will become chewier over time. We love this recipe because it provides an intense chocolatey flavor, but they're not at all difficult to make.
These brownies don't require any egg replacers, and you can easily adjust them to make them gluten free. If you're looking for a gooey texture, then these brownies are the way to go.
Surprisingly, these brownies only take half an hour to make, with a prep time of ten minutes and a cooking time of 20. 
To make this recipe, you need some: 
Flour — all-purpose, buckwheat, or gluten-free flour
Cocoa powder
Instant espresso powder
Salt
Sugar — caster or granulated
Vegan block butter
Unsweetened non-dairy milk
Dark chocolate
Vanilla extract
Dairy-free chocolate chips
You'll be able to enjoy up to nine servings of brownies with this recipe, and that's because of the intense chocolatey flavor. You may wonder where the strong chocolate flavor comes from, and it's the espresso powder incorporated into it.
Using the espresso powder improves the strength of the dark chocolate, so if you want a less sweet treat, this is the one to choose.
You just need to store them in an airtight container for five days if you don't want to eat them all at once, or you can put them in the freezer for three months. 
These vegan, gluten-free brownies are chewy, fudgy, gooey, and chocolatey. You can customize them in any way you like and incorporate more ingredients in the recipe if you prefer.
So if you want to include nuts, chocolate chips, or seeds, you can do so easily. You can even customize the different types of flour used if you don't want a gluten-free specialist.
If you want to enjoy this recipe, it won't take long either, with only 15 minutes of prep time and 23 minutes spent on cooking. Altogether, it should only take you 38 minutes. 
To make this recipe, you need some: 
Sugar
Vegan butter
Dairy-free chocolate chips
Gluten-free flour blend
Cocoa powder
Baking powder
Salt
Vanilla
Ground flax seeds
There are numerous ways you can serve these brownies, and you can even include some dairy-free ice cream or syrup.
You can make this recipe oil-free and remove the use of vegan butter with applesauce, but these can get rid of the cracks on the top and give them a more cakey texture.
If you want to freeze them, we recommend you don't slice them first and then store them away for roughly two months maximum.
These brownies are different from our other recipes and definitely aren't nut-free. You also don't have to bake them, but that means they need a little more time.
They take half an hour to prep and an hour to set. That's because these brownies also include homemade icing that needs to solidify to experience the best flavors. 
To make this recipe, you need some: 
Walnuts
Almonds
Cocoa powder
Salt
Medjool dates
Maple syrup
Coconut oil
Vanilla extract
You'll find that these no-bake brownies will feed up to 16 people, and the Medjool dates bind them together.
Naturally, you can't store these at room temperature; instead, you should keep them in the fridge in an airtight container. Once you eat them, you'll find these are both fudgy and chewy. 
Our final brownie on our list is the best ever vegan brownies, which are dairy-free, egg-free, and vegan. Instead of using vegan butter, these stay together with vegetable oil and almond milk.
These brownies serve 16 people and only take 15 minutes to prep and 25 minutes to bake, taking 40 minutes altogether. 
To make this recipe, you need some: 
Flour — plain or all-purpose 
Cocoa powder
Sugar — caster or granulated
Vegetable oil
Vanilla extract
Dairy-free dark chocolate
Almond milk
Dairy-free chocolate chips
These brownies have a cakey texture and if you want a brownie with more fudge, you need to put them in the fridge for a few hours. It's the recommended way of storing them, and you can freeze them if you want to save some later. 
Frequently Asked Questions
What Can You Use As An Egg Substitute In Vegan Brownies?
Eggs are a binding agent for brownies, so knowing the substitutes is essential to successfully making your own brownie.
Most people use ground flaxseed and mix it with water, while others may use applesauce. These are two of the most popular choices, but you can also use mashed banana, silken tofu, or vegan yogurt. 
Is Cocoa Butter Vegan?
Some recipes use cocoa butter in their recipe, so you may wonder if it's vegan. As cocoa butter is a fat you extract from the cacao plant, it is vegan. It doesn't contain gluten, dairy, or any other animal-derived ingredients. 
What Chocolate Isn't Vegan?
Milk and white chocolate aren't vegan, and some dark chocolate isn't vegan. Ideally, you should look at the packaging to find the best chocolates for your diet. 
Final Thoughts
Hopefully, you should have a good idea of how you can make vegan brownies with the help of our article. If you get any inspiration from our article, don't hesitate to check out some of our others to get even more.
After all, there's nothing wrong with enjoying vegan brownies; they're even better when you don't have to hunt for bizarre ingredients.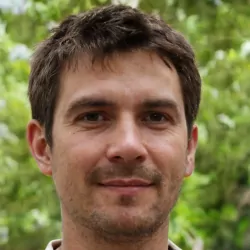 Latest posts by Justin Roberts
(see all)