If you enjoy Mediterranean cuisine, and enjoy a good healthy dish that tastes divine, try out this beautiful Mediterranean Quinoa salad recipe.
We can guarantee to you that it will very quickly become a staple in your home. 
You can enjoy this dish on its own, especially for a healthy lunch, you could serve it as a side dish, or even take it to a potluck, and show off!
One of the best factors about this dish is that it gets more and more delicious as it sits, and it is made with such simple ingredients. 
Simple and tastes delicious? It can't be real! It is, and we will tell you how, today!
Making A Tasty Quinoa Salad Dish 
If there is any type of food that we should all be eating on a more regular basis it is quinoa. It is healthy and very good for you nutritionally, but many of us are a bit pessimistic about it.
However, if you make it with the correct ingredients, it can be utterly delicious! 
Take some time on a Sunday afternoon, or evening after to do some thorough meal preparation, and prepare yourself some quinoa to get you through those tough work week days. 
You will always have some quinoa on hand for breakfast if you want it, you could prepare a salad, ready some black bean quinoa burgers, and just make sure you have some healthy and filling lunches prepared for yourself or your family. 
This Mediterranean Quinoa Salad (Also check out Tabbouleh Salad) is extremely simple to put together, we do not really need to give you a recipe, but we will so that you can ensure you are making it in a way that is most delicious. 
It is an easy dish to make, and it is certain to please the crowds. We cannot guarantee the kids will like it, but take it to a potluck and everyone is sure to be happy!
In fact, it is probably the most ideal dish to take to a potluck, no one else will have thought of it, and you will be asked how to make it a good few times to be sure. 
We love how it holds up well when refrigerated too, so there is no need to worry about longevity, it surely won't go uneaten as long as it lasts! 
Ready to get a delicious quinoa salad on your plate and in your tummy? Let's get to it!
The Ingredients You Need For A Mediterranean Cold Quinoa Salad
So, now that you are about to put together your Mediterranean salad, be it for a potluck, or for your lunch, you will need to know what you need to get from the store. 
Here, we have put together a handy shopping list for you: 
Basil: You want to get fresh basil, as tempting as it may be to substitute it with dried basil, don't, you would be doing yourself a major injustice. 
Chickpeas: Buy either dried or canned chickpeas, both work for this salad. If you are going to use dried chickpeas however, you should prepare them as the packaging directs you to before you add them into the salad. 
Cucumber: The best cucumber you can get for this would be English cucumber. Its water content is not as high as some other varieties of cucumber, and it is also sweeter, which is what we want for this salad. 
Feta: You want to get some feta, double cream it the best. A majority of cheese stores will sell this, but regular feta does just as well if you cannot find double creamed. 
Kalamata olives: Ensure that you get pitted olives, or at least pit them before you add them (a tedious process, though). No one wants to bite into a pit when trying to enjoy a salad! 
Lemon oregano dressing: This is a delicious homemade dressing you can make yourself. Make it with olive oil, dried oregano, and lemon juice. This will lightly coat your salad. 
Red bell pepper: We use red bell peppers, but you can use any you like, we choose red because it is the sweetest. 
Red onion: This is always a beautiful addition to any salad. It adds some bright color to the salad, and gives it a zingy, sharp taste that is not overpowering but gives it something special. If you don't like onions you can leave it out, or use shallots in its place if you prefer.
Sun-dried tomatoes: You can get two types of sun-dried tomatoes at any grocery store. The first will be the version which is stored in oil, and the second will be packaged. You are better off using the ones in oil, their texture is much more pleasant in the mouth, and their flavor is much more divine and suited for a salad. 
Quinoa: obviously you are going to need quinoa to make a quinoa salad. We prefer to use white quinoa for this salad. It is flight, and it is fluffy which just works well with everything else in the salad. Black and red quinoa can be a bit firmer in texture. Of course, you can go your own way with this, but feel free to try it our way before you pass up on it.
How To Make Mediterranean Quinoa Salad
We absolutely love this Mediterranean Quinoa Salad recipe as it is so easy to prepare, the ease of it makes it such a great dish to prepare and have whenever you are in a hurry.
It can easily become one of your go-to-recipes! 
Here are a few steps to show you just how simple it is to make! 
Cook up your quinoa, do so as the directions on the packaging tell you to do so. 
Next, chop up all your vegetables into small, easily bite-sized pieces. 
Then, add the quinoa, chickpeas, vegetables, and feta all into one big mixing bowl.
Now, make up the dressing we mentioned above. 
Finally, toss the dressing together with the ingredients, and you have your Mediterranean Quinoa salad! Ta-da!
Prep In Advance
As we have said, one of the best things about this salad is how long it keeps, which makes it an ideal dish to make in advance so that you can eat it whenever.
However, it is also more ideal to make it in advance, as all the flavors bind together more, making it taste even better!
The salad makes a great recipe to make in advance, and it is super easy to prepare in advance as well, or you could even do so alongside cooking another recipe, which makes it an awesome side dish. 
If you do decide to make this salad in advance, do ensure that you keep the dressing on the side, and do not put it on yet.
You only want to dress the salad just before serving in order to keep it as fresh as you possibly can. 
You should not prepare the salad any more than a day in advance, this is mainly to keep the basil fresh and vegetables crisp.
While you can realistically store it for longer, it will start to lose its optimal freshness after a day or so.
Tips, Tricks & Variations
There is more to this salad than just a basic recipe. Here are some tips, tricks and variations of this salad you can use to make it the ultimate salad for you, or for whatever potluck you are going to! 
If you find that you do not like any of the ingredients in the salad, then you could leave them out, or better yet, replace them with something else you do like, and do enjoy.
It can be better to prepare your quinoa way ahead of time, keeping it in the fridge, and wait for it to be totally cool before you add on the additional ingredients. In doing this, you ensure that the quinoa does not warm up the salad. 
You should also try adding in fresh tomatoes, instead of, or with sun-dried tomatoes. You could replace basil with parsley, or use roasted red peppers instead of red peppers fresh. You will have countless possibilities in this. Have fun, experiment.
Take this salad to BBQs, potlucks, or picnics, and watch people intrigued and then eager to have more! 
How Long Can You Keep Quinoa Salad In The Refrigerator?
Now, we have said that a quinoa salad can keep for a while in the fridge. This is true.
However, the length of time you can keep it in the fridge does depend on whether or not the salad is dressed. If the salad is dressed then the time will be shorter. 
If you have already put the dressing on the salad, and you put it in the refrigerator then the salad can be kept in an airtight container.
However, if the salad is undressed but otherwise prepared, then it could last up to four days. 
The reason that there is such a difference is that the salad dressing has a tendency to make the whole salad soggy much faster.
If you do intend on having leftovers from your salad, it is probably wise to only dress the part of the salad that you will be eating, and then store the rest of the salad and dress it separately as it will keep better for longer. 
Is It Okay To Freeze A Quinoa Salad?
Since it is homemade you might wonder if you can freeze this salad. However, we have never heard of freezing a salad before, have you? 
The issue with trying to freeze a salad like this is that it will just end up becoming all mushy and soggy if you were to try to freeze it. And no one wants to eat a soggy and mushy salad, do they?
How To Serve Quinoa Salad: Pairings
If you were having this Mediterranean quinoa salad as a side dish, or as a part of a meal, what should you pair it up with? 
Well luckily, this Mediterranean quinoa salad pairs very well with pretty much everything. It can easily be served up as an appetizer, or as a side dish.
However, in case you are short on inspiration, here are some ideas for you to play around with: 
Crispy Baked falafel with Mediterranean quinoa salad. 
Veggie skillet phyllo pie, with quinoa side salad.
Chickpea veggie burger.
Greek power bowl.
Spicy sweet potato falafel with quinoa side salad.
Mediterranean Quinoa Salad Recipe
So, onto the recipe. As we already know, this is a super simple dish to make. You do not really need to do much. 
The preparation time is 10 minutes, and it only takes 15 minutes to cook this means it has a total cook time of less than half an hour! 
Prep: 10 minutes.
Cook: 15 minutes.
Total: 25 minutes.
If you follow our recipe to a tea, you will make a total of 4 servings, alter this as you wish to. We have portioned the amount for it to serve as a main dish, as well.
So, make sure that you alter your ingredients depending on how many people it is for, and if it is a main or a side. 
Mediterranean Quinoa Salad Recipe Description
You already know what this is, but just to refresh. This fish is your ideal side salad, filling tasty lunch, or healthy main dinner course! 
Ingredients List
So, what do you need to make this dish as a main course for 4? Well, here is your shopping list!
For the quinoa salad:
2 cups of cooked quinoa. Which equals around a single cup of uncooked quinoa.
1 cup of chickpeas.
1 red bell pepper (or bell pepper of your choice), chopped.
½ of a small red onion (or 1 shallot if you prefer those), finely chopped.
½ of a cucumber, chopped up. 
½ cup of kalamata olives, (pitted) cut into halves. 
⅓ cup of fresh basil, chopped finely.
¼ cup of sun-dried tomatoes (in oil), finely chopped. 
¼ cup of crumbled feta cheese. (if you are vegan, feel free to use vegan feta)
For the dressing:
1 tablespoon of Dijon mustard.
2 tablespoons of freshly squeezed lemon juice.
1 tablespoon of white wine vinegar (you can also use red wine vinegar if you prefer).
1 teaspoon of maple syrup.
⅓ of a cup of olive oil.
½ of a teaspoon of garlic powder.
½ of a teaspoon of dried oregano.
¼ of a teaspoon of ground cumin.
Salt & pepper.
How To Guide: Instructions
While this recipe is super easy, and requires very little effort to prepare, cook and mix. Let us talk you through the process, so you get it just right! 
The best thing to do is to pre-cook the quinoa with enough time for it to cool off and be refrigerated prior to you making the salad. So, cook the quinoa as is recommended by the instructions on the quinoa packaging first.
Once cooked, leave it to cool and then refrigerate until cold. 
Once your quinoa is cold enough, and you are ready to make your salad, get a large bowl ready.
Put all of the ingredients for the salad (refer to above list) into the bowl. You can add other ingredients, or substitute ingredients if you do not like ones listed.
Then mixed together in ingredients for the dressing of the salad (refer to above list), in a small jar, or another bowl. If using a jar, cover with a lid once mixed and shake until perfectly blended. If using a bowl, mix together until it is fluid and well mixed.
If it is not yet ready to serve, store away both the salad and the dressing separately in the fridge until ready for serving. Once ready to serve, pour half of the dressing onto the salad, and taste. 
If you wish to add more dressing feel free to add more. You can reserve any leftover dressing for future salads or other dishes you may wish to try these flavors with.
Need To Know
We typically use around half of this Mediterranean quinoa salad's lemon oregano dressing for this, and then store whatever is left in the refrigerator.
You can put as much or as little as you want on it, and tailor it to your tastes. 
It is a great dish for events and parties, or healthy meals. 
Do not forget, if there are any ingredients in here that you are not very keen on, you can leave them out, substitute them, or just go your own way with it, while the dish does have some need-to-have ingredients, it is not strictly necessary. 
For example, should you not be a big fan of sun-dried tomatoes, you can always switch these out for fresh tomatoes, or cherry tomatoes (a favorite of ours).
The most important thing you need to do with this dish is to pre-cook the quinoa, and let it cool and be refrigerated before you mix it with the rest of your ingredients.
Doing so also makes the eventual mixing process much quicker and easier. Making it easier to whip up before you need to rush off to a party or potluck! 
Nutritional Value
Wondering what the nutritional value of this dish is? For a ¼ serving side of the recipe we have shown above, the nutritional value of this dish is as follows: 
Calories: 361 k/cal.
Sugar: 5 grams.
Fats: 14 grams.
Saturated fats: 2 grams.
Carbohydrates: 47 grams.
Fiber: 8 grams.
Protein: 12 grams.
Overall
We absolutely love this super easy to prepare and delicious Mediterranean quinoa salad, and we know you will too.
You can alter it to your tastes and make it your own. It is a quick and easy dish to make in a rush, so makes for a good last minute packed lunch for work as you speed out of the door. 
Just make sure to have the quinoa ready in advance and no matter where you are rushing off to, this dish will only take you a few minutes to make and will give you plenty of energy.
But what is more, you will enjoy it too! Yum! 
Mediterranean Quinoa Salad Frequently Asked Questions
Which Type Of Quinoa Is Best?
The best type of quinoa to use when making a salad like this is white quinoa.
White quinoa has the most delicate texture and taste when it is cooked, making it fluffier than the other alternative types of quinoa like black and red quinoa. These tend to be more dense. 
This taste and texture of white quinoa matches best with the salad, and evens out the flavors more. 
Should You Rinse Quinoa Before You Cook It?
It is always a good idea to rinse your quinoa before you cook it, this can help you to get any bitter flavors out of the quinoa.
White quinoa is not typically bitter, so most people do not rinse it, however, if you wanted to take this as an extra step, you could rinse it in a strainer under a cold flow of water for about 60 seconds before you cook it. 
What Can You Add To Quinoa To Make It Taste Better?
There are some very common seasonings to help quinoa taste better, these include but are not limited to; turmeric, black pepper, cumin, salt, and dried bay leaf.
Fresh garlic also flavors it well, and works well when paired with cilantro, dill, and parsley. 
Add the seasonings of your point when you add the quinoa into the pot, and cook it as directed with your herbs and seasonings added in.
Is Quinoa Good For Weight Loss?
Quinoa is an insoluble fiber. This means that it can help to make you feel full for longer, which staves off hunger and helps in your weight loss journey.
It is also rich in fiber and protein, increases metabolism and reduces food cravings. Thus making it a great food for losing weight.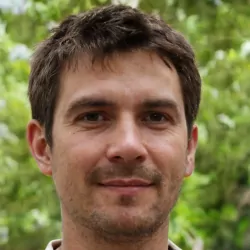 Latest posts by Justin Roberts
(see all)