Growing up, my parents frequently hosted Thanksgiving at our house. Since we grew up further away geographically from our relatives and family, the Thanksgiving attendees were always those friends-that-are-like-family.
We filled our central island in the kitchen with 20+ dishes of homemade food, potluck style from all our friends. I remember my mom running around frantically and until I started hosting my own events in my adulthood, I now understand why. We're not a big football family, so we usually watched the parade as it played in the background.
My mom always makes her Italian lasagna, which in some people's worlds, is a bit unique to see at the Thanksgiving table. We also had "tofurkey", as many were vegetarian.
There was definitely a kids table and even as we passed age 18, we still found ourselves as the "kids" table. In the four years when I came back from college, I remember also being hungover for Thanksgiving day because the night before everyone is back in town and huddles around one of the few locals bars in our small hometown. Nothing pumpkin pie can't fix!
We always went for a walk after the feast to walk off the calories usually in the brisk air or around the lake behind our house. Quite often we would gather together for a movie out at the theater to catch so many of the new releases that come out around Thanksgiving. It was always funny to pick the movie as a group with so many varying opinions!
These memories are clear in my mind and since food has always been a huge part of my family's life, I treasure Thanksgiving.
—
In the last three years, since Thanksgiving is such a short holiday window and flight prices are exorbitant, the tables were turned and I offered to host. My parents drove out to Boulder and my brother flew in from LA which was closer than getting to Iowa. It turned into a Friendsgiving as many friends stuck around, as well.
I've written about the last few Thanksgiving's we had hosted in our small(ish) two-bedroom apartment here and here. This new tradition has us getting up at 6:00 AM to ensure the prepared turkey is in the oven in time, cleaning, collecting leaves for the decor and table, cooking, sharing our neighbors oven because we didn't have enough space and hosting groups of friends along with my immediate family.
We once fit 18 of us in our apartment as we setup two long tables and transformed them with tablecloths and decorations (while we shifted the furniture away to make room). Friends brought their favorite traditional dishes they grew up with and we started a new tradition where we went around and introduced ourselves (perhaps not everyone knew each other) and also said one thing they were thankful for. It is really touching to pull together that conglomerate of people from around the country with their own tradition, while we all recreate a new one.
My mom still brings her lasagna. Nothing changed there.
—
In conjunction with Target's #MyKindofHoliday celebration, I've partnered with them to share favorite older traditions (and new ones) this holiday season. Seasonally, Target has lovely items for hosting and celebrating the holidays. I've picked some of my favorites and shared why below.
One of the things you need most are platters to carry and share your dish. I firmly believe you can't have enough beautiful platters in varying shapes and sizes. I love these platters from Target and the textured pattern on the rim.
Thanksgiving day always warrants popping some bubbly, making a cocktail or enjoying some wine (Barbera is a choice favorite for Thanksgiving dishes).  As Noon comes around and I'm breaking a sweat and cooking, the beverages are key. I love the stemless wine glasses with a hint of glitter and the cocktail serving platter too. Great for a bar setup station.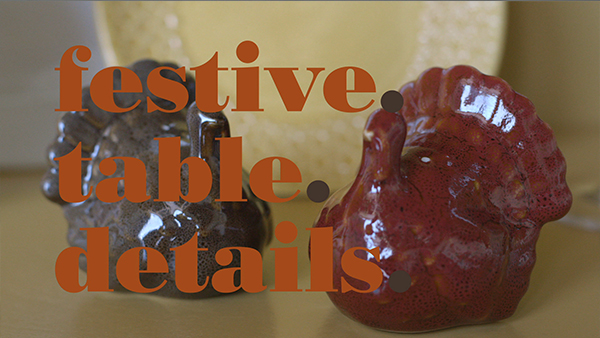 Finally,
as you're considering decorating your table, it's a nice touch. Target has some nice options and be sure to mix it with some homemade flare like gathering the last of the colored Fall leaves from your ground, pine cones or even tying together your napkins with some ribbon and a bow. I always ensure my table is festive and bright.
This is such a wonderful time of the year reminding us that gathering over food with loved ones is a wonderful way to get back to our core, roots and heart. What are some of your holiday traditions?
Disclaimer: Content and/or other value provided by our partner, Target. I received a gift card for this post to try some of these Target items but all opinions as always are my own.