Cheesecake is one of the ultimate desserts for keto and non-keto people – and for good reason. These desserts are delightfully creamy and come in a wide variety of flavors for everyone to love.
From the classic vanilla options to chocolate, coffee, coconut, and caramel, there are keto cheesecake recipes that will blow you away. 
There's just something about a no-bake cheesecake, right? Well, if you love these desserts as much as we do, make sure you stick around.
We have put together 15 of our favorite keto no-bake cheesecakes that are way too good to pass up. 
15 Mouthwatering No Bake Keto Cheesecake Recipes You Need To Try Today
The lemon cheesecake is one of the classics, and for good reason.
The good news is, this is one of the easiest no-bake keto cheesecakes that you could hope to make, and had a subtle but pleasant citrus tang to it. 
This lemon cheesecake is stupidly easy, and is sugar-free for all your keto needs.
All you need is cream cheese, heavy whipping cream, lemon juice and zest, vanilla extract, erythritol, some butter, salt, and almond flour.
With these simple ingredients, you can form your cheesecake and have it ready to go in no time.
Looking for a quick and easy no-bake keto cheesecake to fulfil all your needs? The best part is, you will never even know that this dessert is sugar-free, so you can trick yourself into thinking you're having a cheat day.
You will need blanched almond flour, monkfruit allulose blend, sea salt, unsalted butter, vanilla extract, cream cheese, heavy cream, and a handful of other ingredients.
For the topping, you are going to need a Bulletproof Milk Style Chocolate Bar to get that signature taste. This easy recipe is going to knock your socks off, so be sure to try it when you have some free time!
Another classic cheesecake flavor! Strawberry cheesecake is never complicated, which only adds to its allure. You can make this with plenty of time to spare, and leave it to set in the refrigerator for six hours. 
Using fresh strawberries is always a good idea, but sugar-free strawberry jam will also work wonderfully. 
Who doesn't love a chocolate cheesecake? The good news is, you can still enjoy your favourite dessert while on a keto diet.
In fact, this dessert might be better than ever, and is rich, creamy and decadent beyond belief. 
To make it, you will need ingredients like almond flour, cocoa powder, coconut oil, cream cheese, powdered sweetener of your choice, and dark chocolate.
The pie crust is quick and easy, and the filling only takes a couple of minutes to put together. 
Fancying a key lime cheesecake without the guilt of all the sugar that goes into it? This easy-peasy keto no bake key lime cheesecake is going to be everything you are hoping for and more.
It's super easy, and only needs to rest in the fridge for about an hour before serving, so it's perfect if you don't have much time. 
To make this dessert, you will need ingredients like cream cheese, key lime curd, sour cream, heavy cream, vanilla extract, pecans, ground cinnamon, and nutmeg, among others.
It is an easy way to get all the flavors you are craving, and still feel good about yourself afterwards. 
Berries! Blueberries are a classic, and this keto frozen blueberry cheesecake is one that you will be coming back to time and time again.
The cake gets frozen for a few hours to ensure easy cutting, but this also makes it perfect for those blistering summer days, right?
Heavy whipping cream, full-fat cream cheese, sour cream – you know this dessert is going to be creamy and delightful.
Sometimes, you just want to go back to the basics and enjoy the simple things in life – like vanilla cheesecake!
On top of that, you can't beat a no-bake recipe that is this straightforward and easy to enjoy. 
For this, you will need all the classic cheesecake ingredients like cream cheese and heavy whipping cream.
On top of that, you will need cashews and cacao butter to make the crust, then the all-important vanilla essence and a vanilla bean.
This will really bring out that classic vanilla flavor that we have all fallen in love with.
Salted caramel fan, and you are craving a cheesecake to curb the cravings? We have the perfect recipe for you.
This salted caramel cheesecake is the perfect healthy dessert that will never make you feel like you are giving something up. Soft and creamy, and ready to enjoy immediately, you are going to love this recipe. 
To make it, you are going to beed chopped pecans, xylitol, butter, vanilla extract, Swerve Brown, and Neufchatel cheese, among other things.
This choice in cheese ensures that the recipe is as light as possible, making it suitable for anyone who wants to keep count of the calories going into their bodies.
It's hard to beat the classic, tropical taste of coconut in the summer, so it probably isn't even worth trying. If you can't beat them, join them!
In this case, this no make keto coconut cheesecake is going to be the best thing you could possibly join. It might take some time to set until you can eat it, but everything will be worth it – you'll see. 
You will need coconut cream (or full fat coconut milk), vanilla, a powdered sugar substitute like Swerve, coconut yoghurt, cream cheese, and a few other necessary ingredients.
You can even toast some delightful coconut flakes to sprinkle them on top to really finish everything off – it will be perfect. 
Blueberry cheesecake will, without a doubt, always be a winner for everyone who has a passion for cheesecakes.
This particular keto blueberry cheesecake is super easy, but it definitely needs some time to chill in the fridge (around 10 hours!). 
For this recipe, a mixture of almond and coconut flour is used, as well as a powdered sweetener and a few other things to make the tasty crust.
The filling is a simple mixture that consists of full fat cream cheese, heavy whipping cream, vanilla extract, and powdered sweetener.
To make the delicious blueberry topping, make sure you get plenty of blueberries and xanthan gum, and you're good to go!
Are you a lover of cheesecake and tiramisu? This is the perfect keto-friendly, gluten-free, and grain-free dessert you could get your hands on.
It has all the classic cheesecake qualities with the tiramisu flavoring, so there is nothing for you not to love about it. 
You are going to need dark rum, espresso, unsweetened cocoa powder, and all the classic cheesecake filings, too.
Make sure you prepared this in advance, because this will have to refrigerate for at least eight hours!
Coffee is special to many of us, and is probably the life force of at least half of the population at this point.
So, doesn't it make sense to make a coffee cheesecake for anyone and everyone to fall in love with (and maybe become addicted to)?
This rich and creamy coffee cheesecake contains no sugar and no gluten, and has a bold espresso flavor you will love.
Almond flour, monkfruit sweetener, cocoa, espresso powder, and vanilla come together to create the ultimate dessert. 
Raspberry cheesecakes are perfect for summer, right? They are so easy to make and a pleasure to eat. They are refreshing, and pack in some great nutrients that a lot of us probably overlook. 
With your classic cheesecake ingredients, gelatin, fresh raspberries and raspberry jam, you know this dessert is full of flavor. You just need to try it! 
Who doesn't love the sound of that? Salted dark chocolate is the epitome of decadence, and this cheesecake definitely doesn't disappoint. 
Make sure you stick to all the keto-friendly ingredients to this, like Swerve of Monkfruit when it comes to the sweetener.
On top of that, we would recommend using Lilly's Dark Chocolate Chips or something similar to get the same result.
Love peanut butter? Obviously… now you get to make this keto no bake peanut butter cheesecake! This cake only needs to sit in the fridge for around 2 ½ hours, so it can be made the same day if you like. 
For this, you are going to need some keto peanut butter ice cream sauce, chopped peanuts, sugar-free peanut butter, and a few other essentials. This isn't a recipe you should skip out on!
Final Thoughts
Cheesecakes are one of many desserts that might even be more delicious when they get turned keto. Not only are they easy to make, but they are incredibly versatile, and just about every flavor will go. 
Next time you feel like a cheesecake, why not try one of these? You might surprise yourself.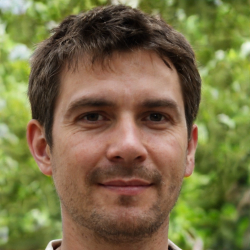 Latest posts by Justin Roberts
(see all)