Chances are, you've probably already heard of a paleo diet before. However, if you're unfamiliar with the diet, essentially, the diet consists of only eating whole foods. 
If you're looking to stay healthy without limiting your choices of food, then a paleo diet is perfect for you. Here, you're only consuming foods rich in vitamins, minerals, and protein.
When following this diet, you'll want to avoid anything that is processed or considered fast food since this is generally packed with trans fats. 
However, sometimes, diets can be hard to stick to, especially when life becomes busy with work and college – with less time to plan and prepare your meals. 
To help you achieve your diet goals, we have compiled a list of our three favorite paleo salads that are not only quick and easy to make but also incredibly cheap. 
Why Should You Follow A Paleo Diet?
The main reason people follow a paleo diet is to keep their minds and body healthy.
If you're following a paleo diet, you'll already know that the only foods you can consume are whole foods.
This can include anything from lean meat, fish, seafood, vegetables, fruits, seeds, nuts, plant-based oils, eggs, etc. 
You may notice that many of the foods listed here are rich in protein, plus are a great source of vitamins and minerals. This contributes to a long list of benefits you can receive from the diet. 
Some of the main benefits include detoxification, clean eating without additives or chemicals in your diet, better satiety, weight loss, and more minerals in your body – such as iron –, among many more benefits. 
Our Favorite Paleo Salads
Now that we have covered what a paleo diet (see also "Paleo On The Go Reviews") is and all the benefits you can reap from it, below, we are going to share three of our all-time favorite recipes. 
Each recipe won't take longer than 10 minutes to prepare and are a great option for on-the-go eating.
1. Chopped Summer Paleo Salad
This is an ideal salad to help cool you down on those hot summer days with its refreshing and delicious ingredients. 
Ingredients
Dressing
2 tablespoons of macadamia nut oil (or any other oil)
2 tablespoons of lemon juice, freshly squeezed
Ground pepper, fresh
Salad
1 carrot
1 tomato, large
1 avocado
1 cucumber
1 can of tuna, snippets
1 green pepper
Method
Step 1. Using a large bowl, combine the ingredients for the dressing and mix well. For additional taste, consider adding some pepper. 
Step 2. Chop the vegetables into bite-size pieces and mix. 
Step 3. Combine the tuna with the chopped vegetables. Once well combined, pour the salad dressing over the top. 
And voila! That's all it takes to create this healthy, fresh and ridiculously refreshing paleo salad. In just about 15 minutes, you'll have a lunch/ dinner fit for champions. 
2. Lemon Basil Kale Salad
In this salad, you'll find everything that contributes to a great source of both vitamins and minerals. 
Hence, it makes it an ideal salad for those with busy schedules looking to whip up something quick that will provide them with all the necessary nutrients to keep them healthy.
Ingredients
Dressing
2 tablespoons of olive oil
2 tablespoons of lemon juice, freshly squeezed
2 leaves of fresh basil, chopped
1 teaspoon of maple syrup (optional)
1 clove of garlic
Salad
1 avocado, peeled
1 bunch of kale
¼ cup of pumpkin seeds
⅓ cup of red onion, sliced
Method
This is a super-simple method that essentially only requires you to grab all the ingredients and place them in a bowl. Ensure you mix well to combine all the ingredients. 
Step 1. In a small bowl, mix together the dressing ingredients. Once combined, mix well to ensure it is well combined. 
Step 2. Next, add the kale to the bowl containing the dressing and leave for 10 minutes. Here, what is happening is that the lemon juice will help soften up the kale leaf – ensuring a nicer texture. 
Step 3. Once ready, combine the rest of the ingredients in a large bowl and mix until well combined. 
Step 4. This step is optional but if you're looking for some extra protein, consider adding some grated cheese to the top. 
The beauty of this recipe is that it shouldn't take you more than 20 minutes.
Plus, if you weigh all the ingredients beforehand, all you have to do before going to work/ college is toss them in a container and shake! 
3. Chicken Mixed With Avocado And Walnuts
Not only can this salad be prepared and made in minutes, but it is also rich in protein – great for those days when you're looking for something slightly more filling. 
The beauty of this recipe is that it is so simple to make – perfect for those busy people looking to keep fit and healthy without spending too much time cooking. 
Ingredients
100g of chicken breast
2 lettuce leaves, chopped
1 handful of walnuts
1 avocado, sliced
2 tablespoons of flaxseed oil (or any other preferred oil)
2 eggs, boiled
Method
Step 1. Chop and slice all the ingredients into bite-size pieces. Then, either cook or grill your chicken breast and dice it into small pieces. 
Step 2. Combine your chicken with your vegetables and mix until well combined. 
Step 3. Top your salad with flaxseed oil (or preferred oil) and boiled eggs. 
Enjoy! That is everything you need to prepare this delicious salad with plenty of vitamins, minerals, and proteins. 
Final Thoughts
If you're following a paleo diet, then you'll understand the importance of only putting healthy foods into your body. Not only does it keep you happy on the inside but on the outside, too. 
Whether you're busy with work or college, sometimes finding the time to cook can be difficult. However, with these salads, you won't have an excuse not to eat healthily!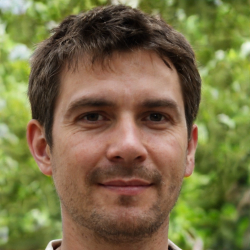 Latest posts by Justin Roberts
(see all)