Sticking to a diet can be difficult at the best of times. One of the biggest challenges that individuals face when on a diet is avoiding the foods that they enjoy. These are typically processed foods that are unhealthy for you. 
Instead, you can try a paleo diet. Paleo diets are one of the healthiest and most nutritious diets around, and you can still make yourself amazing, homemade meals that the whole family can enjoy. 
So, what is a paleo diet, and how can you make the tastiest spicy sweet potato wedges while being on a paleo diet? Read on to find out!
What Is A Paleo Diet?
Paleo is the newest thing in the diet and nutrition sphere. A paleo diet is based on the types of foods that are presumed to have been eaten by humans in early days of existence.
What this means is that you would only eat a diet mainly consisting of meat, fish, vegetables, fruit, and natural products.
You would not eat any processed foods, and would instead only eat lean meats, fish, eggs, nuts, seeds, vegetables and fruits. 
On a paleo diet, individuals will not eat snack foods that are high in calories and offer very low nutritional value, and this diet is also naturally low in sugar.
A paleo diet is often considered one of the healthiest diets available, as it can be restrictive. However, that does not mean that you can't eat any tasty foods that you enjoy. 
We have got a delicious recipe for you to try out, with bacon, spicy wedges, and an amazing chili and lime mayo to go over the top.
How To Make Paleo Bacon Wrapped Spicy Sweet Potato Wedges
If you want to make this recipe for yourself, then you are in luck. We have got all of the information that you need, including how to make the chili lime mayo to drizzle over the top of the wedges! 
The best part? You will only need a couple of ingredients that you will probably already have in your pantry! As long as you have bacon, paprika and sweet potatoes, then you are going to be good to go!
You Will Need
3 large sweet potatoes
1 teaspoon of ground cayenne pepper
1 teaspoon of ground paprika
16 strips of bacon (add or remove more depending on preference)
Method
To make this paleo bacon wrapped spicy sweet potato wedges, you will first need to preheat your oven to 400 degrees fahrenheit.
Then, grab a cutting board, and the sweet potatoes, and slice them up into wedges. 
The next step is to wrap each individual wedge in a strip of streaky bacon, and ensure it is wrapped tightly so that the bacon does not fall off when cooking in the oven. 
After this, grab a baking tray, and cover it in the cayenne pepper and paprika seasonings. 
Finally, bake the sweet potato wedges in the oven for about 25 minutes, or until the edges of the wedges seem golden and crispy, and the bacon is slightly burnt and crispy all over. 
You can serve up the wedges as they are, or you can make a chili lime mayo sauce to drizzle over the top, or to use as a dipping sauce. 
How To Make Chilli Lime Mayo
If you want to add some extra spice to the sweet potato wedges, then you can make this homemade chili lime mayo to go with them! 
You Will Need
1 cup of olive oil
Lime juice (½ a whole lime, pressed)
2 egg yolks
1 teaspoon of salt
1 teaspoon of yellow mustard
2 teaspoons of chili hot sauce
1 teaspoon of apple cider vinegar
Method
The first step is to grab a small mixing bowl. Then, add in the egg yolks, a pinch of salt, and the yellow mustard. Mix the ingredients well until they are perfectly combined.
Then, you will need an electric mixer, or a hand whisk. Add the oil, and whisk it into the mixture as the oil begins to emulsify. When mixed together, it is time to add the other ingredients. 
Now, you can squeeze the juice out of half of a lime, and add this into your sauce mixture. Then, add the apple cider vinegar and mix it together. 
Finally, you can either add your favorite chili hot sauce to the mixture, or you can drizzle the already made mixture all over the wedges, and then drizzle the hot sauce over the wedges. It is entirely up to you, and depends on your preference. 
Benefits Of Sweet Potatoes
Sweet potatoes are a power food! They are perfect for a healthy diet, as they are high in fiber and antioxidants which protect the body from the damage of free radicals. 
Sweet potatoes are also rich in vitamins and nutrients such as vitamin A which boosts the immune system and supports great vision! Vitamin A can also help protect the skin from damage, dryness and wrinkles, and eating just one sweet potato a day can give you around 400% of your daily vitamin A requirements. 
In addition to all of this, sweet potatoes are also low in calories, making them a great diet staple if you want to lose weight. 
Final Thoughts
To summarize, you can make these amazing paleo friendly bacon wrapped sweet potato wedges in just a matter of minutes, and wow whoever is lucky enough to eat them with the spicy chili and lime sauce.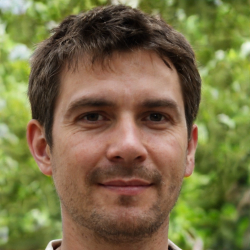 Latest posts by Justin Roberts
(see all)