If you're looking for grain-free, refined sugar-free, and gluten-free banana muffins, then you've come to the right place. Make them this weekend for a quick and easy muffin breakfast for the rest of the week. Plus, you can make them as a snack in the evening, too.
When following a paleo diet, breakfast can sometimes come as a challenge. Where you would typically pick up a cappuccino and a banana muffin at your local coffee shop, this is no longer the case.
Therefore, learning how to make your favorite muffins paleo-friendly is the way to do it. With the help of this guide, you should be able to whip up a batch of muffins in no time.
With this in mind, this guide will explore 15 of the best paleo banana muffins that you need to try. Trust us, you won't be disappointed!
We all have those recipes that we come back to thanks to their ease and deliciousness, this is one of those recipes! It combines everything you love about banana cake into bite-sized muffins.
Plus, with the addition of the nuts, there is no better combination of soft and crunchy. Thanks to the smart addition of a few paleo-friendly ingredients, you'll have individual muffins whipped up in no time – much quicker than a whole banana bread loaf.
Perhaps the best thing about this recipe is that not only do these muffins taste incredible but they are somewhat good for you, too. This is all thanks to the delicious paleo-friendly ingredients.
These paleo banana bread muffins are the perfect twist to the classic sweet treat recipe (see also "Best Paleo Blueberry Muffins Recipes"). Here, you won't find any dairy, added sugar, or oil.
Instead, you have ingredients such as nut butter, almond flour, and eggs to create fluffy, moist, and utterly addictive muffins for a healthy snack or breakfast.
You can take bananas and add them to just about anything. However, banana bread has to be one of our all-time favorite recipes. Don't worry, they can be made paleo, too.
If you're looking for a healthy way to start your day, then you can't go wrong with these paleo banana nut muffins. They are fluffy, light, and moist. Plus, they are dairy- and gluten-free, too.
The best part? They are super simple to make – they are sure to disappear right off your plate before your eyes!
As opposed to some other recipes, these muffins are light, fluffy, and raised up. This is opposed to a dense and flat top. Don't worry, they are still incredibly moist on the inside.
These paleo blueberry muffins have the same taste as bakery muffins but without any guilt feelings.
They contain the perfect crumb with just the right amount of sweetness. Plus, they are refined sugar-free, dairy-free, and freezer-friendly so you can eat them throughout the week!
When the blueberry season comes around, you'll find yourself making all things blueberry. So, why not give these muffins a try?
Seriously, there is no other classic recipe as a recipe. The best part? They make the perfect addition to your paleo diet – all without the sugar crash.
These muffins will provide you with all those decadent and rich flavors without having to sacrifice your paleo diet. Plus, they are naturally sweetened with honey and are dairy-free, grain-free, and gluten-free.
These gluten-free muffins have one of the best textures, too. They are not too fudgy or hearty, meaning you can easily eat two or three in a row, despite your hardest efforts.
Typically, paleo muffins have a spongy texture that doesn't taste the best. However, these muffins will leave you thinking they are made from all-purpose flour.
Not only are these paleo banana pumpkin muffins super simple to throw together, but they have the perfect moist texture with tons of delicious pumpkin and cinnamon spice.
For some added flavor, add some chopped nuts and chocolate chips into the mix – making the perfect snack to grab on the go, for breakfast, or whenever your cravings hit!
The best part? They are paleo-friendly, gluten-free, and dairy-free! Plus, they are packed with pumpkin goodness. In addition to the bananas, you're in for a treat.
Here, you're provided with natural sweetness thanks to the mashed banana, plus, the pumpkin and pumpkin spice ensures all those delicious fall flavors.
This recipe adds pecans and chocolate chips, however, you can add whatever additional ingredients you like.
There is nothing better than a crumbly cinnamon coffee cake topping. Thanks to these banana almond coffee cake muffins, you can enjoy this experience every day!
Regardless of who you're making these muffins for, they are sure to be a hit. What's not to love about grain-free, healthy coffee cakes?
Here, all you need are the ripest bananas and some almond butter to ensure heaps of deliciousness with every bite.
Not only are these banana muffins a decadent treat but they can be whipped up easily in the blender. These muffins are naturally grain-free and sweetened, providing you with paleo goodness.
If you're looking for a healthy and delicious breakfast option, then these are the muffins for you. Plus, they have a lot going for them, too. They are vegan, gluten-free, and paleo.
Thanks to all those nutritious ingredients, even though they taste a treat, they are perfectly healthy enough for breakfast, too.
In addition, they are portable, mess free, and everyone is sure to love them.
Fluffy, moist, and super-simple, these banana tahini muffins are the ultimate decadent treat. They make for a sweet snack or you could even add frosting to the top for a healthy dessert.
In addition to this, they are paleo-friendly, vegan, and gluten-free – what more could you ask for?!
These muffins are incredibly moist and soft yet hearty all at the same time. These paleo cinnamon raisin banana muffins don't contain any added sugar, grains, or dairy.
Instead, they are paleo-friendly, gluten-free, and sweetened only using bananas – perfect for a snack or breakfast.
These pineapple banana muffins with a coconut pineapple drizzle are perfectly fluffy and moist – you'll feel as if you're sipping a pina colada on a tropical beach.
Plus, you won't believe these are gluten-free, paleo, and insanely healthy, either.
Have some leftover bananas sitting on the table, then add them to your muffins for some perfect natural sweetness. Remember, the riper, the better!
For these simple paleo banana muffins all you need is an egg, nut butter, almond flour, and bananas. With one bowl, easy techniques, and no added sugars or oil, you'll have a batch whipped up in no time.
From the first time you make these muffins, you'll be whipped, and find yourself making them all the time.
Instead of throwing away your overly ripe bananas, add them to your paleo banana muffins for a grain-free treat with a cinnamon-sugar crumb topping.
These muffins only take about 30 minutes to prepare and you only need one bowl for an easy and quick wholesome treat.
With only 10 ingredients and 1 bowl, you'll have these muffins whipped up in no time.
These paleo zucchini muffins contain a delicious combination of fruit and vegetables for the perfect breakfast. The best part? They are refined-sugar-free and grain-free, too.
A healthy breakfast doesn't mean it has to lack in taste and flavor, these zucchini banana muffins are proof of that. Both nutritious and healthy, what's not to love? They contain everything needed to start your day off the right way.
For this recipe, all you need are a couple of nutritious ingredients, including fiber, fruit, vegetables, and protein for something utterly delicious.
Plus, they are also freezer-friendly, too. So you can whip out a large batch and enjoy them throughout the week.
These strawberry banana muffins are moist, light, and bursting with tons of strawberry and banana flavor.
The best part? They are super simple to make. All you need is a blend of coconut flour, almond flour, and arrowroot.
The result is fluffy and moist muffins that are to die for.
Final Thoughts
Muffins are one of the best breakfast meals. They are delicious, healthy, and, if you prepare them ahead of time, super simple to grab and go.
If you're following a paleo diet, you can benefit from all the deliciousness, too. Thanks to these paleo recipes, you can whip up all the muffins you desire.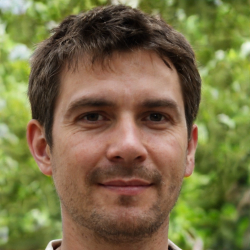 Latest posts by Justin Roberts
(see all)