When it comes to muffins, blueberry is one of the best flavors – and this is for good reason. Not only are they bursting with flavors but they are surprisingly healthy, too.
The best part? You can make them completely Paleo to suit your diet. All you need are the Paleo standards. This means that they don't contain any refined sugar, grains, or dairy. 
The only ingredients that are included are on the list of approved Paleo foods – these muffins perfectly fit the mold and are the ideal guilt-free treat. 
With this in mind, we have rounded up the best blueberry muffins for you to choose from and sample for your tasting. Let's get started. 
Beautifully dotted with frozen or fresh blueberries, these muffins are slightly spiced with cardamom for some unique, delicate, and light Blueberry Cardamom Muffins. 
When it comes to blueberry muffins the possibilities are seemingly endless. Blueberries are an incredibly versatile ingredient that can be added to a range of flavors and ingredients. This is where these cardamom muffins come in. 
Hints of cardamom can be tasted throughout. Plus, with the addition of crunchy simple streusel, blueberries, and cinnamon – these muffins are full of flavor and fragrance. 
As its title suggests, these blueberry muffins are completely to die for – they are that good. To achieve this deliciousness, all you need is a combination of maple syrup, eggs, vanilla, and almond extracts. 
However, the secret lies in coconut milk. This provides your muffins with a delicately smooth texture that makes every mouthful a treat. Plus, the hints of coconut can be tasted throughout. 
The best part? You will achieve the same delicious muffins without needing the typical ingredients. Here, you don't have to worry about any general-purpose flour which is in most traditional store-bought muffins. 
If you're looking for the best way to start your day, then you can't go wrong with these paleo blueberry muffins. Not only are they sweet but they are incredibly cozy, too. 
With every bite, you'll get bursts of fresh blueberries all encompassed in a fluffy and moist batter. Like most muffins, they are made exactly the same – all without the non-paleo ingredients! 
These gluten-free muffins are fluffy, light, and contain the perfect amount of sweetness – packed with juicy and fresh blueberries. They make for a sweet afternoon snack or even a healthy breakfast option for when you're on the go. 
Even though a Paleo diet doesn't require you to count carbs, these blueberries taste as good as they'll make you feel. 
When it comes to low-carb recipes, many recipes tend to cut out ingredients that are naturally low in carbs – you don't have to worry about that in this recipe. 
Instead, you use coconut flour as opposed to all-purpose flour. As well as chia seeds that not only add to the overall taste but provide you with important omega-3s, too. 
These Paleo Blueberry Muffins have all the classic muffin textures and flavors. Plus, thanks to the crumb top, they make for an addicting sweet treat.
You can either make them ahead of time for a grab-and-go breakfast or a sweet treat to enjoy anytime. They are refined sugar-free, gluten-free, dairy-free, and grain-free. 
Not to forget to mention the crumb top, too! These crumb tops are nut free and made using coconut flour for a perfectly balanced texture. 
While you can eat these lemon blueberry muffins for breakfast, they make the perfect afternoon snack or treat with your coffee or tea, too. 
Since these muffins don't contain any added sugar or processed ingredients, they are the perfect addition to your paleo diet. Plus, they are grain-free and gluten-free. 
Here, coconut flour and almond meal are combined with maple syrup to provide some added sweetness. Plus, you'll also find added hints of lemon zest and lemon juice. 
This provides the muffins with bursts of tart flavor that perfectly balance out the sweetness of the juicy blueberries and maple syrup. 
These jumbo blueberry muffins are gluten-free, dairy-free, and grain-free, but you would never be able to tell. The result is a moist and tender muffin featuring a crunchy muffin top with juicy blueberries speckled throughout. 
Not only are these muffins perfect for sharing but they are easy to make too. Plus, who doesn't love bakery-style muffins?! 
Don't have a jumbo muffin pan? Don't worry! You can simply make 12-14 standard-sized muffins instead of 6 jumbo ones. 
If you're in the mood for blueberries and a little chocolate, then these are the perfect batch of muffins for you. Here, paleo-friendly chocolate chips are the star of the show. 
Likewise, you can ditch the blueberries and just make blueberry muffins if that's what you're looking for, too. The remainder of the recipe is super simple, too. 
Here, you're using almond flour instead of coconut flour which is often used in Paleo muffin recipes. The result is a light and fluffy muffin that lasts just slightly longer than typical muffins. 
While mangoes and blueberries may not seem like an obvious pairing at first, once you combine them together, you'll be rewarded with a tropical flair that will keep you hooked. 
Since these fruits both have similar harvest cycles, it only makes sense to eat them together. Here, the mangoes are diced which provides the perfect texture and some added flavor. Between the blueberries and mangoes, you're in for a sweet treat. 
Once you start combining superfoods such as bananas and blueberries, amazing things start to happen, such as these blueberry banana muffins. 
Not only getting all the antioxidants you need, thanks to the blueberries, but you're also getting all the fiber and potassium you need from the bananas, too. 
Some banana and blueberry muffins are often marketed as healthy when bought from the store, however, these tend to be misleading due to the use of low-grade fruit. 
You don't have to worry about this here. You can have complete control over the quality of your muffins – making a healthy treat. 
These muffins are a combination of coconut flour and almond flour that make the perfect replacement for general-purpose flour. 
This combination is required to achieve muffins that are not too light or airy but also not too hearty or dense, either. The result is a perfectly textured muffin that imitates the texture of flour. 
These blueberry muffins have a lot going on, however, these flavors combine to make a masterpiece. Essentially, you're combining three different breakfast muffins: blueberry muffins, lemon muffins, and cheese danish muffins. 
When you're in the mood for these three different muffins but don't want to make them individually, then this is the recipe for you. 
Lemons and blueberries are often combined together thanks to their delicious flavor combination. However, with the inclusion of cheese danish, you'll have something totally new. 
Following a paleo diet doesn't mean you have to completely cut out chocolate or sweetened treats for that matter. This is where these chocolate blueberry muffins come in. 
These muffins have a dense chocolate flavor that is sweetened with the perfect amount of honey and blueberries for the ultimate decadent treat. 
As previously mentioned, you can achieve a boost of flavor by incorporating both blueberries and lemons together, without detracting from the overall experience. 
However, the star of the show here is the added nuts. You can choose whatever nuts you want, pecans or walnuts make a great addition. 
This adds heaps of crunchiness to otherwise fluffy and soft muffins. Plus, it adds some healthy fats, too – which is needed when following a paleo diet. 
These grain-free, delicious, paleo blueberry chocolate chip zucchini muffins are not only packed with protein but make the perfect on-the-go breakfast or late-night snack. 
Here, gooey chocolate, delicious zucchini, and juicy blueberries are combined for a decadent yet guilt-free experience. 
While this flavor combination may sound strange, don't judge them until you try it – you're sure to be surprised at how well these flavors work together. 
Final Thoughts
Following a paleo diet doesn't mean you have to restrict yourself from deliciously sweet treats (see also "Paleo Mug Cake Recipes"). You can satisfy your sweet tooth all without breaking your diet thanks to these paleo blueberry muffin recipes (see also "Amazing Paleo Brownie Recipes"). 
Likewise, you don't even have to stop at just blueberries, the possibilities are endless. From chocolate blueberry muffins to lemon blueberry muffins, there is a flavor to satisfy all your cravings. 
Hopefully, this guide has provided you with some inspiration for the best paleo blueberry muffins.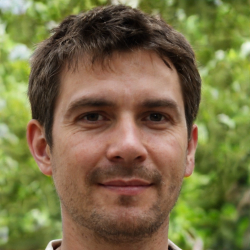 Latest posts by Justin Roberts
(see all)