Cauliflower is an amazing vegetable because it is so incredibly versatile and it combines with so many different foods.
Lots of people think cauliflower is really boring, but that's just because they haven't tried it in a more creative way!
If you are on a paleo diet and you are trying to watch your carb intake, then cauliflower is a great ingredient to add to your dishes.
Because it can be used in so many different ways, you will never get bored of it.
We've put together a list of 15 of the best paleo cauliflower recipes that you need to try today (see also "11 Best Asian Paleo Recipes To Try Today").
There is something for everyone on this list and you will never find cauliflower boring ever again!
If you have never tried roasted cauliflower before then you are going to absolutely love this recipe!
When you roast cauliflower it adds so much more flavor and makes whatever dish its been added taste even better.
You can add any other vegetables you want to this dish too, so don't be afraid to experiment with it! This dish is super easy to make and completely paleo-friendly, so it's super low in carbs.
If you fancy roasted cauliflower but you want it to be a bit more fun, you should consider trying this turmeric-roasted cauliflower!
The turmeric gives the whole dish a fantastic yellow-orange color and adds a unique, earthy flavor to the whole dish.
You will also be using other herbs in this dish, such as ground pepper, garlic, and oregano.
This dish is incredibly delicious, nutritious, and super easy to make. This is one of those dishes that you can really pair with anything or enjoy as a tasty snack.
Cauliflower and cheese are an absolute match made in heaven!
People usually combine Cheddar cheese with cauliflower, but if you really want to take it up a notch, give parmesan a try instead!
This roasted cauliflower recipe is super crunchy, creamy, and cheesy, and you can be sure that the whole family will love it!
Parmesan is also not as processed as some other cheeses which is why this recipe is actually a bit healthier and suitable for a paleo diet.
This is such an easy recipe to make as well and you can have it ready in absolutely no time at all.
Cauliflower can be used for so much more than just roasting- it also works fantastically well as the main ingredient in a casserole (see also "What Is Bang Bang Cauliflower?")!
Usually, when you make casseroles or bakes, you would use potatoes, but cauliflower works just as well, especially if you want a tasty dish that is unprocessed and low in carbs.
This dish tastes absolutely amazing as well! It's super filling and hearty, and the whole family will love every single bite.
Even if you've never made a bake before, you will have no issues following this recipe and you can have it ready in no time at all.
This recipe works incredibly well as a side dish, but it is also extra tasty as a snack too.
It's made in the same way regular roasted cauliflower is, but with the addition of lime juice, cilantro, red onion, and some avocado!
It is filled with a delicious Mexican flavor that is a wonderful alternative to regular roasted cauliflower.
It's just as easy to make and it's completely paleo-friendly. It's also completely gluten-free and vegan, so you can make it for more than just one dietary requirement.
Mashed potato is great, but you will be pleasantly surprised to learn that mashed cauliflower tastes just as good!
You can make this recipe as a side dish, a holiday dish, or for whatever other dish you want and the whole family will absolutely love it.
The garlic and herbs pair together with the cauliflower to create a creamy and earthy mash that is incredibly delicious and moreish.
This recipe is so easy to make as well, and you will find yourself making it again and again.
Along with being paleo-friendly, this recipe is also keto-friendly too!
f you fancy a Tikka Masala but you want to keep carbs down to a minimum, then you should definitely try this cauliflower version!
Tikka Masala usually gets its creaminess from heavy cream and cheese, but for this recipe, you will be using coconut milk and even some cashew créme.
These two ingredient changes make the whole dish paleo and keto-friendly and mean the dish is a lot more healthy.
It still tastes just as good as the Tikka Masala you know and love as well, so you will still enjoy every single bite.
Hummus is absolutely incredible, but not every single version is paleo-friendly.
The beauty of this recipe is that it tastes just like normal hummus but it is paleo-friendly and super low in carbs.
Don't let the idea of it being healthy put you off though because it's still just as creamy and sesame-nutty as hummus should be.
It tastes so good that you won't really be able to tell the difference!
Along with being paleo-friendly, this recipe is also vegan, and gluten-free!
This is a great recipe for you to try if you are in the mood for a curry but you don't want to break the rules of your diet.
This curry has a fantastic spicy element to it that really brings out more flavor in the whole dish.
The chicken is incredibly juicy and tender and it mixes super well with the creamy curry. It's hard to believe that this curry is so low in carbs because it just tastes so good!
Even if you don't have much experience in making curry, you won't have any issues making this dish for yourself.
Taco bowls are always fun to make and eat, and they are a great way to bring the family together.
These taco bowls are made using cauliflower rice and fish, so they are low in carbs but still taste absolutely amazing!
You will also be using avocado and mango to bring even more flavor to these tacos, but if you want to keep it paleo-friendly, make sure you don't add any yogurt to the mix.
These tacos are super easy to make and the whole family will absolutely love them.
Coconut curry is already delicious, but when you make it into a soup, it somehow tastes even better!
This recipe is super warm and hearty, and it's perfect for colder nights. This curry is incredibly creamy, but it's surprisingly dairy-free!
You can choose how spicy this curry is too. If you want it to be spicier, just use more Thai curry paste, and use less if you'd rather have a milder taste.
However you choose to have it, you wont be disappointed.
Here's another soup recipe that you will absolutely love. It's incredibly silky and delicious, and it couldn't be any easier to make.
The red pepper and cauliflower pair so incredibly well together to create a soup that you wont be able to get enough of.
You can have this whole dish ready in under an hour and its the perfect recipe to make when you want something quick, delicious, and paleo-friendly for dinner.
Alfredo sauce is perfect for pasta and chicken dishes, and this version of the recipe makes it completely paleo, so you can enjoy it completely guilt-free.
The cauliflower really adds a bit of bulk to the sauce and makes it creamy, a bit nutty, and delicious.
This is such an easy recipe to make and perfect to have on standby when you're in the mood for a low-carb pasta dish.
This recipe is very similar to popcorn chicken, but because you will be using cauliflower instead, it's more vegetarian and vegan-friendly!
It's also a lot lower in carbs and healthier, so you can enjoy it completely guilt-free.
Because you will be roasting the cauliflower, this whole dish will have a delicious crunch that really adds to the texture of the dish.
This is super easy to make and you can enjoy it as a side dish or even as a snack.
This recipe is incredibly creamy, filled with cilantro and earthy pesto. It is so incredibly delicious that you will definitely find yourself making it again and again!
Conclusion
Cauliflower doesn't have to be boring, and all of these recipes really prove that!
You won't be disappointed once you try these recipes for yourself and you can enjoy them completely guilt-free because they stick to the paleo diet!
Try some of these recipes out today and see which ones you love the most!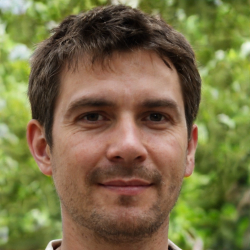 Latest posts by Justin Roberts
(see all)