Who doesn't love fudge? Its creamy, soft, and chewy texture makes it something utterly addictive. 
However, typically fudge is made using a combination of artificial ingredients, tons of white sugars, and corn syrup – certainly not aligning with a paleo diet. 
Although luckily for you, some of the best paleo sweet ingredients, including cacao, nut butter, and coconut oil contain all the properties necessary to make some delicious melt-in-the-mouth, chewy fudge – it is sure to satisfy your sweet tooth! 
With this in mind, we have gathered 15 of the most delicious paleo fudge recipes that you're sure to love (see also "Delicious Paleo Ice Cream Recipes"). 
Let's get straight into it! 
These little balls of deliciousness are made using dates, hazelnuts, cacao powder, cacao butter, maple syrup, chopped dark chocolate, and vanilla extract. 
Here, maple syrup is optional. Therefore, before adding it, make sure your bites are sweet enough. That said, these bites are super simple to just throw in your mouth. 
You can't go wrong with the combination of chocolate and hazelnuts. Lots of people feel the same. In fact, it is probably why Nutella is one of the most popular spreads in the world. 
That said, these bites of goodness taste nothing like Nutella – they are even better!
While you will want to avoid eating sweet treats all the time when following a paleo diet, once in a while shouldn't do any harm. When it is one of those days when you're craving something sweet, there is nothing between them and this paleo cookie dough fudge. 
For this cookie dough fudge, the ingredients have been perfectly adapted to create something chewy and soft – you'll be making this recipe whenever you want a sweet treat. 
Here, deep and rich dark chocolate is combined with fruit and nuts to make a fudge that is good for you, using real ingredients for ultimate decadence. 
Plus, it is dairy-free, gluten-free, vegan, refined sugar-free, paleo, and completely addictive – what more could you ask for?! 
With this recipe, you're getting the best of everything. The creaminess of the nut butter and coconut cream combines perfectly with the textures of the coconut oil, pecans, chopped dates, and hints of sea salt.
Plus, it can be stored in either the refrigerator or freezer so you can grab a piece whenever you like. 
While this recipe may not be exactly the same as halva, it is reminiscent of the old-fashioned cream caramels and Israeli sesame fudge. 
This snack, however, contains all the sweetness you need for the perfect pick-me-up. Whether you're calling it a snack or a dessert, this fudge straddles both areas. 
Plus, with only five ingredients, what more could you ask for?! Here, all you need is unsweetened baking chocolate, tahini, coconut sugar, vanilla extract, and sea salt. 
Looking for the perfect sweet treat this summer, then look no further than this 5-ingredient mint match superfood fudge. It is energizing, creamy, and completely cooling. 
The best part? You only need five ingredients, most of which are superfoods, too! All you need is cacao butter, tahini, matcha powder, pure maple syrup, and a few drops of peppermint oil. 
Then, all you have to do is whisk over medium-low health until you're rewarded with a creamy and smooth mixture. 
Simply pour into a small container and refrigerate until completely firm and chilled. Then, slice it into bite-sized pieces, and enjoy! 
With only three ingredients, you'll be rewarded with the creamiest and chewiest texture thanks to the cashew butter, almond flour, and pure maple syrup. 
While the maple syrup is a lovely addition, you could also consider making it with almond extract or vanilla extract – providing your fudge with some extra awesomeness. 
If you're looking for a sweet treat to whip up this Christmas time, then these minty truffles are a perfect choice. Plus, with a simple ingredient list, including cocoa powder, raw cashews, salt, homely, and, of course, peppermint extract – you simply can't go wrong. 
If you're looking to add some additional flair to your truffles, you could consider rolling them in cacao powder or some paleo-friendly sprinkles for an additional flair. 
Who doesn't love Nutella? For all those Nutella lovers out there, this is the perfect recipe for you. 
We all know the original Nutella is packed with stabilizers, sugars, and other ingredients you should avoid while following a paleo diet. 
However, you don't have to worry about this with this recipe. Here, you need nothing more than coconut oil, hazelnuts, cocoa powder, coconut oil, vanilla, honey, and salt. 
The result is a fudge that you simply won't be able to get enough of! 
If you're looking for a healthy and decadent treat then you need to make these paleo Nutella Fudge bars. They contain just the right amount of Nutella for something that is the perfect cross between brownie and fudge. 
While this recipe was originally intended to simply be bars, they come out of the oven with a more dense texture, making them the perfect fudge consistency – we're certainly not complaining. 
The result is something with a combination of brownie, fudge, and bar. With one bite, you'll understand what we're talking about.
For this fudge, all you'll need is a combination of cocoa powder, coconut oil, maple syrup or honey, vanilla, and some almond butter to create that deliciously smooth and creamy texture. 
You can even use the fudge as a base and then add whatever toppings you desire, such as shredded coconut, nuts, and whatever dried fruit you desire before the fudge begins to set. 
If you're looking for some indulgent fudge, then you've come to the right place. Not only is this fudge insanely creamy but it is dairy-free and guilt-free, too. 
Here, the rich flavors of coconut oil and sun butter are combined to create something irresistible. This simple recipe comes with tons of essential proteins and healthy fats, too. 
You can whip up a batch to satisfy your sweet cravings or serve it to your friends and family as a sweet treat to share together. 
If you're unfamiliar with sun butter, it is made by blending sunflower seeds into a silky, smooth paste. It is high in minerals and vitamins, as well as fiber-rich nutrients to keep your body feeling good. 
Even straight out of the freezer, these chocolate almond butter fudge cups are completely sinful. Here, the almond perfectly melts into the deliciously creamy mixture that is one part sugary goodness and another part heaven. 
For this recipe, all you need is creamy almond butter (you could even use cashew butter for a decadent experience), coconut sugar, vanilla extract, and butter. 
Simply top these cups off with an irresistible dark chocolate chip sauce for a delicious sweet treat. 
This recipe is sure to be loved by both adults and kids alike. Once you have combined all the ingredients, you'll be left with something that is beautifully delicious thanks to the banana and chocolate topping. 
For this recipe, you need peanut butter. However, since peanut butter can't be eaten on a paleo diet, you can substitute it for almond butter, cashew butter, or any other of your favorite seed or nut butter you prefer. 
Paleo recipes for almond butter fudge or chocolate fudge are easy to come across, however, what about ones with fruit on the side? 
This is where this raspberry fudge hearts recipe comes in. Here, all you need is walnuts, cashews, frozen raspberries, dates, salt, vanilla, and vanilla extract. 
Once whipped up, these are the perfect treat to celebrate Valentine's Day!
You'll be surprised to learn that these little balls of deliciousness only contain four ingredients. Yes, that's right, four ingredients! 
For this recipe, all you need is dark chocolate, roasted hazelnuts, raw honey, and coconut cream. 
The result is little fudge bites that are chewy and soft with a melt-in-your-mouth creaminess that you won't be able to get enough of. 
Final Thoughts
Following a paleo diet doesn't mean you have to be deprived of all things sweetness. Instead, once in a while, you can treat yourself to a sweet snack without any guilt feelings. 
This is where these paleo fudge recipes come in. You'll be rewarded with all the sweet, creamy, and delicious flavors you get with fudge but without any of the refined sugars or artificial ingredients. 
Hopefully, this guide has provided you with some inspiration on how to make the most delicious paleo fudge (see also "Paleo Pecan Pie Recipes").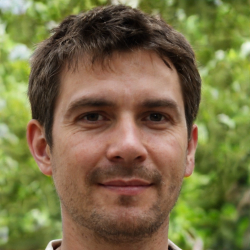 Latest posts by Justin Roberts
(see all)