Committing to a paleo diet can be very beneficial for your health. Limiting yourself to natural foods and only those available during the Paleolithic Era cuts out the processed foods and grains that our bodies can struggle to digest.
However, so many modern recipes include these banned foods in their ingredients list. This makes finding delicious recipes a tricky prospect when you're trying to be faithful to a paleo diet.
One food that can be difficult to find recipes for is meatloaf, as the majority of meatloaf recipes include breadcrumbs and bread is not compatible with a paleo diet. 
Thankfully, it is possible to find meatloaf recipes that fit within the restrictions of a paleo diet (see also "Amazing Paleo Sloppy Joe Recipes").
Meatloaf is one of those comfort foods that families across the country love to enjoy and you can continue to enjoy it even while eating paleo. 
In this article, we have 15 delicious paleo meatloaf recipes that you will love. You can be sure that they're all compatible with paleo and are just as tasty as any meatloaf you've had before.
For our first recipe, we've picked a pretty straightforward recipe for a paleo meatloaf. You'll find many simple recipes like this on this list, as well as some more interesting flavor combinations.
In the case of this meatloaf from Delish, the main ingredient is ground beef and it is mixed with onion to make the bulk of the meatloaf.
There is a little spice in the mix thanks to the inclusion of some mustard powder and cayenne pepper, but most of the ingredients are pretty standard for a meatloaf. 
This paleo meatloaf from Wicked Spatula is an Italian-style meatloaf and has several ingredients that add that Italian flavor. Instead of using a regular onion it calls for a Vidalia onion and you will also need some Italian seasoning.
The base of the meatloaf is ground beef and as well as onion, this is also mixed with some garlic. There are several ingredients included to flavor the meatloaf such as red pepper flakes and mustard.
There is no flour of any kind included in this recipe but it does use an egg to bind the ingredients.
There are some very interesting ingredients in this recipe for a paleo meatloaf! First, you can use any ground meat that you want, such as beef, chicken, or turkey, as the base for this meatloaf.
Once you've decided on your meat, mix in some mushrooms, carrots, red cabbage, and cooked pancetta to make a meatloaf that is packed full of delicious and nutritious ingredients.
The recipe does list gluten-free breadcrumbs but you can skip these without any negative effects on the meatloaf.
This is the ideal meatloaf for any mushroom lovers out there! It uses two cups of white button mushrooms, which you will need to finely chop before including them in your meatloaf.
You can make this meatloaf with either beef or pork depending on your tastes. The meatloaf is seasoned with thyme, oregano, garlic, and homemade ketchup.
There are several optional seasonings that you can add if they appeal to your taste buds.
This is a pretty simple Italian-style meatloaf that can be made and served with a homemade sauce.
The main ingredients of the meatloaf are ground beef and almond flour but the meatloaf gets a little extra texture and crunch from the addition of carrots.
The topping sauce is easy to make as well but is still delicious. It only requires three ingredients, which are ketchup, coconut aminos, and dijon mustard. Make sure that you use paleo ketchup or make your own from scratch.
This is one of the simpler meatloaf recipes on this list.
It has one of the smallest lists of ingredients of any recipe we've chosen so if you want something quick to prepare that is only going to use ingredients that you probably already have in your kitchen, then this is the one to choose!
The main ingredients of the meatloaf are just ground beef, almond flour, onion, garlic, eggs, salt, and pepper. That's all you need! When mixed, you can then cover the meatloaf with bacon for that extra special finish.
This is another meatloaf recipe that doesn't require many ingredients. Instead of being made from pure beef, however, it is instead made from both beef and pork in a two-to-one ratio. 
Once you have your meat, you don't need much else. It does require both almond flour and almond milk, as well as an egg, to make the bulk of the meatloaf and bind it together.
The meatloaf seasonings come from onion, mustard, salt, and pepper.
With this recipe, you get the instructions for both the meatloaf and accompanying glaze to place on top. The main ingredient is ground beef and this is mixed with onion and almond flour to make the base of the meatloaf. 
You'll need some paleo ketchup or you can make your own for both the meatloaf and the glaze. The recipe contains a link for a ketchup recipe if you want to give it a try!
The glaze also has some yellow mustard so it's full of flavor.
There are many options you can choose from with this paleo meatloaf! The main meatloaf recipe itself is straightforward and is made from ground beef, carrots, onion, and garlic.
However, the recipe also includes instructions for making a matching gravy and paleo ketchup topping. If you're unsure how to serve your meatloaf,  then this recipe has some options for you.
The keyword in the title of this meatloaf recipe is the word zesty! This zest is provided by some of the seasonings in the recipe, such as chili powder, cayenne, and a homemade tangy paleo BBQ sauce.
You can make this meatloaf with either beef or turkey. It looks great when sliced into as it has spinach and red bell peppers and you'll see the green and red colors in the meatloaf.
It's the paleo steak sauce that makes this meatloaf stand out from the others on the list! There are instructions to make this from scratch and it's wonderfully thick thanks to the inclusion of some blackstrap molasses.
The steak sauce is used both inside and outside of the meatloaf so you'll get a moist and delicious loaf.
Although this is a paleo recipe, you will have to be careful when making the meatloaf as there are several substitutions listed that aren't paleo. You'll definitely need to substitute the brown rice, for example!
There is also a topping sauce included in this recipe. Make sure you use appropriate ketchup for the topping.
Turkey meatloaf isn't the most common type of meatloaf, but if you want to give it a try then we have a couple of recipes for you.
This is a turkey, carrot, and onion meatloaf and it comes with a meatloaf glaze. 
For our second turkey meatloaf, we've chosen one that mixes turkey with basil. These work very well together and will make a delicious meatloaf!
There's also a topping to match this meatloaf and this is tomato and basil based.
For our final recipe, we've picked this delicious chicken basil meatloaf from the amusingly named PaleOMG blog.
As the name of the meatloaf suggests, the main ingredients are ground chicken and basil so this meatloaf will taste very different from your usual meatloaf.
That doesn't make it any less delicious, however! The ingredients are all bound together with almond flour and eggs, and you will also need some garlic powder, onion powder, and dried parsley for the final touches of flavor.
Final Thoughts
In this article, we listed 15 delicious paleo meatloaf recipes that you will love (see also "Paleo Meatballs Recipes"). Finding a meatloaf that uses only paleo ingredients may not be the easiest task but we've found 15 delicious recipes for you to try. 
Meatloaf is a popular comfort food throughout the country and everyone should be able to enjoy it. You can be sure that these recipes are all delicious, paleo-compatible, and easy to make.
We hope you enjoy whichever meatloaf you decide to try!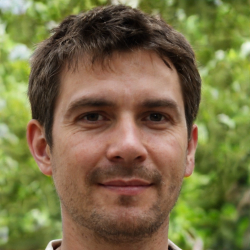 Latest posts by Justin Roberts
(see all)