There is nothing more perfect for a summertime bbq, than a southern-style paleo peach cobbler. Not only is it easy to make but it tastes utterly delicious!
The best part? It can be made dairy-free, gluten-free, and completely paleo-friendly. This means you don't have to miss out on your favorite sweet treat. 
Moreover, it is a perfect way to use up those juicy summer peaches – providing you with bursts of sweetness with each mouthful. 
With this in mind, this article will explore 15 delicious paleo peach cobbler recipes that you need to try (see also "Paleo Crackers Recipes")! Let's get started. 
Take advantage when the peach season comes around with this paleo and vegan peach cobbler recipe. Here, coconut sugar is used to provide sweetness with touches of sweet cinnamon throughout. 
In addition, the crisp and warm grain-free topping is simply addicting. The perfect dairy-free and gluten-free dessert for the summertime. 
This paleo peach cobbler is so good that all your friends and family will have a hard time believing that it is completely refined sugar- and dairy-free. 
As soon as you taste this almond flour peach cobbler, it is sure to become a summer staple in your home. 
Here, you will taste all the wonder of naturally sweet peaches, featuring the perfect syrupy goodness and a delicious grain-free biscuit topping. When paired with a dollop of ice cream – you're going to be in for a treat. 
There is something nostalgic about a peach cobbler. Maybe it's because it has been around longer than most of us or takes you back to being a child. Regardless, it is the perfect dessert for summer picnics and barbecues. 
The classic peach cobbler is one of those desserts that is passed down through generations – it has certainly endured the test of time! 
If you're looking for an ooey-gooey filling topped with a crunchy and delicious crust, then you've come to the right place. 
Generally, peach cobbler recipes contain a ton of ingredients that aren't appropriate for a paleo diet. This includes refined sugar, butter, milk, and all-purpose flour. 
However, you don't have to worry about any of this in this recipe, instead, it takes a paleo-friendly approach. 
Grilling doesn't have to stop with vegetables and meats. Instead, you can enjoy grilled fruits in your summer desserts. This is where the humble gluten-free peach cobbler comes in. 
The summer provides us with some of the best desserts and this gluten-free peach cobbler is one of them. It is egg-free, paleo, dairy-free, and refined sugar-free, too. 
Whether you decide to bake it in the oven or even grill it, this peach cobbler is a healthy dessert that the whole family is sure to enjoy. 
For this recipe, all you have to do is slice up some peaches and spice them with nutmeg and cinnamon to create a delicious sweet treat. 
Filled with delicious fresh fruits and topped with an utterly addictive almond crust, this grain-free cobbler is sure to have all your friends and family coming back for more. 
That said, this recipe takes a healthy twist on the classic recipe thanks to swapping out the processed gluten flour with paleo-friendly almond flour. 
Packed with wholesome ingredients, you don't have to worry about eating seconds. Here, the almond flour provides you with a cinnamony, fluffy layer over some deliciously sweet peaches. 
Once baked, the result is a layer of delicious bubbles and flavors that blend into a decadent dessert. 
If you're looking for the perfect topping for your cobbler, then you can't go wrong with almond flour. It provides a crumble texture and nutty flavor that is perfect for your cobbler recipe. 
If you have some frozen fruit and vegetables in your freezer, then there is no better time to make this paleo peach cobbler. 
The best part? It is super simple to make. All you have to do is add some frozen peaches to the bottom of a baking dish, then place them in the oven to allow them to separate slightly. 
Once done, sprinkle it with some coconut sugar. Then place the remaining ingredients over the top of the peaches and top with slivered almonds and coconut oil. Then your cobbler is ready for baking! In no time, your kitchen will be smelling divine. 
Sometimes, peach cobbler can get a little messy, therefore, you avoid this thanks to these peach cobbler muffins – the perfect bite-sized amounts. 
The best part? You only need a handful of basic ingredients. This includes cinnamon, almond flour, salt, baking soda, coconut oil, coconut flour, maple syrup, vanilla extract, 2 eggs, coconut milk, and, of course, peaches. 
The result is perfectly sized muffins that can be eaten as a grab-and-go breakfast or even as a sweet snack in the evening. 
When summer comes around, you can help but start making every peach recipe possible. Not only are they beautiful, but will fill your kitchen with a distinct peach aroma. 
While they taste delicious raw when baked, you are rewarded with a gooey sweetness that is like no other. The result is something that is a little sweet, a little sour, and plenty of peachy goodness. 
You simply can't go wrong with baked peaches topped with an almond flour crust – you won't be able to get enough of it, especially when topped with some dairy-free ice cream! 
If you're looking for a simple recipe with tons of rewards, then you can't go wrong with these healthy paleo peach cobbler muffins. 
These muffins are made using coconut flour and almond flour, which are packed with plenty of healthy fats all within one bowl! 
Whether you prepare them ahead of time for a simple grab-and-go breakfast or eat them as a snack throughout the day, they are the perfect bite-sized portion. 
While this may not be a traditional peach cobbler, it has all the taste of one in the shape of a cake. Here, layers of juicy peaches are topped with a deliciously sweet crumb. 
Then, to finish off, it is drizzled with a simple drizzle – making it the perfect sweet treat for dessert or breakfast. The best part? It is naturally sweetened, dairy-free, and gluten-free. 
When the days start to become longer and the sun gets hotter, there is no better time to make a cobbler than now.
This recipe combines sweet blueberries, juicy peaches, fresh basil, and a vegan, grain-free biscuit top for the perfect mix of crunchy and gooey. 
Simply top with a dollop of dairy-free ice cream for the perfect dessert – it is sure to be a favorite among all your friends and family! 
If you're looking for your new summer staple, then look no further than this paleo-blueberry peach cobbler. 
There is nothing better than fresh fruits all encompassed in a light and flaky pastry with a side of coconut whipped cream! 
The best part? It is super simple to make, gluten-free, dairy-free, and low in sugars, too – what's not to love?!
The star of the show in this recipe is certainly the almond crumble. Here, the ingredients are super simple and wholesome. 
The bulk of the crumble is made using finely ground almond flour. This then comes together in a high-powered blender with chopped pecans, almonds, date syrup, and coconut oil. So simple yet so effective! 
For many people, cooked fruit isn't something they typically lean towards. However, once you combine sweet nectarines and peaches with a crisp and tart rhubarb and then top it off with a date-maple-cinnamon streusel – you won't look at cooked fruits the same way again. 
Simply top it off with some toasted coconut for the ultimate decadent experience. 
There is no better way to enjoy your fresh, tree-picked summer peaches than in this peach cobbler recipe. Not only is it incredibly delicious but is healthy enough to eat for either breakfast or dessert. 
For the filling, all you need is arrowroot and a little bit of maple syrup. Then the crust comes together with pecans, almond flour, coconut oil or grass-fed butter, and vanilla. 
Final Thoughts
Nothing screams summer more than a gooey and deliciously sweet peach cobbler. Thanks to these paleo recipes, you'll want to eat this dessert whenever the sun comes out! 
If you're looking for a healthier alternative to the classic recipe, then you've come to the right place. Hopefully, this guide has provided you with some inspiration for the best paleo peach cobbler recipes (see also "Paleo Mug Cake Recipes").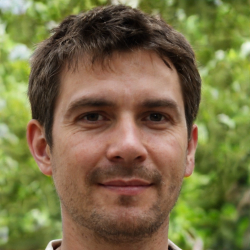 Latest posts by Justin Roberts
(see all)