There's no better way to start any day than with some waffles. You can add a huge variety of toppings from fresh fruit to coconut cream or even more savory options, such as eggs and avocados.
Best of all, waffles can be enjoyed by everyone, no matter your dietary restrictions.
If you follow a paleo diet, then you may have thought your waffle-eating days were numbered. But, rejoice, as there are many paleo-friendly waffle recipes to please your cravings.
For those who may not know, a paleo diet is based on the concept of eating the same foods that our hunter-gatherer ancestors would have consumed during the Paleolithic era.
This includes unprocessed foods, including eggs, fish, fruits, vegetables, meat, seeds, and nuts, whereas dairy, grains, refined sugar, and processed foods are avoided.
We know what you're thinking, "our Paleolithic ancestors didn't eat waffles, though!" Okay, that's true, but it is possible to make waffles from paleo-friendly ingredients and follow the principles of the paleo diet.
For instance, paleo waffles are made with grain-free flours, such as coconut flour, almond flour, or cassava flour, and are sweetened with natural sweeteners like maple syrup or honey. 
Most importantly, paleo waffles are a fantastic alternative to traditional waffles for those who follow a paleo lifestyle or have dietary restrictions due to food allergies or intolerances.
Read on as we guide you through 10 of the most delicious and nutritious paleo waffles so you can enjoy them and stick to your dietary goals.
Super Tasty Paleo Waffles Recipes
We start with this incredible almond flour waffle recipe. Ready in only 30 minutes or so, these paleo waffles are wonderfully crispy on their outsides but fluffy and soft in their centers. And, even though they are paleo-friendly, they taste just as good as traditional waffles.
If you make too many, you can freeze these waffles to use again. This is a great way of enjoying them throughout the week as tasty treats.
Their vanilla flavor is super sumptuous and the smell they give off as they bake is divine. Try them yourself and you'll see why they are so special!
This classic paleo waffle recipe will assure the crispiest waffles with the fluffiest, most tender insides (see also "Whole 30 Paleo Weekday Recipes"). Again these are freezable so go wild and make a large batch! They are dairy free, gluten free, and void of any refined sugar. Oh, and the recipe is simple to follow.
We decided to toast these waffles in a toaster and they were majestic. You can also toast them in a toaster oven, or bake them in a regular oven if you wish to make them ahead of time.
If you like, you can make these waffles without separating the egg yolks and whites to achieve a thicker texture (but the difference is minimal). However you make these waffles, they will end up as your new favorite treat. 
Get that blender ready to make these grain-free paleo waffles. Made with stewed strawberries, this waffle recipe is a perfect choice for a healthy breakfast.
Packed with fiber and free of refined sugar and gluten, the tangy strawberry flavor that oozes from these waffles is mouth watering. 
For this recipe, coconut flour or tapioca flour works very well in place of grains. The result is a soft and chewy waffle with the perfect amount of crispiness on the outside. Stop drooling and start making! 
If you love light, crispy waffles, this is the recipe for you. No one likes a soggy, squishy waffle and thankfully, with this recipe, you will only get the crispiest waffle exteriors with the fluffiest insides.
The crisp sound as you cut through them is like music to the ears but the real magic is when you bite into them. 
Whether you enjoy these waffles for breakfast or for brunch, they will surely wow you. Made with almond flour, you'll never know that they are not made traditionally.
Gluten free refined sugar free, and dairy free, you can enjoy these waffles guilt-free and still enjoy the undeniable waffle taste every time. 
Delicious, flourless, and nutty, these low-carb waffles are as paleo as they come.
If you're like us, you get quite excited when seeing only a few ingredients needed in a recipe. And, that's just the case here as only four simple ingredients are required with no flour of any kind. 
These flourless waffles will start your day on the right foot and they are so tasty, you may even want some for dinner too!
Follow this recipe and you will achieve beautifully golden waffles with a slight crispy exterior and a sumptuously soft inside. These are how low-carb paleo waffles should be!  
Why would you want a normal, run of the mill waffle when you can enjoy Belgian waffles? And, paleo-friendly Belgian waffles are even better! These are hearty, thick, and exceedingly satisfying. 
With a steamy soft inside and a crispy, crunchy outside, these Belgian waffles are some of the best we have ever tried.
Coconut flour is used instead of all-purpose flour giving these waffles a light, crispy texture and a few cashews are blended into the batter to give them a thicker feel.
Cashew nuts also provide the waffles with healthy fat, protein, and fiber to supercharge the start of your day. 
This recipe uses mashed bananas, almond flour, and coconut flour to create a sweet and satisfying paleo waffle. If you have recently started a paleo diet, you've probably been struggling to find recipes to satisfy your cravings.
Thankfully, this recipe allows you to continue enjoying tasty waffles without the high calorie contents and sugar-laden breakfasts. 
Banana and almond butter are used in place of ingredients like flour and milk to create a delectable paleo batch of waffles. With a sprinkling of cinnamon on top, these waffles are delicious, nutritious, and totally addictive. 
Another nutritious breakfast option, these coconut flour waffles with peaches and pecans are a surefire way of putting you in a good mood for the day ahead.
Made with coconut flour, these waffles are paleo-friendly and gluten-free. But, it's the addition of fresh peaches and toasted pecans that make these waffles extra special.
All you'll need is coconut flour, salt, eggs, almond milk, baking powder, vanilla extract, and honey to get you started on this quest to the perfect paleo waffles (see also "Is Honey Paleo?").
All the dry ingredients are mixed together in one bowl, and the wet ingredients are mixed together in another bowl. Then, you mix both together to form heavenly waffles. 
Bacon and waffles. Is there a better combination? Well, when it comes to appetizing breakfasts, we don't think so.
These paleo bacon waffles are a must-try for anyone who is a little bored with their usual breakfast dishes and routine. Add in some maple syrup as well, and you may have the perfect breakfast!
This mind blowing recipe will help you create crispy waffles with fluffy, mouth watering insides. Yep, they are like the very best Belgian waffles but paleo-friendly!
These waffles are bursting with flavor with the bacon adding a savory twist. Top off with a fried egg to give yourself a delicious protein-packed breakfast.
Sometimes, we all wake up on the wrong side of the bed after a bad night's sleep or the impending work day hanging over us like a shadow.
If you feel like this, we highly recommend trying this paleo Waffles with Strawberry Chia Jam & Coconut Whipped Cream recipe. One bite and you will forget your troubles and get lost in a world of strawberry, waffle goodness. 
This recipe will make around three waffles, but you will need quite a lot of strawberry jam and coconut cream. Therefore, why not make a large batch for the rest of the week?
Once your waffles are made, top them with strawberry chia jam and whipped coconut cream and serve. The perfect treat for yourself or for guests! 
In Summary
Just because you're following a paleo diet, it doesn't mean you have to forgo your favorite treats and meals. You can still enjoy delicious flavors and continue a healthy, paleo-friendly lifestyle.
As you can see above, there are a variety of paleo waffles to satisfy your taste buds. All are made without grains, dairy, or processed sugars. Instead, they're made with paleo-friendly ingredients like almond flour, and coconut flour.
Try our choice of tasty paleo waffles and you will soon see that they are the best way to start any day. Overall, paleo waffles are a delicious and nutritious breakfast option that are easy to make and customize to your liking.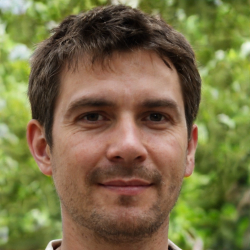 Latest posts by Justin Roberts
(see all)