Many stir-fry and noodle recipes will often use thicker noodles as the main ingredient to soak up as much of the surrounding spices, sauces, and flavors offered by the extra ingredients as possible.
However there are still many recipes that make use of thinner noodles that are also a little chewier in texture and quite different in their taste. 
This includes soba noodles which are now the main ingredient in a range of exciting stir-fry and noodle recipes, with one of the most delicious and popular being sesame ginger noodles which mixes together minced ginger with a few nutritious veggies and greens to create a small and appetizing noodle dish that really stands out for having such a unique taste. 
Here is how you can whip up a bowl of sesame ginger noodles, along with what nutritional benefits come from enjoying it. 
What Are Sesame Ginger Noodles?
A bowl of sesame ginger noodles is made up of some thin and stringy soba noodles mixed with a few crunchy vegetables, sesame seeds and cilantro which is then covered by a thick layer of savory-sweet soy ginger sauce that keeps this dish tasting light, fresh, and appetizing. 
While it was traditionally enjoyed in parts of Japan, this ginger twist on the standard noodles recipe has become increasingly popular throughout recent years in many areas of the world for its usage of ginger sauce which can be easily made with just a handful of ingredients, making this a quick and easy recipe and perfect as a pick-me-up for the day or week ahead. 
What Do Sesame Ginger Noodles Taste Like?
While it may go without saying that these noodles give off a very strong, warm and slightly spicy ginger flavor thanks to the layer of sauce used in the recipe, the entire dish is also fairly crunchy in its texture, and this is because of the vegetables, green onions and sesame seeds that gives each bite you take a very satisfying crunch as you tuck into the deliciously warm and creamy flavor. 
Complimenting this crunchiness is the noodles themselves which are quite thick and chewy in their texture which also helps to even out the noticeable heat and sweetness that comes from the ingredients used to make the ginger sauce. 
As a result, this noodle recipe gives off a very bold ginger flavor that is hard to resist once you get a taste of it, especially with the extra ingredients only helping to enhance the flavor while also adding a hint of sweetness and spiciness to the mixture. 
Are Sesame Ginger Noodles Healthy?
Sesame ginger noodles are incredibly nutritious and packed full of vitamins and minerals thanks to the light and refreshing combination of ingredients it uses.
Alongside the vegetables is also a little bit of cilantro which contains good levels of Vitamins A, C and K while the soba noodles themselves contain fewer calories and more fiber and protein than traditional pasta, making it a great alternative if you are being cautious about your intake. 
The recipe also contains a moderate amount of protein and potassium, and while the sauce mixture does raise the fat contents up to around 10 grams, each serving only contains roughly 450 calories so you won't have to worry about this recipe going overboard on the calorie count. 
Ingredients To Make Sesame Ginger Noodles
The key to making the perfect sesame ginger noodle recipe is striking the perfect balance between crunchiness and creaminess, and the best way to do this is to include vegetables that aren't too soft while using a few particular ingredients to make the sauce thick and caramel-like in its texture and ginger taste. 
Here are all the ingredients you will need to prepare this quick and easy noodle dish:
10 Oz Soba Noodles – Wanko soba and Torora Soba are two of the most flavorful variants you can choose from, however, any soba noodles will work perfectly as long as they are thin. 
1 Tbsp Cooking Oil – This will help to keep the ingredients moist and prevent them from clinging to one another while being heated up. 
1 Thinly Sliced Red Bell Pepper – Sweet, juicy and packed full of flavor, red bell peppers are must-add ingredients to any sesame ginger noodle dish. 
1 Thinly Sliced Yellow Bell Pepper – The fruitiness of a single yellow bell pepper helps to even out and enhance the sweetness of the red bell peppers. 
½ Cup Chopped Cilantro – The citrusy taste of cilantro gives the dish a very light and refreshing taste while also adding a little more crunchiness to the texture. 
1 Medium Carrot – Carrots add a tremendous amount of potassium and antioxidants to the recipe, along with some more added crunchiness to chew down on. 
½ Cup Scallions – Scallions helps to add just a hint of spiciness to the recipe. 
1 Medium Onion – A single onion enhances the crunchiness of the dish even more while also providing a slightly more earthy taste. 
2 Tbsp Sesame Seeds – You can't have a sesame ginger noodle recipe without adding in a few nutty sesame seeds, and the good news is you don't even need to worry about toasting or baking them. 
Sauce ingredients:
¼ Cup Soy Sauce – While you can use either dark or light soy sauce, dark is often the better choice for its richer and sweeter overall taste. 
3 Tbsp Minced Ginger – Crucial for adding that spicy and warm ginger flavor to the sauce. 
3 Tbsp White Rice Vinegar – While any of the 3 main variants will work well, white rice vinegar often works the best because of how mild it is, meaning it won't overpower the ginger. 
3 Tbsp Mirin – Mirin gives the sauce its syrupy consistency along with adding a little more sweetness. 
½ Cup Hoisin Sauce – The salty and tangy flavor contributed by hoisin sauce can taste a little meatier when infused in a noodle recipe. 
1 Tbsp Sesame Oil – While you can use any type of oil as part of the sauce including vegetable oil, sesame oil is often the better option because it makes the nutty sensation of the entire dish stand out even more. 
How To Make Sesame Ginger Noodles
A delightful bowl of sesame ginger noodles can be made in as little as 15 minutes, making it perfect when you need a quick and easy meal to enjoy after work, or something light and refreshing to keep you going for the day ahead. 
Here is how you can make a dish of sesame ginger noodles:
Step 1 – Start Boiling the Noodles
Start by adding the soba noodles to a medium-sized pot and boiling them over medium heat for around 2 minutes.
The rule of thumb when preparing soba noodles is that you don't want them to cook until al dente, or in between being soft and hard, instead, the noodles should always be on the softer side so that they can complement the crunchier ingredients.
Once they look ready, drain the noodles and place them to one side. 
Step 2 – Prepare the Sauce
Add all of the sauce ingredients into a single small bowl and start stirring together for up to 3 minutes.
Ginger sauce gives off a very warm spiced aroma once it has been thoroughly mixed together, so always check to see if the smell changes and if the texture has become more creamy to know when it's finally done.
Step 3 – Stir-Fry the Vegetables
Pour the cooking oil into a medium to large frying pan and mix in the bell peppers, onions, carrots, and any other crunchy veggies you would like to add to this recipe. Heat these ingredients over a high heat for 3 minutes.
The easiest way to tell if the ingredients are done cooking, aside from the delightful smell they will give off, is by testing whether the carrots are fork tender.
If your fork does slide easily into the carrot pieces without breaking them apart, this means the ingredients have been thoroughly cooked. 
Step 4 – Add the Noodles and Sauce
Pour the sauce into the pan and mix in the soba noodles and scallions.
You will only need to mix these ingredients for 3 minutes since the noodles have already been thoroughly cooked and the sauce will only need to be heated up over a medium heat until it's piping hot and infused with the noodles. 
Step 5 – Garnish with Sesame Seeds and Cilantro
Once the sauce is bubbling and all the ingredients are piping hot, mix in the cilantro and evenly cover the entire mixture with sesame seeds to enhance the flavor and crunchiness.
Once the sesame seeds have been sprinkled over the top, the sesame ginger noodles will be well-cooked and ready to serve. 
Substitute Ingredients
If you don't have some of the ingredients lying around, or if you're struggling to find some in the store, there are a few easy substitutions you can make that won't ruin the taste, texture or overall flavor of the dish. 
Brown rice noodles for example are the perfect substitute for soba noodles if you're finding it hard to get your hands on some since they are light, soft and just as easy to digest as soba noodles.
They do taste a little more grainy than soba noodles, however, they are also incredibly healthy containing decent amounts of potassium along with a good amount of protein. 
Udon noodles are another good substitute to use instead of soba noodles, however they do have a much more noticeable amount of sourness to them so keep this in mind if you or some of your guests may prefer something a little sweeter. 
In terms of the vegetables, you can use broccoli or cauliflower instead of carrots if you don't have any with you are the time, as long as it's crunchy and not too overpowering in its flavor, you really have free choice on what veggies you want to include as part of the recipe. 
When it comes to the ingredients which make up the sauce, hoisin sauce can easily be replaced by either sweet soy sauce or miso paste.
Both still possess that delicate mix of being both salty and tangy in flavor, making them excellent substitutes. 
Regarding the white rice vinegar, this can be switched out for either white wine vinegar or apple cider vinegar, however, both of these are a little on the sweeter side, especially the apple cider which tends to taste a lot juicier, so keep in mind that it can alter the overall taste a fair amount. 
How Spicy Are Sesame Ginger Noodles?
Because of the minced ginger used to make the sauce, a bowl of sesame ginger noodles definitely has a very potent and noticeable amount of heat to it which makes it the perfect appetizer for all those lovers of spice.
It should be noted however that the heat never goes overboard due to it being evened out elegantly by the sweeter ingredients such as the soy sauce and rice white vinegar.
Additionally, the noodles themselves are very mild in taste and very chewy in texture which helps to ease out the spiciness even more. 
Because of this, while a bowl of sesame ginger noodles definitely has a very apparent kick to it, it's still very manageable and can be enjoyed by anyone who doesn't mind a little bit of spiciness being added to their noodle-based meal. 
Summary
If you like the idea of adding a hint of spiciness to a noodle recipe, along with each bite having a satisfying crunch, there's no reason not to prepare a delightful bowl of sesame ginger noodles, especially since it can be made in just 15 minutes with only a few ingredients required. 
Don't be shy about adding in any extra ingredients that fit your taste preferences such as a few extra crunchy veggies for some added texture or some more fiery ingredients to make the sauce even spicier, the options really are endless when it comes to this quick and easy recipe.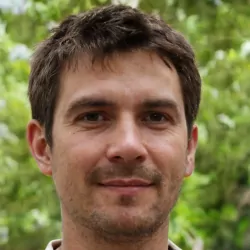 Latest posts by Justin Roberts
(see all)