When we think of whole30, recipes can often seem simple, and while this is great, some may compromise on flavor. This can make it hard to stick to a diet plan that will make you feel healthier and full of energy.
While the weekend can be a relaxing and laid-back time of the week, it doesn't mean you have to cut corners and can still make dishes that are worthy of the exciting and fun labels.
You can still get this with recipes that are relatively simple to make. Read on to find twenty whole30 recipes that are easy to make and will become your new favorite in no time (see also "Amazing Whole30 Cauliflower Recipes"). 
What better place to start than breakfast, where you can make this bowl that doesn't take much effort?
All you need is bacon, cooking oil, potatoes, eggs, avocado, white pepper, garlic powder, and some hot sauce for an optional garnish.
Watch how this can be used in a skillet, cooked, then assembled, and here you'll want to be careful of placement as you want to fit this light dish in a bowl without any spillover. 
This stew is one with a purpose, as when made well and combined, you get a warming recipe full of compassion, as anyone will appreciate the effort you put into this. 
All of this is in the ingredients, including chopped parsley, kale, butternut squash, yellow potatoes, parsnips, carrots, celery, onion, smoked sausage, oil, and some Italian seasoning, which gives off a potent aroma. 
What about chili with more bite in an overall wholesome meal that is perfect for a crowd? You can heat it on the stovetop or in an instant pot.
While this doesn't use beans, the sweet potatoes are added in as a substitute, but if you're worried about texture and nutrition, you can always add other veggies to the recipe. 
A nice snack that can double up as a side with a main meal, you can see the value these have as you can alter the quantity and even premake a batch to use later.
Some chicken breast, spices, lime juice, apple cider vinegar, garlic, and some salt make up this filling that sets well into any taco shell that can be as generous and plentiful. 
There's nothing better than a salad, so if you're having a weekend slump, you can gather all these ingredients together and give them a nice stir, and all that is missing here is the chicken.
For this, you can use some chicken breasts and bake them to get the maximum juiciness, which works really well with the vinaigrette and Mandarin pieces for a mixture of sweet and savory flavors which aren't overpowering. 
The next best thing to a salad is a salsa, and we have seen over time that this is a very versatile mix, as it can be as exquisite or subtle as you want it to be.
The chicken is the main draw here, as you can use sections and sear for two minutes, then flip them over, so you get a nice overall crispy flavor that is mouthwatering. 
We look at another meat, and for this recipe, you have pork cutlets that get a nice breaded layer of seasoning and pulsed almonds, but that's not all.
There is also the mushroom-based sauce, which uses these with garlic, avocado oil, and the residue from the pulsed almonds for a creamy sauce that has a lot to offer. 
If you find that seafood isn't your thing, you can always give it another try with this curry soup recipe, and you'll discover its delicate flavor works well here.
The curry paste and broth have an excellent coverage that slowly reveals other flavors, so it can be fun to try out.  
This salad uses pulled pork rather than chicken staples, so you can experience a ranch-type flavor that pairs well with smoky ingredients and sauces.
You can add cabbage, grated carrot, cilantro, almonds, and vinaigrette to finish the ensemble. 
Scrambled eggs can be overdone, but some may have yet to think about combining these with curry powder, and quite frankly, it is indeed a noticeable transformation.
When your eggs are mixed well, you have a creamy dish that is ideal for a snack. 
This means you could use this for any time of the day, so you could place some on toast or have it alongside pieces of bacon, turkey, or sausage, which becomes a complete meal. 
For an all-in-one meal, you can look to this sheet recipe, which has chicken thighs with an assortment of caramelized vegetables. You can mix up the herbs and spices, rub them into the chicken, and watch how golden and crispy it turns out. 
This would make a perfect dinner for the family or a gathering, as you can let people serve themselves, and you can see how much juice and flavor these can hold. You can substitute the veg if the flavor profiles are more effective. 
Stuffed recipes are simple and can be done with a good range of vegetables as long as you have enough depth for the fillings.
Here we have butternut squash halves with Italian sausage, baby spinach, cranberries, apples, and some garlic cloves. 
Alfredos are popular with any diet, and you can make this whole30 dish and still get the benefits from the veg, which is spiralized and made not to taste too dry.
You can make this complete with chicken breast, broccoli florets, and some alfredo sauce. 
Compared to the beef ragu, this recipe gives you an Italian charm even though it uses slightly different ingredients.
Veggies are used here again to get some nice earthy flavors that, when mixed with the beef sauce, have you wanting to try it again in different variations. 
For those times when you want a simple snack, these tuna meatballs are perfect to fight away any cravings, and you can have something different from beef or chicken.
You can add some garlic, almond flour, eggs, spinach, and lemon juice to make these even more delicious.
The theme of seafood brings us to a recipe dedicated to the richness of salmon, and here you get a nice tender piece with a dijon mustard glaze that brings a bit of spice to it.
You layer, then bake for 18-20 minutes, depending on the thickness of the portion. 
We now move onto the desserts, and the whole30 diet means we can take full advantage of fruits and spices to make a warming bake that is very fulfilling.
You can add some raisins and sweet potatoes to give the dessert more depth, which can only be a good thing. 
If you're more of a pudding person, this recipe uses chia seeds, coconut milk, vanilla extract, and a sweetener of your choice to produce a thick and creamy dessert.
All you need to do is blend all this and leave it in the fridge for an hour before serving. 
A muffin can make a good snack and a portable recipe, so you could make these in batches and have them for home, work, and even on special occasions. The dates, pumpkin spice, and chopped pecans give it a whole new appeal.
These can be a fun addition for a family dinner, as in fiti with the fall seasons, you could use these for Thanksgiving of have as a pick me up even after the weekend is over. 
There's no doubt that a cheesecake can finish off a lovely weekend, so you don't have to feel guilty making these as they are dairy free as well as delightful.
If you keep this fruit-based, you can get a lot of sweet flavors from these, which range from a sweet-tart taste to a sharp kick, as these also use walnuts, cacao nibs, coconut flakes, and some dates, so this isn't too overwhelming. 
Closing Thoughts 
All of these recipes can be made in a few steps and generally don't take longer than an hour to make, so you have plenty of recipes to choose from for your next meal. 
Part of the fun with these recipes is trying other combinations, as you can make them as bold as you like, and if this doesn't work out for you, there are plenty of opportunities for experimentation.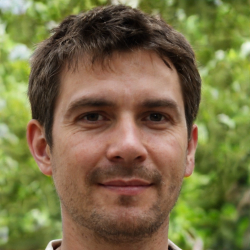 Latest posts by Justin Roberts
(see all)