Breakfast is the most important meal of the day, we've all heard that before. But so much breakfast food can be so boring! It's the same carbs everyday.
If you're looking for something that can excite you out of bed in the morning, you need to try this super strawberry, banana, and chia seed smoothie.
It's perfect to get you going in the morning, but also works as a snack as you can make it in less than 5 minutes. 
The Benefits
This smoothie is absolutely a king of breakfasts, if just for the incredible benefits that you can get from it.
Whether you're vegan, vegetarian, gluten-free, dairy-free, or even trying to go without refined sugar, then this smoothie recipe is still available to you. 
The banana and strawberries are packed full of flavor and nutrients to get you going and set your day up right.
Plus, it means you're done with 2 of your 5 a day before you even start working, how's that for a speed-run? 
You could add protein powder to this recipe as well if you're looking to build up muscle, or are having this smoothie before or after a workout. 
However, the piece de resistance of this recipe is the inclusion of chia seeds. Chia seeds are an up and coming superfood that are growing increasingly more popular as time goes on.
These seeds are chock-full of antioxidants, vitamins, fiber, and omega-3. They have been credited as having the ability to reduce the risk of heart disease and significantly improve the health of your gut and digestive system.
If you haven't tried a chia seed recipe, then this is the absolute best place to start. 
What's In This Recipe
What makes this recipe so great for anyone looking for a delicious and healthy breakfast is because of how simple it is.
If you're like me, then you might hate having to spend ages making a filling breakfast in the morning, mostly because you're always pushed for time before your day starts, and the idea of piling the sink full of dishes to have to come back home to at the end of the day sounds like a nightmare. 
That's what I absolutely love about this recipe. All that's included is as follows: 
Frozen or Fresh Strawberries
Frozen or Fresh Bananas
Chia Seeds
Milk of Choice
That's it, that's all you need. 
You can use regular milk if you're not trying to avoid dairy, but I also recommend oat milk for a different flavor.
You can always experiment with a bunch of different milk alternatives to see which one you like best. Some people say that this kind of recipe works really well with almond milk, but that's never been to my taste. 
Feel Free To Add More
What's so great about simple recipes is that you can add so much to them to make them however you want to. Like I said, you could add protein powder to this recipe to bulk it up a little (and help you bulk up too). 
I've also garnished this recipe with pistachio nuts before (another source of protein), but you could add vanilla flavoring, honey, blueberries, granola, and fresh fruit to the top.
Anything your heart desires can be used to sup this smoothie up to be even better than it already is. 
If you're not so bothered about the health aspect of this recipe, you could add chocolate to the top, or even whipped cream to make it more of a dessert for after a meal – just make sure you save yourself a lot of space, because, as I mentioned, it's pretty filling. 
Why Chia Seeds? 
Like I said, chia seeds are on the up and up. But why? Well, the short answer is that they're just so good for you. As mentioned previously, they're full of nutrients that are really great for you and your body.
They've also been credited with helping people dealing with constipation thanks to the fiber content. 
Beside the obvious health benefits that anyone would want, they're also very filling.
They turn this smoothie from being an "okay" breakfast straight to a breakfast that can rival a full fry up in terms of filling you up and keeping you going until lunch. 
How To Make The Most Out Of This Recipe
There are a couple of things that you can do to really get the most out of this recipe. 
One thing you can do to make things even easier for you is to prepare your ingredients (except the milk) into ziplock bags earlier in the week so that in the morning, you can pop the fruit and seeds into the blender and set it off. No need to chop or measure. 
This way you can prepare a whole week's worth of breakfasts in one session and save yourself a lot of hassle. 
Another way to make the most out of this recipe is to triple it. Make the smoothie in bulk and then freeze it in a mason jar until you're ready to drink it.
I like to make it, freeze it, then use it as a topping for granola throughout the week 
Finally, using pre-frozen ingredients is going to help this smoothie come out, well, smooth, instead of watery. The last thing you want is a watery smoothie, but that's where the frozen fruit and chia come in.
The cold temperature will turn your milk into more of an ice cream, and the chia seeds turn gelatinous when added to liquid, making your smoothie thick and creamy. 
Strawberry, Banana, And Chia Seed Recipe
Finally, the part you've been waiting for. This smoothie is thick, sweet, creamy, and, most importantly, absolutely delicious.
It makes a great snack or full breakfast, and can be frozen and kept for up to a week (though I seriously doubt that it'll last that long). 
Prep Time
This recipe takes about 5 minutes to prepare, and that's only if you haven't already sorted your ingredients into a meal prep bag in the freezer. 
You'll then spend probably about 2 minutes blending all of the ingredients together before being able to serve. 
All in all, the total time to create this recipe is less than 10 minutes.
Serving Size
This smoothie should make 2 servings. If you want to increase the amount of ingredients that you use, you can serve a lot more people, or keep the smoothie in the freezer for up to a week for a super easy breakfast. 
Calories
Altogether, this recipe contains 240 calories, split that across the 2 servings, and each glass full should come out at about 120 calories. 
Ingredients 
2 Cups of Frozen Strawberries
1 Banana (Frozen or Fresh) 
1 Cup of Milk (whatever your preference is) 
2 TBSP Chia Seeds
Instructions
Finely chop your fruit and add it to your blender. 
Measure out your chia seeds and these to your blender.
Measure out your milk of choice then pour that into your blender as well. 
Blend everything together until it is at the consistency that you prefer. 
Pour into a cup and enjoy!
Yup, it really is that simple. Now, once you've poured it into your cup, you can add any garnishings that you like, but this is the simple base-recipe that you can create variations on however you want to. 
Top Tips
Use A Good Blender
Nowadays, you can get pretty good blenders for a pretty affordable price. You can get single serving ones, handheld blenders, or your traditional countertop blender. 
Whatever works best for you, make sure that the blades stay sharp and that the motor is working well. 
This will ensure that your fruit or veg is all getting blended properly, and not leaving large chunks completely untouched. Especially if you're using frozen fruit, as weaker or dull-bladed blenders will struggle with this.
Measure Your Chia Seeds Carefully
If you use too many chia seeds, you could end up with a bit of a lumpy mess that might also cause you to need to go to the restroom with a little more urgency than you were expecting.

These little seeds have a really high fiber content, and can be used as a laxative. Don't use too many unless you know what you're signing up for.
Start Your Blender On Slow
The best results that you'll see will come from putting your blender on slow to begin with for the first 5 seconds or so. After this you can put it on high in order to totally incorporate everything together.
Don't Leave It Sitting Too Long
Chia seeds are super absorbent, and as they are great for thickening up your smoothie, you'll probably find that your smoothie is almost too thick to drink after just 10 minutes.
If this happens, don't worry – just add more milk and mix well, this should loosen it up again. Or at least, it will for another 10 minutes, before the seeds absorb all that liquid again. 
This isn't the kind of smoothie you can make before you get dressed and leave whilst you sort yourself out. Once you've made it, you have to commit to eating it straight away if you want to get the best out of it.
Use Ground Chia Seeds For A Smoother Texture
If you sometimes struggle with the texture of foods that include full chia seeds, you can just as easily include ground chia seeds instead and still get all the benefits out of the seeds, without the gelatinous texture.
Use Mango If You Hate Banana
Bananas can be a divisive fruit for a lot of people. Though I doubt you'll have made it this far through the recipe if you hate bananas.
Perhaps you don't hate bananas but don't have any on hand, or they're already promised for a different recipe. 
Either way, you can use frozen mango as an alternative to get a summer fruits vibe for this recipe, and make it even sweeter.
Use Cauliflower For Less Sugar
You'll have to trust me on this one. If you're watching your sugar intake for whatever reason, you can always replace the banana with cauliflower. 
You won't be able to taste it through the strawberries anyway, and it will just make sure that the texture and nutrient content stays about the same. 
Final Thoughts
Well that's how you make the kind of breakfast foods. Now that you have the basic ratios for a great chia seed smoothie down, you can go out and experiment with all of your favorite fruits in order to find that perfect smoothie (see also: All About Dragon Fruit: How To Make The Perfect Dragon Fruit Smoothie)for breakfast.
Smoothies are amazingly versatile and you're sure to find one you like,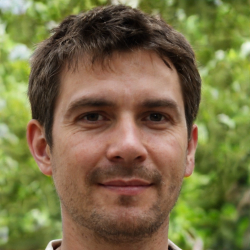 Latest posts by Justin Roberts
(see all)