One of the easiest ingredients we can cook with when following a strict diet is chicken. It is versatile, healthy, full of protein, and very easy to turn into something special. 
Take chicken thighs for example. Chicken thighs are already tender, flavorful, and succulent without adding any seasoning or vegetables. Just imagine what we can do with them when we have a good recipe to follow.
Chicken is also low in carbohydrates. As a result, it is a great protein to use in keto-friendly dishes. In fact, there might actually be too many keto-friendly chicken recipes to choose from. 
Today, we want to show you the very best keto-friendly recipes we can make using chicken thighs. In this post, we've listed 10 superb keto chicken thigh recipes (see also: 10 Superb Low-Calorie Chicken Recipes Everyone Will Love)you can make quickly and easily. 
If you're looking for inspiration for your keto diet, make sure you keep reading.
We'll kick start this list with a super simple chicken thigh recipe that takes very little effort to make. All you need to make this hearty and healthy dinner is your chicken thighs and a selection of vegetables.
One of the best things about this recipe is that you can use any leftover vegetables you like. Having said that, this particular recipe calls for carrots and onions.
To give the dish more flavor, make sure you season your veggies and chicken with garlic, salt, rosemary, and black pepper.
After that, you can cover the ingredients in olive oil and put them in your oven to roast. You won't have too much washing to do after this dinner either as it can be made in one pan.
If you have family or friends coming over for dinner and you want to make something a bit more exciting, but without too many carbs, give this crock pot lemon garlic butter chicken thighs recipe a try. 
The first thing you'll notice about this recipe is how easy it is to make. All you have to do is mix the ingredients in a crock pot (see also "10 Superb Keto Instant Pot Recipes Everyone Will Love!") and let them cook.
Secondly, you'll notice how flavorful this dish is. The lemon, garlic, and chicken broth the chicken thighs are cooked in are spectacular. The combination of tart and savory flavors is phenomenal.
Finally, you'll love how the tender and juicy chicken beautifully soaks up the flavors of the broth. 
This next recipe shows you how to season your chicken thighs with a gorgeous chimichurri chicken thigh sauce.
Surprisingly easy to make, the only ingredients you need to make the sauce are parsley, garlic, salt, red pepper flakes, olive oil, and red wine. 
The end product is a rich, spicy, and sweet sauce that gives the chicken things an incredible flavor. If you don't like too much spice, ease up on the red pepper flakes.
After seasoning your chicken, you can grill the thighs in an oven or on the BBQ. This will give the thighs a crispy skin and tender meat. Grilling the thighs on the BBQ will also give the meat a delicious smoky flavor.
Next up, we have a tasty chicken tikka masala recipe (see also: 10 Tofu Tikka Masala Recipes For All The Family) for you. Using chicken thighs to make a tikka masala instead of chicken breasts isn't common but it certainly makes a difference. 
When we made this dish using chicken thighs, we found that the chicken stayed much more tender and juicy. This particular chicken tikka masala recipe is everything you'd expect for an authentic Indian recipe. 
It's full of flavor, spicy, creamy, and extremely satisfying. This recipe calls for basmati rice, but if you want to keep things lower in carbs for your keto diet, use cauliflower rice instead. 
As far as seasoning goes, you'll need garam masala, ground turmeric, cilantro, garlic, ginger, salt, and pepper.
Fajitas are an excellent low-carb meal that can be made in a pinch. Loaded with veggies, they are also pretty healthy. This fajitas recipe marinates chicken thighs in lime juice, soy sauce, and spices before cooking them quickly in a broiler.
After cooking, we're left with succulent chicken that tastes incredible. The combination of sweet, savory, and spicy flavors work wonders, taking plain chicken to another level.
The veggies this recipe calls for include various bell peppers, onions, and avocado. You can eat these fajitas with corn tortillas, but you might want to serve them with cauliflower rice instead. 
This will help you keep carbs to a minimum.
If you find yourself running out of time and you need something quick, easy, and tasty to make for dinner, look no further than this air fryer chicken thighs recipe.
Using an air fryer is a great way to prepare boneless chicken in a flash. It's also a much healthier way to fry chicken as you don't need any oil.
To ensure your chicken thighs come out of the air fryer with loads of flavor, this recipe seasons them with lemon and pepper. 
This simple combination takes seconds to prepare and impacts the flavor of the chicken massively. 
Once cooked, the thighs will have an aromatic flavor, crispy skin, and juicy, tender meat.
If you like to meal prep your meals in advance, this sesame chicken with broccoli recipe could be ideal. You can make this recipe in batches before splitting it up into smaller portions for the week ahead. 
This super simple recipe is also a fantastic keto-friendly dish. This is because it contains virtually no carbohydrates. On top of that, it is low in sugar because it doesn't contain honey either.
Instead, this recipe makes a honey sesame sauce using soy and ginger. You would think the honey would be a big loss, but the sauce is still full of intense flavors.
Serving the chicken with broccoli is a great way to add some nutrients to your diet.
This next recipe is one of our favorites because it looks and tastes just like fried chicken but it isn't. One glance at these hot chicken thighs will leave you baffled. Despite looking and tasting fried, these thighs are cooked in the oven.
After cooking, the chicken thighs are left with a golden-brown exterior and juicy, tender meat.
To give the chicken thighs an authentic Nashville chicken flavor, they are seasoned with Tabasco sauce, minced garlic, white vinegar, cayenne, paprika, salt, pepper, and chili powder.
This recipe is quite hot so you might want to skip it if you don't like spicy things. Alternatively, reduce the amount of chili powder and Tabasco sauce you use.
This Asian chicken soup recipe could be all you need this winter. Warm, comforting, and hearty, this soup is easy to make, and super delicious.
Inspired by the classic Asian chicken soup, this recipe consists of bok choy, lemongrass, chicken thighs, green onion, fresh herbs, garlic, and ginger.
The fresh herbs included in this soup are mint, basil, and cilantro. These three herbs give the soup a refreshing flavor. 
The only difference between this recipe and a classic Asian chicken soup is that it doesn't contain noodles (see also: 13 Fast And Simple Asian Noodle Recipes). This is what makes it keto-friendly. If you miss the noodles too much, don't worry, you can always use zucchini noodles, better known as zoodles.
To finish off, we've got this crispy Verde chicken tacos recipe from Tastes Lovely. This taco recipe lets you enjoy all the flavors we love from traditional chicken tacos without ruining your keto diet.
To keep carbs down, the taco shells are made from jicama. These jicama tortillas are then stuffed with crispy shredded chicken thighs that have been marinated in a caramelized salsa Verde. They are then topped with avocado and cilantro. 
When we tried these tacos, we found it hard to believe they weren't the same tacos we normally have. Just like traditional tacos, they are full of flavor, light, crispy, and relatively healthy.
What's not to like?
Final Thoughts
That concludes our list of superb keto chicken thigh recipes that everyone will love (see also "10 Superb Keto Chicken Breast Recipes Everyone Will Love!"). Now you've made your way through our list, you should have a much greater idea of what you can make using chicken thighs.
All of the recipes on our list are low (see also: 10 Superb Low-Calorie Banana Recipes Everyone Will Love!) in carbs, healthy, and packed with flavor. Most of them are also loaded with essential nutrients and vitamins. Conveniently for you, every recipe on our list can be made quickly and easily too.
With that in mind, you should now pick out the recipes you want to try and make first. We know you'll be pleased with whichever one you choose.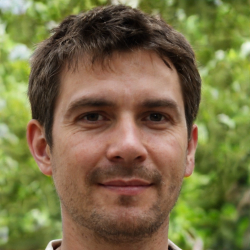 Latest posts by Justin Roberts
(see all)