Sometimes in daily life, we are far too busy to cook a dinner from scratch that will satisfy our entire family.
Many people consider ordering takeout or going to the next fast food restaurant when they don't have much time to make a meal for their family.
These delicious Paleo crock pot dishes provide a quick and simple approach to still make a great meal to enjoy at the dinner table as opposed to fast food.
For individuals who want a flavor of the past but still want to be able to keep up with modern society's norms, Paleo crockpot recipes are fantastic.
You can make adjustments to a few of your favorite dishes to give them a "paleo-crockpot" twist.
Some favorites might include recipes for a paleo crock pot (see also: 15 Best Instant Pot Paleo Recipes To Try Today)roast, a paleo crock pot breakfast, a paleo crock pot soup, and so much more!
Here are 10 of the greatest Paleo Crock Pot Cuisine that are excellent for families on the move, whether you swear by paleo meals or just want to try something new.
The Benefits Of A Paleo Diet
With the addition of being relatively simple to follow, the advantages of consuming Paleo are comparable to the advantages of having a healthy diet on any diet plan.
We've found that the typical Paleo adherent first experiences positive effects like increased energy during the first few weeks, followed by other advantages like losing weight and a slimmer physique in the following weeks.
After one month or more, people report feeling healthier overall. Because of this, we advise trying it out for 30 days to see how it affects your life.
1. Maintains Blood Glucose Balance
Avoiding refined sugar makes it simpler to prevent blood sugar increases and also lets you avoid the exhaustion brought on by sugar dumps.
2. Muscle Gains
As a result of the diet's heavy reliance on meat, your muscles will receive a respectable amount of protein.
If you lift weights while using it, it may even assist with muscle growth, which promotes a leaner physique.
When you look at the anatomy of Stone Age man, you can see that they didn't really have much extra weight in the form of excess fat and undeveloped muscles.
They were saber tooth tiger fighting machines, and this kind of powerful physique is still useful in today's society.
3. Abstain From Gluten And Wheat
You are essentially living a gluten-free lifestyle at the same time since you are automatically avoiding wheat items, which removes the gluten.
Even for people who don't have Celiac disease or a gluten sensitivity, there is a lot of data to suggest that gluten is bad for the gastrointestinal system and can cause weight gain.
But by eliminating these foods, which have been linked to larger abdomens and slower digestion, you immediately change the composition of your body and begin to feel better all around.
4. Ensures Longer-Lasting Fullness
The majority of diets push you to eat whenever you feel hungry, but the Paleo diet encourages you to eat whenever you feel satisfied and satisfied.
Because of this, it is simpler to follow and has less instances of cheating and diet crashes.
It also provides a reasonable quantity of good fats, which aid in maintaining a feeling of fullness and reducing food cravings.
5. Might Prevent Illnesses
You eat extra anti-inflammatory foods and eliminate several foods that are known to induce inflammation when you follow a Paleo diet.
Additionally, you are consuming more foods rich in phytonutrients and antioxidants, which are frequently mentioned in the media due to mounting scientific evidence that they can help prevent heart disease and cancer.
Furthermore, you're naturally avoiding many of the things that cause sickness and illness, such as fast food and junk food, which helps pave the way for healing and general well-being.
That is a decent set of justifications for giving Paleo a shot and seeing how your body reacts.
Don't be too quick to criticize; it may take your system a few weeks to adjust to this new type of diet and get rid of the poisonous chemicals and other ingredients that are often found in the meals that are so common in our modern culture.
Consider persevering for a month before assessing how you're feeling. Be as accurate as you can, including documenting your weight plus body fat ratio before you begin and taking before photos.
10 Best Paleo Crockpot Recipes To Make Today
Choose your favorite dish from this list of tasty Paleo recipes to begin your Paleo cooking journey today (see also "10 Tasty Paleo Soup Recipes You'll Love")! All of these dishes are packed with nutrients, are simple to make, and taste amazing.
For those who enjoy giving recipes a unique twist, try this really easy chili recipe. The several spices used in this recipe are perfectly balanced by the abundance of fresh veggies in this dish.
This chili recipe is perfect for individuals who like to experiment because it is flexible. This chili will leave you wanting more whether you prepare it with ground beef or ground turkey.
Holidays are frequently observed with a delicious ham. You may prepare a flavorful ham at any time; a holiday is not necessary.
This recipe has the ideal proportions of components to induce salivation. Ham cooked in the slow cooker has never tasted better thanks to flavors of pineapple and mustard.
It simply needs to be prepared in 20 minutes, and after 8 hours, you'll have a meal that is ready to serve! For the delectable dish that the family will undoubtedly appreciate, try out this tasty and simple recipe (see also "Whole30 Hamburger Recipes").
Who doesn't enjoy waking up to a freshly prepared breakfast? You had better prepare an excellent meal because it's the most significant one of the day.
This crockpot breakfast meal appears to be among the most enticing ones out there because it is simple to make and still tastes great.
The noodles in this tasty Chicken Thai Pad dish simmer in the crock pot to perfection. You don't need to go out again to eat to satisfy your hunger for a delicious dinner if you enjoy cultural cuisine.
This Thai dish, which uses vegetable noodles, is not only healthy for your body but also delicious.
You should absolutely attempt this dish if you enjoy tasting new and unique foods that will blow your taste senses away!
Although lasagna is a traditional dish, this lasagna gives the word a whole new meaning. An Italian restaurant's lasagna can be quite filling and not usually nutritious.
This recipe is unique since it has been altered to make it healthier and paleo-friendly.
Zoodles made from zucchini are used in place of lasagna noodles. It will just take you a couple of hours to put out this work of homemade art.
Stuffed peppers cooked in the crock pot are the epitome of simple cookery. You can prepare supper in only three steps. Simply chop up all of the vegetables, combine them with the meat, stuff the peppers, and cook them in the crockpot.
Pork roasts may be incredibly flavorful, but they need to be prepared properly. This crock pot-cooked paleo pork roast is excellent since it is not just flavorful but also moist.
Although this recipe requires preparation days in advance, the effort is absolutely worthwhile.
It is highly convenient since it cooks while you are occupied with other everyday chores, much like with any meal prepared in a crock pot.
For those sizable family get-togethers, try out this paleo beef stew in the crock pot. You can focus on other preparations for the big celebration while it cooks in the crock pot.
Everyone enjoys soup, which is a go-to dinner. There are many different soup recipes available, and beef stew continues to be a favorite.
Are you trying to find the ideal dessert to bring to a meeting or special event?
People will be eager to try the above cooked pears with a spicy chai flavor since they are so distinctive. There are numerous ways to enjoy this Paleo dessert (see also: 10 Tasty Paleo Dessert Recipes You'll Love)dish.
Everyone will like this delectable treat. Prepare the dish to serve to your family and guests at the next dinner party to wow everyone!
For those following a gluten-free or vegan diet, this Paleo soup is a terrific option.
With only five ingredients, this recipe mixes a variety of delicious and spicy flavors while also satisfying a paleo diet! This fantastic slow cooker dish can also be prepared on the stovetop.
Final Thoughts
Hopefully you found this article useful in selecting a few new Paleo recipes for your crockpot.
Not only are Paleo meals healthy and can promote health in terms of balanced blood sugar levels, weight management, and more, they are also incredibly easy to prepare, especially with the use of a crockpot!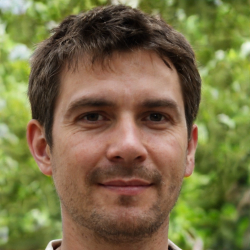 Latest posts by Justin Roberts
(see all)