Pumpkin is an incredible ingredient to use in your dishes. It's great for sweet and savory recipes, it's super versatile, and it's also pretty festive too!
If you are on a paleo diet, then you might be surprised to learn that pumpkin is great for paleo food because it's quite low in calories and usually isn't processed. 
We've put together a list of 10 of the tastiest and best paleo pumpkin recipes that you will absolutely love! There is something for everyone on this list and your whole family will enjoy the options too. 
10 Tasty Paleo Pumpkin Recipes You'll Love
Because pumpkin is such a versatile ingredient to use, there are so many different recipes out there that are healthy and delicious. Each of these recipes is low in calories and carbs but they all taste absolutely delicious. 
You'll never be stuck for satisfying paleo pumpkin recipes ever again once you have had a go at making these recipes! So let's get started! 
First on the list, we have these incredible pumpkin cheesecake bars. This recipe is actually incredibly healthy, but it definitely doesn't taste that way!
These pumpkin cheesecake bars are so easy to make and they are completely free from dairy. They are also no-bake as well, so you can have them ready even sooner. 
The crust for this recipe is made using pecans and dates and the results are absolutely incredible. This whole recipe is sweet and delicious and perfect for the holidays (see also "Delicious Paleo Ice Cream Recipes"). 
Sometimes, a good cookie can really boost your mood, and that's exactly what these pumpkin cookies are going to do! They are very healthy and completely free of both dairy and gluten, so more people can enjoy them. 
These cookies are soft-bake as well, so you can be sure that they are going to be deliciously fluffy and chewy. They are incredibly moreish though, so don't be surprised if you have quite a few in one sitting! 
This is a really easy recipe to make and because they are healthy and low in carbs, that means that they are perfect for paleo diets. 
Here's another healthy sweet recipe that you won't be able to get enough of. These pumpkin chocolate chuck blondies are absolutely bursting with a sweet flavor and they are super soft and gooey. 
You will find it hard to believe that these blondies are healthy because they taste like they should be junk food!
The pumpkin flavor makes these blondies incredibly comforting as well and you and the whole family will absolutely love them. 
This might seem like a bit of a complicated recipe at first, but as long as you follow the instructions you will find it incredibly easy to make a batch for yourself.
Making a batch of these blondies is super quick as well, you only need 45 minutes altogether! 
If you love coffee cake but you've been struggling to find one that's paleo-friendly, then you are going to love this recipe!
The cake itself is soft and moist and made out of pumpkin, but the topping is made out of a delicious streusel that is incredibly thick. 
On top of being paleo-friendly, this recipe is also 100% gluten-free, which makes it perfect for parties or get-togethers where you have many diets to cater to.
This cake is filled with so much flavor and it's such a crowd-pleaser that it's hard to believe it's actually healthy! 
This pumpkin coffee cake is super easy to make as well and you only need to set aside an hour of your time to make it.
Even if you find this recipe last minute, you'll still have plenty of time to make it before your guests arrive! 
There's nothing better than a hot bowl of soup on a cold night, and this pumpkin soup is absolutely incredible. It's very nutritious and filled with healthy antioxidants that will leave you feeling refreshed and satisfied. 
You will be roasting the pumpkin first which will bring out even more flavor to the finished dish. This recipe might seem complicated to make at first, but once you get going, you will see that it is actually incredibly easy to make. 
On top of being paleo-friendly, this soup is also 100% gluten-free and you even have the option of making this soup vegan as well. This soup tastes so good that you'll find it hard to believe it's healthy. 
If you have never had the pleasure of trying coconut milk pumpkin ice cream before, then you are in for a real treat with this recipe!
When you get homemade ice cream right, there is nothing quite like it, and this recipe is super hard not to get right. 
This is the perfect recipe to make if you want to get into the fall mood. It might seem a bit strange to make ice cream in the fall, but once you try this recipe, you will soon change your mind!
You might think that it would be super hard to make your own ice cream, but this recipe makes it super easy and stress-free. 
Because you are going to be using coconut milk, that makes this recipe completely dairy-free AND vegan, meaning it's a more accessible recipe that more of your loved ones can enjoy!
Once you make this coconut milk pumpkin ice cream for the first time, you will find yourself making it again and again! 
If you really want to get into the spirit of the fall, then you have to have a good pumpkin spice latte recipe at had! It's always nice to get one from a coffee shop, but homemade pumpkin spice lattes just taste even better! 
If you love warm spices that make you feel cozy and relaxed then you are going to love this recipe.
It is filled with ground cinnamon, ginger, nutmeg, and cloves and all of these ingredients come together to make a delicious warm beverage that will really put you in a good mood! 
This recipe isn't paleo at first glance, but it's super easy to adapt (see also "Best Paleo Brownies Recipes"). All you need to do is leave out the sweetener that this recipe calls for and instead use a couple of drops of stevia.
It still tastes just as delicious and spicy, and you won't really be able to tell the difference. 
This is such an easy recipe to make as well and you can have it ready in no time at all. It's low in carbs, and completely paleo-friendly when you make it without the sweetener, so what's not to love? 
We couldn't make a list of paleo-friendly pumpkin recipes without including an amazing pumpkin pie recipe! This is a classic dish that is enjoyed around the holidays and it's no surprise as to why! It's creamy, warm, and deliciously sweet! 
In this particular recipe, the pumpkin is so thick and sweet that you will never want to eat it any other way again! This pumpkin pie is incredibly moreish as well, so don't be surprised if you want another slice!
You will find it hard to believe that this recipe is paleo-friendly and you will be even more shocked when you find out it's dairy-free too!
This recipe might seem complicated to make, but as long as you follow the instructions, you'll soon work out that it's super easy! You will definitely find yourself making this pumpkin pie again and again because it tastes so good! 
If you're looking for a recipe that is packed with flavor but low in carbs and healthy, then you are going to love this paleo pumpkin bread! It's soft and moist and filled with delicious pumpkin flavor, you simply won't be able to get enough of it! 
On top of being paleo-friendly and low in carbs, this pumpkin bread is also sugar-free, grain-free, and dairy-free! This is a great recipe to make if you have a lot of dietary needs to cater to, and everyone will absolutely love it. 
It's also super easy to make as well and you don't have to spend all day in the kitchen making it. 
Super sweet, but also pretty healthy, these pumpkin chai cupcakes are warm, aromatic, ad incredibly comforting. Along with being paleo-friendly, they are also gluten-free AND vegan, so more people can enjoy them! 
They are really easy to make as well and you will definitely be keeping hold of this recipe to use again. 
Conclusion
There are so many wonderful paleo pumpkin recipes out there, and this list really proves that!
Whether you are in the mood for something sweet or savory, there are plenty of options for you to choose from on this list. 
Most of these recipes are gluten-free and vegan too, which just makes them even better!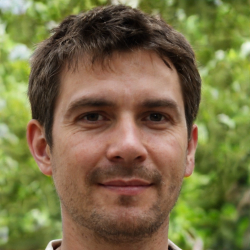 Latest posts by Justin Roberts
(see all)