Generally, you'd think that a vegan and paleo diet would cancel each other out, since a paleo diet emphasizes consuming free-range eggs and grass-fed meat, while vegans avoid all animal products at all costs.
However, when you look at both these diets, they share more similarities than you may believe. For instance, if you look at what our ancestors used to eat, this would have been a heavily plant-based influenced diet. 
Hence, both eating philosophies share an abundance of vegetables and fruits in common. While legumes and grains are out, cassavas, sweet potatoes, and plantains are in – all equally delicious and filling. 
Plus, both diets even share healthy fats, including olive oil, nuts, and avocados. Plus, dried fruits, molasses, honey, fruit juices, and pure maple syrup can all be used to sweeten things up. 
With this in mind, we have outlined 10 tasty vegan paleo recipes that we think you'll love. 
You may think pasta can't get any better, however, you have yet to try this vegan roasted red pepper pasta. 
Velvety, savory, creamy, and slightly sweet this meal works perfectly with your favorite vegan parmesan. Top with some fresh herbs and you have yourself a 10-ingredient paleo- and vegan-friendly pasta. 
The magic begins with the sauteed shallots and garlic to provide the base sauce with a subtly sweet yet robust taste.
Meanwhile, roast up some red peppers for charred, soft, and insanely delicious peppers. This provides your sauce with a creamy texture and orange hue. 
To keep the recipe gluten-free, opt for a gluten-free spaghetti noodle and use cornstarch as a thickening agent as opposed to flour roux. 
The result is a thick and creamy sauce that is ready to be mixed into some al dente pasta noodles. 
With only a few ingredients – seven to be exact – and a handy food processor, you'll have this meal whipped up in no time. The best part? These are all pantry staple ingredients, too. 
This recipe is everything you could want from pasta, it is creamy, tender, and delicious – all without gluten or animal products! 
To make the pesto, all you need is baby spinach, avocado, garlic, raw almonds, chili flakes, and sea salt, then simply toss them all in a food processor until silky smooth. 
The result is a bright green sauce that not only looks impressive but tastes delicious too while being insanely healthy all at the same time – you won't even realize it is vegan and paleo! 
Thanks to the spinach, avocado, and almonds, this pesto is packed full of micronutrients, too. 
There is much debate surrounding the origins of falafels – some consider them quintessential Israeli food, while others claim it has Arab roots. However, regardless of its origins, there is no denying its delicious texture and incredible flavors. 
If you're unfamiliar with falafels, essentially they are fried balls or patties made with a combination of chickpeas, fava beans, or both! 
With 10 ingredients, this recipe is packed with both textures and flavors that make it irresistible. Here, soaked chickpeas are combined with garlic, onion, cumin, parsley, coriander, cardamom, and sea salt. 
Gluten-free oat flour is used to bind all these ingredients together, helping to create that iconic ball shape. Then, after some time in the refrigerator, all you have to do is pan-fry them. 
The result is crispy, golden discs of perfection – before you know it, you'll be adding falafels to all your recipes. 
This incredibly satisfying pantry dal can be whipped up at lightning speed – only setting up back 8 minutes in preparation time. 
Despite not being an authentic dal, this is a great option if you're looking to get dinner placed on the dinner table as soon as possible, plus, it will taste just as good as the original. 
The beauty of the recipe is that you can modify it to your specific tastes, too – using whatever veggies you prefer. Whether this is baby spinach, broccoli florets, or anything else you have on hand! 
Plus, this recipe relies mainly on pantry staples, including dried species rather than fresh ones. While fresh onion, garlic, chilies, etc, are usually our first choice they are sometimes just not practical. 
For this spiralized vegetable stir fry recipe, all you need is one pan and under 20 minutes to whip this dish up! Featuring a satay-style cashew sauce, this is the perfect, vegan and gluten-free dinner. Plus, you can even make it ahead and eat it throughout the week. 
Complete with fresh spiralized vegetables and a scrumptious cashew stir fry sauce – this dish is both healthy and delicious. Plus, all you need is one pan and under 20 minutes of your time – it doesn't get much better than this!
Moreover, you can even make this dish ahead of time and store it to be used as a meal prep! If you're one of those people who enjoy making one large dish rather than serving it throughout the week, then this is the perfect recipe for you. 
This is a paleo-friendly variation of the classic besan ki omelet recipe – this directly translates to an 'omelet made of chickpea flour'. 
In addition to being paleo-friendly, it is also vegan-friendly, too. Likewise, it is also known as besan cheela/ chilla or besan puda. The best part? It can be made with whatever veggies you have on hand – try it with some mushrooms or tomatoes! 
Plus, this recipe is super simple to make. All you have to do is throw all the ingredients in a bowl, fry, then serve – it is that simple! 
If you're looking for the perfect healthy breakfast treat, then you literally can't go wrong with these no-fail paleo pancakes. 
These paleo vegan pancakes are soft in the middle and deliciously crispy on the outside. The perfect pancake that even those following a grain-free and dairy-free diet can enjoy. 
We can't forget to mention the sauce! With just three ingredients and a few minutes of your time – whereby the blender does most of the work – you'll have a delicious sauce to drizzle all over your pancakes. 
Since this recipe uses a blender, you're rewarded with super simple pancakes. The result is lighter and fluffier pancakes – the best of both worlds! 
As there are no eggs to fluff up this recipe, it relies on the blending of the batter (which consists of a combination of apple cider vinegar and baking powder), providing you with some fluffy, egg-free pancakes. 
In this recipe, the star of the show is the portobello mushrooms, however, the supporting actress is certainly the harissa marinade. 
The sauce perfectly complements the mushrooms with bursts of spicy and bold flavors. You may have used harissa in your chili recipes before, but did you know it can be used as a marinade, too?!
There are many different versions of harissa paste you can choose from; some are slightly spicier than others.
If you're not a fan of spice then it's best to stick to a milder version. However, if you're looking for an added kick a spicy version will certainly deliver. 
Looking for a breakfast meal that is both paleo and vegan, then you can't go wrong with this low carb oatmeal recipe. It is super simple to make and has a delicious nutty flavor with a thick oatmeal-like texture to it. 
This is the perfect wholesome breakfast option to keep you warm throughout the winter months – top with cinnamon and berries for the ultimate experience.
Once in a while, you can't help but craze the chocolatey goodness of a chocolate chip muffin, and this recipe will help you achieve all your cravings without any of those guilty feelings! 
To start, this recipe requires one incredibly healthy ingredient: beet puree! Here, you'll need an entire cup of beet puree – which equals about two whole beetroots! – which then gets transferred into a dozen, naturally-sweetened, whole-grain muffins that happen to be vegan! 
You might not realize such deliciousness could be accomplished without sugar, milk, or butter, but it is possible and the results will blow you away. 
Contrary to their intense appearance, these muffins are surprisingly simple to make once you have got your hands on the pureed beet.
With only one bowl and 30 minutes of preparation, you'll be rewarded with a wholesome and insanely delicious treat.  
Final Thoughts
Who would've thought you can combine both vegan and paleo diets into one meal – well, you sure can, and these recipes are a testament to this. 
In fact, you can create some delicious meals, too. Hopefully, this guide has informed you of 10 tasty vegan paleo recipes (see also: 10 Tasty Paleo Snack Recipes You'll Love)that you'll love – we sure do!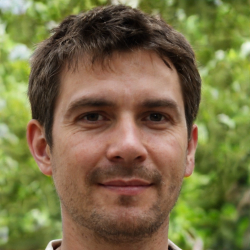 Latest posts by Justin Roberts
(see all)